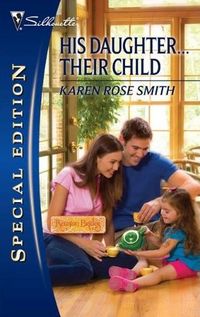 Purchase
A second chance at a forever love.
Reunion Brides #1
Silhouette Special Edition
February 2011
On Sale: February 1, 2011
Featuring: Clay Sullivan; Celeste Wells
225 pages
ISBN: 0373655800
EAN: 9780373655809
Kindle: B004JF681W
Mass Market Paperback / e-Book
Add to Wish List

Sisters in love with the same boy in high school.
How deeply can a twin really know a twin? Growing up seemed to have changed Celeste's and Zoie's bond. Can they find their way back to each other if Celeste finds love with Zoie's ex-husband?
As a surrogate for Zoie and Clay, Celeste expected to give her twin and her husband and child and then walk away But when Zoie abandons her husband and daughter, abdicating all responsibility, Celeste's heart insists she step in. She yearns to be a mother and Abby needs one. But will Clay trust a woman enough again, to love and need a wife?
Comments
8 comments posted.
Re: His Daughter... Their Child

Good morning, everyone. Feel free to share your feelings about reunions or anything else that tickles your fancy. I have a snowy morning in PA and am ready for questions and discussion. KRS
(Karen Rose Smith 8:17am February 22, 2011)
Congratulations on your new book!! I'm sure it's going to be an enjoyable read. The setting sounds quaint and picturesque at the same time. I'm sure that I'll love the characters as well. I never considered myself popular in High School either. In fact, I didn't have time for rubbing elbows with the "cool kids." I was busy playing in the school orchestra, taking private lessons, and holding down a job. I really didn't have any extra time, after doing homework, for running around with friends. Besides, my Mother was pretty strict, and didn't approve of a lot of things that "normal" kids would do, so I was cheated out of a lot. I don't regret it, looking back, and enjoy it immensely when I can get to my reunions. We're still a close-knit group of classmates with no cliques now.
(Peggy Roberson 9:39am February 22, 2011)
Peggy--I noticed the cliques had disappeared at our 25th. I wasn't popular, either. But I had a great group of friends that I'll never forget. I felt accepted with them, not like I had something to prove. We were competitive, but it was more trying to be the best we could be, not cutting down someone else. I realize now they got me through those difficult years. So I based friendships in His Daughter...Their Child on that! KRS
(Karen Rose Smith 10:15am February 22, 2011)
If you're blogging here with me today, don't forget to enter my February contest for a hand-crafted suncatcher from Sedona and a signed copy of my latest! KRS
(Karen Rose Smith 6:16pm February 22, 2011)
I wasn't popular in HS either, and like Peggy, was very much involved in music, also in the orchestra (I'm a violist, still playing), but also in choir (still singing, but in a much lower range!). I was also a "Special Student" at the UW in my senior year, playing in two orchestras there and taking lessons, all of which left me next to no time outside of school things for a HS social life. Besides all that, most of my friends in HS were either a year or two ahead of me or a year or two behind me, so I have very little interest in attending any of my HS reunions, and have yet to do so, even with my 36th coming up this year.

Later,

Lynn
(Lynn Rettig 6:56pm February 22, 2011)
Lynn--I know how you feel! But there was comfort and familiarity in seeing my classmates and reconnecting. Going to Catholic school, we finally compared notes on how we felt back then about the fabric of Catholic school life. Back then we didn't share like kids do now. Some of it was very healing. KRS
(Karen Rose Smith 7:42pm February 22, 2011)
Lei--Thanks. I'm glad you stopped by. KRS
(Karen Rose Smith 8:47am February 23, 2011)
I like how you took a common experience and turned it into the backdrop for a book. This past summer was a big high school reunion and the number who attended is growing smaller each year. The layers of living matrixed onto what you know happened in school makes for much talk.
(Alyson Widen 11:05pm February 27, 2011)
Registered users may leave comments.
Log in or register now!