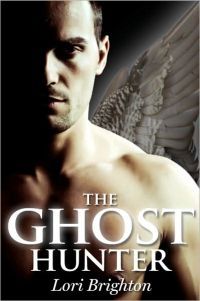 Purchase
UNKNOWN
October 2010
On Sale: October 1, 2010
Featuring: Ashkey Hunter; Cristian
ISBN: 1452437521
EAN: 9781452437521
e-Book
Add to Wish List

When Ashley Hunter inherits the Inn where her father mysteriously vanished years ago, she jumps at the chance to finally uncover the truth about his disappearance. But soon after taking ownership of the decrepit building, Ashley realizes she's in for far more than she bargained. Not only has she inherited answers to many sought-after questions, she's also inherited spirits, demons and even fallen angels! Then Cristian arrives, a gorgeous man who insists he merely needs a room to rent. She believes him, until one by one her ghosts start disappearing...
As a fallen angel destined for a life of servitude, Cristian Lucius is relegated to protecting earth from unwanted spirits. But he can't accomplish this daunting task alone. He requires assistance from the very woman who frustrates him as much as she intrigues him. Cristian is determined to ignore his intense attraction for Ashley, and focus on his mission. If they don't work together, they won't have a chance in hell of defeating the demon threatening their lives. The problem is getting Ashley to trust him. No easy task, considering Cristian is the very man responsible for her father's disappearance.
Comments
23 comments posted.
Re: The Ghost Hunter

There's no place quite like London England!
(Cate Sparks 8:47am December 10, 2010)
In books there are so many fascinating and interesting places to visit... personally I enjoyed visitng West Point in NY... seeing the sights and wondering who stood in the same spots I was standing in...
(Colleen Conklin 1:06pm December 10, 2010)
I love the Renasance (can't spell it, though). And I love reading Regency historicals.

As for location: hubby took me to Paris, France couple years ago. It was the best (haven't traveled THAT much, so limited on how much to compair to)! SOOOO much history all around that city, so many centuries, one right on top of another! And so much of that city is set up for tourist (I wouldn't want to live there, that is how much it is geared to the tourist)! We were there for 2 weeks and still did see/do everything I could have wanted...

vickykerr[at]sbcglobal.net
(Victoria Colyer-Kerr 1:28pm December 10, 2010)
I would say China. So much history existed and so many changes have happened to China.

After being at the Great Wall of China, I have never realize that the climb up to each of the watch towers are steep and they do get steeper. The stairs are very narrow and they are also steep. I don't know how the guards patrolled Ancient China back then. When it snow, the paths that connect each of the towers are slippery. Without traction, one could so easily slips.

After being in Beijing, Shanghai and several other cities, it is a wonder how much modernizations have happened to China.

I don't think I can ever get tired of China.
(Kai Wong 3:00pm December 10, 2010)
I've never been there, but I'd love to travel to Washington DC---so much has taken place there that I could spend a whole month just poking around.
(Sue Farrell 3:22pm December 10, 2010)
Hi Everyone! Thanks so much for stopping by. There are so many wonderful places I've visited. I could talk travel all day. A few months ago we went to St. Augustine in Florida. I had no idea we had places that old here! You can totally imagine pirates walking around. Gettysburg is another place I love to visit. And about 10 years ago we went on a trip to England and Scotland. Wow! Talk about history. I'm hoping to visit again soon. The museums in D.C. are great! And New York is beautiful, although I've never been to the city area. My cousin lives in NY city so I'm hoping to go there sometime soon. I'd love to see China and France!
So many places, so little time...and money. lol
(Lori Brighton 4:46pm December 10, 2010)
Hi Lori! You brought back memories of my home town of Independence,MO. I didn't realize it at the time what a treasure those old Victorian homes were/are. I, like you & others, have been privileged to tour houses in the south (our history there is a wondrous story!), in the mid-west, Boston in the north, & out here in California where I live now. Eureka CA has a number of the colorful "painted ladies" Victorian houses, as well as Redlands,CA. My favorite in Redlands was built by a retired sea captain using a ship builder as the main architect/builder. Where the wood is , it looks like the sides & bottoms curved like a ship. The woods are so beautiful even after all these years. The lady of the mansion brought in oranges & I believe she established the first CA orange groves. To honor her love of oranges, all the door knobs, hinges, & other metal as well as wood decorations had orange blossoms carved/imprinted on them. Maybe for our time over the top as far as decorations, but certainly romantic!
(Jean Merriott 6:19pm December 10, 2010)
Scotland I think...Hearing the pipes, visiting all those castles, battlefields etc...If I have to pick a particular place there, Edinburgh would be it....I've heard it still has a lot of the very old still there. The whole country just intrigues me no end.
(Ivy Truitt 7:55pm December 10, 2010)
Hi Jean! I'm hoping to go to CA in the next year or two to visit family, I'll have to check out the places you mention.

Hi Ivy! I totally agree. I'd move to Scotland in a second, if I could!
(Lori Brighton 10:31pm December 10, 2010)
I have been to a few historical places, but the one place that I have always wanted to go to is Ellis Island. My Grandparents, although now passed away, came to this country as young people, and I would like to go there just to see where my family got its' start, and try to get a feeling of what it must have been like for them. It has been a dream of mine for decades now, and I haven't had the means to do so. I would also like to go to Arlington Cemetary. I'm the type of person that goes to old places or old buildings and sometimes picks up feelings, almost like goosebumps from prior people. It might be imagination or it could be the real thing, but it's the oddest sensation to feel. I also love old lighthouses.
(Peggy Roberson 10:50pm December 10, 2010)
I love to read about England and Scotland. Their history is interesting.
(Ginger Hinson 11:35pm December 10, 2010)
I'm a huge historical romance fan. If it has ghosts or time-travel, I enjoy it even more. Scotland is probably my favorite setting.
(MaryAnne Banks 1:35am December 11, 2010)
England, London most of all. Just amazing!! I do love my history.
(Mary Preston 2:17am December 11, 2010)
I just like historicals. I prefer them to take place in England, Scotland, or Wales though.
(Cathy Phillips 6:32pm December 11, 2010)
I have not traveled much(yet), but one place that speaks to me to pay respect is Culloden Field in Scotland. My ancestry is not Scottish, but my heart and soul have been for many years.
(Debra Simning-Chapman 6:33pm December 11, 2010)
I enjoy reading historical romance but I like the Scotland ones the most.
(Vickie Hightower 6:40pm December 11, 2010)
I have been to Scotland. My Dad was born there so I got to visit relatives. It is interesting to see a country with natives as guides. The old churches were great. I also got to go to the visit wedding in my generation - the bride had never been to a wedding. Can't imagine that!
(Winnie Kowalski 7:19pm December 11, 2010)
I have to add a couple of thoughts that your fans brought to mind. Have always loved history, maybe because I really didn't know about my own until I was a grown woman. Then, I found that I had a connection to the U.K. big time. England, Scotland, Wales, & Ireland. Haven't made it to any of these places except by way of historical writers. :) Thank you!
On a trip to the east, planned to see Ellis Island & got to the parking lot to see the last ferry of the day leaving..we missed it by 5 minutes! I could have cried! We were to travel up to Nova Scotia (New Scotland in the "new world"!)the next day, so never got back.:( Lots of neat things to see there, as well as Quebec in Canada) Beautiful old old homes,buildings, churches, museums, wonderful history. Oh, try to get up to Fort Niagara when you get to New York they have people acting the parts of past residents, it's like a step back in time! I envy you all that have been to the U.K. The closest I've come is the Scottish games, even though they do give you a taste of Scotland, I'd still like to walk in the history myself!
(Jean Merriott 8:12pm December 11, 2010)
I do not have any favorite historical places that I have visited. Most of the historical places I know about are in books. Another reason to read!
(Linda Pillow 9:41pm December 11, 2010)
I love to read about historical England or Scottland. All the wonderful old castles, kings knights and ladies in trouble. This sounds like a wonderful book. I also love to visit all the wonderful historic places when I'm on vacation
(Diane Castiglione 10:24pm December 11, 2010)
I have never been there, but I would love to go to England. They have such a rich history, that I would love to see.
(Debbie Penny 8:05am December 12, 2010)
I love the regency period and Georgette Heyer's romances.
(Alyson Widen 12:17pm December 13, 2010)
I have two favorite places where I must return to and explore again. My husband and I usually travel and visit historic areas of the USA but we made a trip to England and Scotland and I was captivated.

My first moment of awe was at Winchester Catedral because the organ started playing when we opened the door! The architecture and history is awe inspiring. Another surprise for me was seeing the tomb of Jane Austin whose writing I first fell in love with when I was in the 6th grade. On the same trip we also visited Lithinglow Castle outside of Edinbourgh. The days visited we were the only ones there and you could literally "feel" the past around you.

The one place we didn't get to visit was the home of my anchesters in northern Scotland so we hope to plan another trip where we can visit both the Scottish Highlands for me and Naples, Italy for my husand to "connect" with his heritage as well.
(Jeanne Miro 10:18am December 13, 2010)
Registered users may leave comments.
Log in or register now!