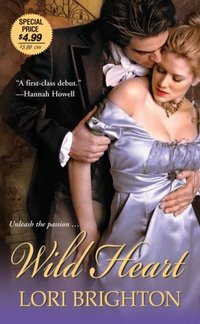 Purchase
Unleash the passion...
Zebra
November 2009
On Sale: November 1, 2009
Featuring: Ella; Leo Roberts
320 pages
ISBN: 1420108654
EAN: 9781420108651
Paperback
Add to Wish List

Romance Paranormal | Romance Historical
WANTON…
Leo Roberts is next in line for an earldom and the power and fortune that come with it, but he is uncultured, unrefined—and completely untamed…until governess Ella Finch arrives upon the scene. Can so young and inexperienced a woman tutor him in the manners and mores of his class? Leo's mysterious past has rendered him an outsider, too wild for polite society. But he finds her innocence most intriguing…
WILLING…
What manner of man he may be, Ella does not know. Yet he fascinates her and she must know more. Capturing Leo's reckless heart is about to free her in ways she never dreamed of…and his sensual touch releases the deepest yearnings of her body and soul …
Comments
77 comments posted.
Re: Wild Heart

The cover is an eyecatcher....
Congratulations!
I'm sure it will be a thrill to finally get your book in your hands.
(Ruby Davis 1:34am June 29, 2009)
How exciting for you as you wait for your book to come out and I enjoyed reading about your publishing adventure.
(Maureen Emmons 5:56am June 29, 2009)
Lori, you are blessed with such a positive and comical attitude! I hope the next four months fly by for you!
(Amy Burge 9:29am June 29, 2009)
Cover looks gorgeous - can't wait to read it.
(Sarah Keery 9:51am June 29, 2009)
Lori
The cover is beautiful and I'm sure your story will be great too. But I never knew how much preparation there was th get published.
Good luck!
(Diane Sadler 9:59am June 29, 2009)
Excellent perspective on the first year in publishing. Your rendition, while funny, is so true than it makes me dizzy thinking about it. I've never bungy jumped, but I imagine getting published is similar. You are getting pulled into the sky...hang on...because on release day, you get to free fall. LOL
(Kimberly Killion 10:01am June 29, 2009)
Wow! This must have been a really long year for you. Glad to hear it's just about at the end. Congrats.
(LuAnn Morgan 10:03am June 29, 2009)
Lori, I had a great time reading about your adventure :) Glad to hear there's only four more months... I just pre-ordered *bg*
(Ali Flores 11:11am June 29, 2009)
What a tender cover! I'm not sure if she's melting into him, he's holding her back or claiming her heart. Thanks for showing the timeline for pub, the waiting that goes on along with the decisions, edits and more. Switching editors must have been quite a nail-biter.
(Alyson Widen 11:14am June 29, 2009)
Congrats on your success, keep it up!
(Teresa Warner 11:18am June 29, 2009)
As I was reading your blog I thought, "You know, you could have a baby in less time." But I also realized that when you book is published it is basically done. However, with a baby... :>)
Congratulations on your baby - I mean book!
(Karin Tillotson 11:31am June 29, 2009)
Wow, talk about a roller coaster ride of emotions. All I can say is don't worry about the hair color, I have found that most covers don't resemble the description of characters in the books. Good luck with your book - it will be coming out in time for my birthday.
(Judy Anderson 11:43am June 29, 2009)
Thanks so much for coming by! You guys are great!
I did luck out with my cover. Even though it was the wrong hair color, it's still beautiful. Authors don't really have a say in their covers so you never know what you'll get.
(Lori Brighton 12:16pm June 29, 2009)
It was so interesting to read this up-and-down account of your publishing adventure. How exciting, yet frustrating, for you! It will all be worth it when you hold your "baby" in your hands and see it on the shelves.
(Cheryl Castings 1:16pm June 29, 2009)
Had fun reading this. I'm looking forward to your book when it comes out. Wishing you great success!
(Edie Ramer 1:55pm June 29, 2009)
As a non-writer the publishing process is truly fascinating. Your book sounds like a great fall read.
(Cathy MacDonald 2:45pm June 29, 2009)
Congratulations on your book, hope I get a chance to read it.
(Vikki Parman 3:51pm June 29, 2009)
Can't wait to read your book.
(Robin McKay 4:27pm June 29, 2009)
Congrats on getting your book published. I would have died many times over with what you went through! You are very brave to perservere through that tumult!
(Sharla Long 6:38pm June 29, 2009)
Did you have any input on the blurb? I once read one that was wrong about a character's name and about the character. Have you finished your next book?
(Lorna Thomas 6:56pm June 29, 2009)
Congrats on your debut book and getting published! I know authors have to go through a lot but if has to be haven to have that first book in your hands. Just like a new baby.
(Gail Hurt 7:06pm June 29, 2009)
What a roller coaster ride to get your book,'Wild Heart', published. I enjoyed your account and I know I will enjoy the book! Congratulations!
(Rosemary Krejsa 7:13pm June 29, 2009)
Thanks again for stopping by everyone!

Lorna,
No, I didn't have any say on the blurb, or the cover, or the quote or the title. lol. If I really hated something, I probably would have spoken up. But usually by the time we see the final work, its too late. Which happened with my cover. By the time I saw it and realized the hair was the wrong color, it was too late to change the cover.
I'm currently working on the second book, which will involve a secondary character from the first. I'm about 50 pages from being done and very much looking forward to finishing!
(Lori Brighton 7:40pm June 29, 2009)
I just wanted to thank you all for stopping by! I so appreciate it!
If you don't win the gift card this time, make sure to check out my blog, I'm always having contests!
(Lori Brighton 10:02pm June 29, 2009)
Great cover! Look forward to reading this one!!
(Martha Lawson 11:06pm June 29, 2009)
Congratulations! A great success story!
(Sue Ahn 11:24pm June 29, 2009)
Interesting blog! You sure had a lot of emotional ups and downs. Thanks for sharing.
(Harris Channing 11:33pm June 29, 2009)
Hi Lori. Thank you for sharing your story with us. I love the cover to your book.
(Crystal Broyles 9:46am June 30, 2009)
Thanks everyone, for stopping by! I'll be contacting the winners sometime this week!
(Lori Brighton 11:13am June 30, 2009)
Thanks for sharing this post with us, Lori! :)
(Colleen Conklin 1:50pm June 30, 2009)
Hi Lori

Wild Hearts sounds so good,I love these kind of romances. Great blog today, thanks for being here,
Penney
(Penney Wilfort 12:45pm July 1, 2009)
I really like the cover, it is a moment of turning perhaps. Cool.
Congrats on your sucess and I enjoyed the blog. Thanks for sharing with us!
(Chris Jones 5:09am July 1, 2009)
Love the cover!
(Bridget Hopper 10:31pm July 1, 2009)
What trials & tribulations to get published! Congrats on your new book - the cover is beautiful.
(Cheryl Snyder 3:51pm July 3, 2009)
Congrads on being published! That must be a wonderful feeling.
(Patsy Hagen 12:38pm July 4, 2009)
Those of us who do not write have no
idea what goes on in the process to get a
book published. Thanks for the insight.
(Patricia Barraclough 10:11pm July 4, 2009)
Thank you for your post, Lori. As you demonstrate, writing is no career for control freaks.

I believe readers and reviewers would be gentler and more understanding toward authors if they knew what really goes on behind the scenes in the publishing industry. But the only ones who know even a hint are writers trying to get published.

Yes, I'm one of them; and lately the industry news has been pretty appalling. And that's just the info that's been released or leaked out!

May I voice a polite disagreement? Despite what you think about the "Wild Heart" cover, I like it! Attractive models, dramatic poses, excellent period flavor, an almost palpable feeling of romance. And I'm so grateful your publisher's art department didn't cut off the hero and heroine's heads! Too often nowadays we see that on romance-fiction covers.

Keep up the good work!
(Mary Anne Landers 12:49pm December 14, 2009)
Look forward to reading.
(Sherry Russell 7:20am December 14, 2009)
Sounds like a great story, I have just added it to my wish list!
(Barbara Hanson 9:38am December 14, 2009)
That was an informative post Lori and I now believe more than ever that writing is something that you really have to love to keep going. Good luck to you.
(Maureen Emmons 10:02am December 14, 2009)
Hi Everyone! Thanks so much for stopping by!

I didn't mean to imply I didn't like my cover. I do! Just totally shocked me that the coloring was wrong! So, like I said, i decided to go through and change the coloring in my book.

Mary Anne, I completely understand. Sad thing is you think its going to be easier after you're published and its not!

Maureen, yes, you have to love it and I think you have to be a tiny be crazy. lol.

Honestly, I think writing is one of the hardest careers out there. The pay is horrible. You always have to worry about negativity from your editor, agent, readers, reviewers. So yeah, we must be a little bit crazy.
(Lori Brighton 10:36am December 14, 2009)
Really enjoyed your piece! So true about what a writer gives up to be published... it's the price to be an author. Would have to agree with you on most items; luckily, my publisher, Sapphire Blue Publishing, allows some input on covers. I love the cover of my most recent release (Saturnalia), but I thought the font was wrong for the scene. The artist changed it. It's a holiday story, so that was a nice holiday gift. ; > Otherwise, I'm just glad to see my work well-edited and in print. Happy Holidays!
(Kellyann Zuzulo 10:44am December 14, 2009)
That was really an interesting post. You're right, as readers most of us have no idea what goes on before we buy your book.I did buy a book once and the cover didn't match the characters and it annoyed me to no end. Sounds like authors do have to write for the love of it. Thank you to all the wonderful writers!! If not for you I would have to do housework all day every day and watch a lot of TV. Thanks, Sue
(Susan Hussein 10:47am December 14, 2009)
HI Lori,
I think it is just awful that you don't get to have anything to do with the cover of your book. I know I get aggravated when the heroine or the hero look nothing like the authors description in the book.
This was a very interesting, eye opening post.
(Gigi Hicks 10:53am December 14, 2009)
Writing isn't the hardest part of this industry. You're so right about loss of control, but hope for the best and keep taking steps in the right direction as if your dreams can and will come through. What you tell yourself often enough becomes part of you, so tell yourself good stuff.
(Alyson Widen 11:28am December 14, 2009)
I agree that this was an eye opener. I knew some of the problems, but not all. So, maybe the publisher should write the book and the author do the rest?
(Karin Tillotson 11:30am December 14, 2009)
Lori, Thanks for the great advise. I really like your cover! I think it looks very intriging and would make me pick up the book! Best of luck and happy holidays!
(Jane Lange 11:44am December 14, 2009)
I used to read books like this by the
dozen. I haven't read any for awhile, but
this one sounds interesting.
(Shari Eggleston 12:27pm December 14, 2009)
I am a reader, and as such, I thank you and other authors for pressing on with the business of writing with all of the issues small and large with which you must contend. And with all of the things you can't control, I hope you will continue to find fun and satisfaction in getting your stories out to us.
(G. Bisbjerg 12:40pm December 14, 2009)
Wow, did not know about some of that ...
(Colleen Conklin 12:55pm December 14, 2009)
Lori, you wrote a wonderful
story. That's what you have
control of, and that's what
you can be proud of. Now I'm
going to your website to read
your short story. :)

Please don't enter me in the
contest, as I've read Wild
Heart already and love it.
(Edie Ramer 1:42pm December 14, 2009)
Thanks again for stopping by everyone! Obviously authors write because we love it. The hard part is keeping that love alive. lol. sounds like a bad 80s song. But true!

If you're looking for the free ebook, there's a link at the top of my book shelf page on my website. I don't have a cover yet, but should have one soon to go along with it. But to warn you, its a bit spicy and it hasn't been edited by a professional so you'll have to forgive the typos. It's about 15,000 words and my first jump into posting an ebook, so hopefully you all can open it okay.
(Lori Brighton 3:57pm December 14, 2009)
You're a new author to me and I look forward in reading your works. I'll check out your site with the free read.

Thanks.
(Tracey Dent 4:35pm December 14, 2009)
Although I haven't read your work yet, I'm appalled to learn all the hassle you had to go through---and it is a hassle to have to go
back and change the hair color, etc. to fit the picture on the cover. That sucks big time!! After all, hair color, or whatever feature you
have, may be a part of the story. What if your hero is attracted to blonds normally, but this time he's attracted to the brunette
heroine---and it's a statement of change for him in some way. Sheez, you'd think they at least get the pictures to match the basics
of physical traits---if they read the book!. Way back when, I had actually quit reading a book because the cover didn't match the
story.

As an avid reader and aspiring writer, I thought this article was most informative. Thanks, Julie
(Julie Robinson 5:37pm December 14, 2009)
A lot of people told me to just leave it, that it didn't matter if they didn't match the cover. But I couldn't, knowing it would bother me too if I read a book that didn't match. So yeah, it was a little annoying but on the positive side, the cover does look good, imo. ;)
(Lori Brighton 5:43pm December 14, 2009)
I thoroughly enjoyed the insight. There is so much more than meets the eye - as it were
(Mary Preston 6:45pm December 14, 2009)
I agree completely with you: prices are not set by you but by the publishing co. The titles of books can change right up to publishing date it seems and yes they don't read the book so may put some lady with long flowing black hair instead of a short blonde cropped head. Ah well, it is the book we want so let's not judge books by their cover.
(Diane Sadler 7:24pm December 14, 2009)
thank you! this was very informative. as a reader rarely do i think about what goes behind the publishing the book and the business side of books.
(Michelle Santiago 8:26pm December 14, 2009)
You wrote a very enlightening article. It is amazing how little control that the author has on his/her creation. With the face of publishing changing yet again, I wonder what new challenges authors will face.
(Rosemary Krejsa 8:30pm December 14, 2009)
Wild Hearts is book on its own. I read enough stories where the heroine is always needed to be school as a lady. Finally, a flip where the hero needs to be refine.
(Kai Wong 9:09pm December 14, 2009)
Thank you for being here today. Just remember to keep your eye on the prize.
(Lisa Glidewell 9:36pm December 14, 2009)
I hope your new book is a great success. Writing is a very competitive and challenging field.
(Elaine Carlini-Davis 9:42pm December 14, 2009)
Thanks for the inside scoop! And I never
go by covers, but by the authors
description of the characters so don't
focus too much on the cover details.
(Sue Ahn 10:01pm December 14, 2009)
I appreciate the information because I, too, have been annoyed at how pathetically little is done to match cover art to actual content. Would it help at all, I wonder, if readers world wide began protesting discrepancies to publishers? I accept higher prices; they should be willing to be a little more accommodating when facing legitimate concerns of the author or readers.
(Susan Driskill 10:40pm December 14, 2009)
I'd really love to win this book! Sounds like a great read! :)
(Melissa Cleaver 10:41pm December 14, 2009)
There are very few readers who can strike a chord and stir up all of the many emotions in readers, you are one of those such readers. I throughly am tuned in and locked on to your every page, so thank you for being another of those writers whom I look forward to reading and Thank You for sharing your God given talent with the world!
(Ronald Riedel 11:11pm December 14, 2009)
Frankly, I'm glad I'm not an author--not that I really ever could have been. I've been reading about things like those that you've described going on for a long time, but all authors, including best-selling ones, are having the same problems. Actually, the posting of a story might work in your favor. If the word gets out by our reading it and posting about it on different sites and telling other readers about it, it will spur interest in your book when it comes out.

Thanks for the gift of the novella and I sincerely wish you all the best in your endeavor to succeed as a published author.
(Sigrun Schulz 1:20am December 15, 2009)
P.S. One of my favorite authors wrote the story of one hero who was "drop-dead gorgeous." When she saw the cover, she was totally knocked over; her hero looked as if he had mumps. Those who ordered an autographed book from her got a Smiley face on the cover over the offending face. Recently the book was reprinted. I hope it had the cover she originally expected.
(Sigrun Schulz 1:24am December 15, 2009)
was that sounds like know fun at all.hope your book does good.and you have a Great Holiday Season.
(Stacey Smith 3:45am December 15, 2009)
Thanks everyone for stopping by! the computers at fresh fiction will be picking the winners of the books.
I really appreciate you all leaving comments.
And the sticker on the face of the hero is too funny!
(Lori Brighton 7:26am December 15, 2009)
Merry Christmas and thank you for doing Regencys, It is so hard to find them these days, (ones I havent read multi times) please enter me in your contest today tks
(Dorotha Holloway 8:51am December 15, 2009)
Sorry I'm a little slow getting to you but things are really rush around the holidays as we all know. I loved your blog. Just keep doing everything you are. I look forward to your books. I can count on them always being great. Thanks again.
(Gayle Oreluk 9:21am December 15, 2009)

(Deb Soula 12:27pm December 15, 2009)
Lori, Just wanted to say thank you for giving away 3 copies, as I am
one of the lucky winners. It is the first time I win from Fresh Fiction
and am glad it was your novel. It'll be a Christmas present for me!
:-)
(Julie Robinson 1:51pm December 15, 2009)
I found your details and honesty very interesting and educational. I fully agree that to become a published author one has to love the job. There are likely to be many periods of discouragement. The current economic conditions have to be disheartingly, too; for there are so many people out of work. Many things besides books are not selling as much as in the past. I wish you the very best of luck in your chosen career of writing. Your books bring lots of pleasure to lots of readers. Merry Christmas to you and anyone reading this.
(Gladys Paradowski 12:46pm December 16, 2009)
Thanks Lori and Fresh Fiction. I received
my book today. Julie
(Julie Robinson 7:42pm December 18, 2009)
Hi Lori, I want to thank you for your book I was very suprised that about winning, You brought out one of my pet peeves when you commented on the book covers. I really hate it when the cover and the characters don't match. I feel your pain. With an author as it's your baby. Just wanted to thank you again, Great Book!!!
(Dorotha Holloway 10:03am January 11, 2010)
Registered users may leave comments.
Log in or register now!