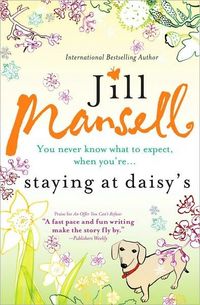 Purchase
You never know what to expect
Sourcebooks Landmark
March 2011
On Sale: March 1, 2011
Featuring: Hector; Daisy MacLean; Dominic
512 pages
ISBN: 1402243847
EAN: 9781402243844
Kindle: B004ISLNTC
Trade Size / e-Book
Add to Wish List

Daisy MacLean runs the country house hotel owned by her flamboyant father, Hector. When she hears who's about to get married there, she isn't worried at all - her friend Tara absolutely promises there won't be any trouble between her and ex-boyfriend Dominic, whom she hasn't seen for years. But Dominic has other ideas...
Meanwhile, Hector's getting up to all sorts with...well, that's the village's best kept secret. And then Barney turns up, with a little something belonging to the husband Daisy's been doing her best to forget. That's the thing about hotels, you never know who you're going to meet. Or whether they're going to stay...
Comments
40 comments posted.
Oh it's good to see you here, Jill! I've read quite a number (though not all - I'm a bit behind with the "older" ones) of your books and love them. Am currently really looking forward to your newest book "To the moon and back" :-) !
Keep up the good work, and before I forget, the book covers are just adorable!
(Birgit Lehner 5:55am March 7, 2011)
Sounds like fun watching rugby players. Being American and not interested in sports for more than tight ends, I have no clue what a rugby player does. I would imagine it's quite fun to watch them though. There are many things I should do but find other things to do instead. Sounds like we have something in common.
(Christina Harrison 6:05am March 7, 2011)
Love the idea of the hotel setting. Love the cover too!
(Dawn Staniszeski 8:35am March 7, 2011)
It's so true that anything can happen in hotels and airports. And THE
HOLIDAY is one of my favorite rom-com's. I've never read any of your
books but this one sounds fun.
(Mona Garg 9:01am March 7, 2011)
This sounds like a lot of fun!!
(Clicia Tremblay 11:30am March 7, 2011)
I believe that the events in "real life" are frequently more unusual than anything in fiction!
(Marguerite Guinn 12:02pm March 7, 2011)
Oh this sounds like such a fun read, we need this right now.
Thank you for writing it.
(Elizabeth Parzino 12:29pm March 7, 2011)
Sounds like another great read to add to my list of books to read! :)
(Colleen Conklin 1:41pm March 7, 2011)
Oh my gosh! The title alone makes me want to curl up and read this book!!
(Pat Willoughby 2:34pm March 7, 2011)

(Georgia Barry 2:36pm March 7, 2011)
Would really enjoy winning - need a lift in my life.
(Georgia Barry 2:37pm March 7, 2011)
Great book cover - dog, flowers and a UK village!
Blessings,
Marjorie
(Marjorie Carmony 3:49pm March 7, 2011)
If you wrote over 20 books, it sounds like I have some catching up to do!! I found your blog very entertaining, and the first thing I noticed when my page came up, was your cover!! I too, thought it was very colorful, and so sweet!! If your book is half as entertaining as your blog was, I'm sure I'll enjoy it. I have a dear friend who lives in Sussex, and I'm sure this book will be similar to hearing one of his stories. Congratulations on your new book.
(Peggy Roberson 3:49pm March 7, 2011)
I really liked the cover for the book! The little dog is adorable! And it looks so much like spring, it could give me Spring Fever! My grandmother ran a rooming house when I was growing up. I learned a lot of life lessons at her house. I've always wanted to go to England, and it's wonderful when an author can transport me there!
(Sandy Fielder 4:06pm March 7, 2011)
Everything I've read so far about the book makes it sound like it will be good so I would like to read it. Also before becoming a stay at home mom I used to run hotels so I know all about that hahaha
(Cindi Mitchell 4:14pm March 7, 2011)
I love a sarcastic character!
(MaryEllen Hanneman 4:20pm March 7, 2011)
i want to read stay at daisy's
(Debbi Shaw 4:27pm March 7, 2011)
Your book cover is simple, yet intriguing especially with the dachshound. I like how your heroine simply couldn't steer clear of the sportsman who had no problem with arrogance. It reminds me of several people that have crossed my path, too.
(Alyson Widen 4:30pm March 7, 2011)
Real life can seem very UNreal at times---so I can see how you can use real life stories in fiction after you dress them up a bit.
(Sue Farrell 4:36pm March 7, 2011)
Oh, I would love to stay at Daisy's. Sounds wonderful.
(Mary Preston 4:43pm March 7, 2011)
Hi Jill, I'm so delighted to meet you, even if it is in blog. I love that you decided to write about an area that you know. It shows in a book and makes the story more appealing. The doxie is a nice touch and gives a story warmth. You just got a new reader and fan. Thank you for the contest---an extra nice touch.
(Rosemary Simm 4:55pm March 7, 2011)
It's a great cover and sounds like an interesting story.
(Maureen Emmons 5:07pm March 7, 2011)
The real life stories about hotel life are amazing. I have an idea Staying at Daisies is even more fascinating.
(Anna Speed 5:56pm March 7, 2011)
Love the idea of a hotel setting....sounds like a great read!
(Gina Borkowski 6:15pm March 7, 2011)
Wow this looks like a great read!!!!!!!!
(Joanne Bozik 6:22pm March 7, 2011)
Thank you for your post, Jill. I've read that truth is stranger than fiction because fiction writers have to make their material believable. Nonfiction writers don't.

Your new book sounds like a fun read. Good luck!
(Mary Anne Landers 6:57pm March 7, 2011)
Wish I could stay at Daisy's for a few days.
(Connie Barham 7:15pm March 7, 2011)
Sounds great. I work in a hotel and would really enjoy reading this book and putting it in our lending library at work.
(Sheila True 7:53pm March 7, 2011)
So much can happen in a hotel... a chance meeting, a handsome stranger, a mysterious woman. I'm sure you won't disappoint us.
(Pamela Stewart 8:32pm March 7, 2011)
this book sounds like so much fun!
(Diane Sallans 10:00pm March 7, 2011)
I need your books to escape from the kids and long days work while I take a nice bubble bath, every night.
(Stephanie Bondlow 10:49pm March 7, 2011)
I would love to read this book. It sounds like a great escape.
(Ginger Hinson 11:13pm March 7, 2011)
Sounds like Daisy has her hands full with that crowd. I worked at a hotel many years ago and I swear there was as much drama on the inside as with our guests.

Sounds like a fun read.
(TinaMarie R 11:51pm March 7, 2011)
Sounds good to me! I love the UK and everything European. The Holiday is one of my favorite Christmas times movies, even if Jude Law is a cad in real life! :D
(MaryAnne Banks 11:51pm March 7, 2011)
Love a classy book cover. The hotel theme is truly one of "unending stories". I've missed you somehow, but will look for your book/books. Sounds like a fun read!
(Jean Merriott 12:04pm March 8, 2011)
The Manor House Hotel sounds like a great place to stay. Your book sounds like a fun read, and I love the cover!
(Yuka Liew 12:10pm March 8, 2011)
Your story sounds very intriguing.
(Ann Garland 1:21am March 8, 2011)
Hotels are like villages all pulled into a tightly confined space. Anything can
happen and usually does. What a great plethora of characters to choose from.
I really like the possibilities. Sounds like a fun read!
(Sandra Spilecki 6:29am March 8, 2011)
This book definitely sounds like a "Calgon" moment.
(Lisa Richards 9:35am March 8, 2011)
This is going to be my book I read at work on Sundays, when I only have one kid to watch at the daycare.
(Stephanie Bondlow 12:50pm March 10, 2011)
Registered users may leave comments.
Log in or register now!