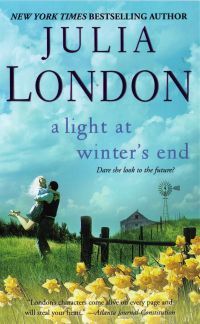 Purchase
Pocket
March 2011
On Sale: February 22, 2011
432 pages
ISBN: 1451606842
EAN: 9781451606843
Kindle: B004INHD3M
Mass Market Paperback / e-Book
Add to Wish List

Hannah has always done everything right: getting married, having a baby, caring of her mother in her final days, all the while performing impeccably in a high-level job. Her sister Holly is the college dropout, the one who works at a coffee shop and wants to be a songwriter. Then one day perfect Hannah suddenly--without explanation--leaves her baby with Holly and disappears. What Holly knows about babies is laughable, but she takes little Mason to the empty family homestead, where she meets Wyatt Clark, a close-mouthed, handsome cowboy who is mysteriously good with babies. And then, just as Holly can no longer imagine her life without either Mason or Wyatt, Hannah returns for her son...
In an emotional new novel that is also a tender love story, New York Times bestselling author Julia London brings back a sexy hero from Summer of Two Wishes while posing the toughest question about the meaning of family: How do you make a heartbreaking choice about someone you whom you love more than yourself?
Comments
16 comments posted.
What a great interview! I love Julia's books.
(Margay Roberge 9:53am February 24, 2011)
Julia's books are great and I love them.
(Vickie Hightower 10:14am February 24, 2011)
I really like Julia's books! Great interview!
(Brenda Rupp 10:38am February 24, 2011)
Thanks!
(Kelli Jo Calvert 11:30am February 24, 2011)
It was really nice to read an interview blog for a change. I'm quite anxious to read Julia's new book. I love the storyline, and must confess that I'm new to this series. My apologies. I'm doing my best to get caught up with all of the authors.
(Peggy Roberson 12:03pm February 24, 2011)
I have not read any of Julia's contemporary romances, but I have read all of her historicals. I think I'll have to check out the contempary romances soon!
(Marguerite Guinn 12:10pm February 24, 2011)
I enjoy Julia's books, and the interview was interesting.
(Ann Garland 1:04pm February 24, 2011)
Thanks for letting us get to know Julia.
(Robin McKay 1:46pm February 24, 2011)
JL's book are always a joy to pick up and lose yourself in.
(Lisa Richards 2:35pm February 24, 2011)
I have to keep adding to my To Be Read pile... pretty soon, I'll need a new house - just to keep them all !
(Cate Sparks 2:57pm February 24, 2011)
Congrats to Julia on the new release. I'm glad Wyatt finds love again.
(Jane Cheung 4:17pm February 24, 2011)
Looking forward to reading "A Light at Winter's End".
(Linda Pillow 8:47pm February 24, 2011)
Julia is one of those no-brainer picks. You put the book in your buggy before you've even thought of it. There aren't that many that I come by so I sometimes do the little squeal that catches attention. Wish I could read it today, but I must wait until the weekend at the earliest. TGIF!!!
(Christina Harrison 12:20pm February 25, 2011)
I love Julia's books and cant wait to read about Wyatt.
(Pat Lieberman 6:39pm February 25, 2011)
Enjoy reading the interview and Julia London's books.
(Alyson Widen 11:11pm February 27, 2011)
A LIGHT AT WINTER'S END is Ms. London's third story set in Cedar Springs, Texas, and features Wyatt Clark who was a main character in the first book, THE SUMMER OF TWO WISHES. This is an outstanding triology and the author now excels in yet another genre - Women's Contemporary.

The book runs the gamut of emotions and will probably leave a big lump in your throat at times, as it did mine. The author's signature has always been well defined characters, perfect pacing, and a loud and clear narrative. THE LIGHT AT SUMMER'S END excels in all of these and might possibly be one of the best books you will read this year.
(Betty Cox 9:31am April 30, 2011)
Registered users may leave comments.
Log in or register now!