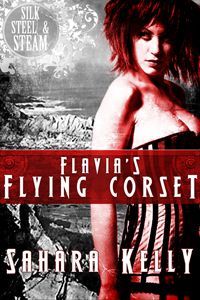 Purchase
Silk, Steel and Steam
Samhain Publishing
November 2010
On Sale: November 9, 2010
Featuring: Dr. Harland Gennaro; Flavia Winters
ISBN: 1609282531
EAN: 9781609282530
e-Book
Add to Wish List

When Flavia Winters enters the aerial carriage that will convey her across churning waters to the magnificent, isolated castle of Dr. Harland Gennaro, it's not a polite social call. Nor does she hope to re-ignite their former passion. Oh, no. She's convinced the renowned scientist stole something of value from her lab, and she plans to get it back by whatever means necessary.
Once Harland blinks away the temporary blindness caused by Flavia's clever magnesium beads, he finds himself tied to a chair as she insists he return a vital ingredient for some impossibility called "Icarus". Then she demonstrates with the last of her compound, and all he can think about is convincing her he's not the guilty party—and getting into the lab with her to recreate her gravity-defying wonder.
Side by side, they burn the midnight oil making new discoveries, and re-learning old ones about each other. As an ocean storm rises with their desire, though, skullduggery is afoot. A thief watches and waits for the moment they make a discovery that could be their last.
Comments
No comments posted.

Registered users may leave comments.
Log in or register now!