Sahara Kelly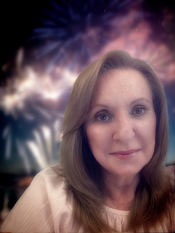 Blogging at Fresh Fiction
Sahara Kelly | 20 Questions: THE RASCAL
May 13, 2022
1--What is the title of your latest release? Hi there, Fresh Fiction readers! Right now, I'm celebrating Read More...
Being transplanted from England in my teens, I arrived in the United States with a head full of Jane Austen, Shakespeare and Thomas Hardy stories, and a trunk full of Georgette Heyer and Barbara Cartland books. Romances are, and always have been, my first reading choice (I write Regency historicals under another name).
I've been happily married for almost twenty years to a high energy physicist/software architect (and would-be biker dude), and am the frazzled mom of a teenage son who intends to rule the world someday. I've worked in academia for many years, been a Middle Eastern dancer and dance teacher, a nursery school aide, and served my obligatory five years pushing designer evening gowns on unsuspecting customers at my local mall. At last I have finally had time to rediscover my passion for writing. Another Regency historical emerged, and was sent off into the big wide world of publishing.
In the interim I joined A Romance Review, and found a group of folks with obsessions like mine! I also found friends who encouraged and supported my efforts to pen a romantica while waiting to hear the fate of my Regency. Little did I realize that the enormous fun I was having writing my first erotic romance would lead to its publication by Ellora's Cave. Now I am in love with the genre, and writing takes precedence over far too many things, like laundry and housecleaning. But what the heck - how many people can say they sit down at the computer each day to do something they adore?
Hobbies? Yeah, I've got a few. I'm an inveterate crafter, and am the co-founder of a crafts group in my area. I'm a dog worshipper, but temporarily dogless after the loss of our second precious Bernese. I hate flying, love the fall, and can't stand olives. Chocolate, however is another matter. I'm an enthusiastic gardener of no repute whatsoever, and am fascinated by Italian glass. One day, I'll go to Venice, stand on the island of Murano, cry a little, and then max out every credit card I own. Until then, I believe that everyone should have a 'Lifetime List' - things they'd love to do but probably never will. Of such lists are fantasies born. We all should have fantasies.
Log In to see more information about Sahara Kelly
Log in or register now!
Series
Books:
The Rascal, May 2022
Ballinger Bastards #1
e-Book
Flavia's Flying Corset, November 2010
Silk, Steel and Steam
e-Book
Compromising Charis, November 2010
e-Book
Forbidden Fantasies, October 2008
Hardcover
Lady Jaided's Virile Vampires, July 2007
Trade Size
Hurts So Good, April 2007
Paperback
Ellora's Cavemen - Dreams of the Oasis Volume 2, June 2006
Paperback