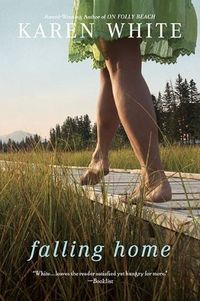 Purchase
NAL Trade
November 2010
On Sale: November 2, 2010
352 pages
ISBN: 0451231449
EAN: 9780451231444
Trade Size
Add to Wish List

You know that saying about how sometimes you're the windshield and sometimes you're the bug?
It's true. Take me, for example. I shook the Georgia dust from my feet fifteen years ago, vowing never to leave Manhattan. I traded sweet tea for Chardonnay, fried chicken for nouvelle cuisine, lazy days on my aunt's front porch for ad campaigns and board meetings, and the guy who broke my heart for my handsome boss, who soon became my fiance. Perfect, right?
Until my sister called. We haven't spoken since I left home--because she married the guy who broke my heart. What's more, she called to say my father is dying--but he refuses to finish until I show up. So I'm back in the hottest, dinkiest small town in Georgia, facing my sister and my old boyfriend over the heads of their--count them-- five children. It couldn't get weirder, right? Unless you count Sam Parker--a long-forgotten classmate, now the town doctor--and how good he's beginning to look to me.
I'm falling apart, I think, wondering why resentment and wounded pride seem silly here in Walton, where forgiveness and acceptance go hand-in-hand with homecoming. And I'm beginning to suspect that I'm falling in love for real this time, with a man whose touch is so right, I feel like I'm...
Comments
15 comments posted.
Re: Falling Home

really enjoy these books
(Joan Geisbrecht 12:35pm September 26, 2010)
Love your Tradd St. books. I'll have to look this one up. Thanks!
(G S Moch 10:37am November 12, 2010)
I really like the premise of
this book because I think, deep
inside, there's still a nerdy
teenager in all of us!
(Margay Roberge 1:49pm November 12, 2010)
Sounds goods. That is what I like to hear; enuf fodder for several books. YAY.
(Helen Livermore 1:51pm November 12, 2010)
It's quite all right to do geeky things like Sudoko which I learned as a judge my first time working the elections. It keeps the mind sharp. You certainly observed a lot of uncivilized behavior at school growing up and to me. That just gives you more of a reason to write about those characters who made life trying and to find creative ways to get over the angst.
(Alyson Widen 1:55pm November 12, 2010)
I can't wait to pick up Folly Beach - my son and daughter-in-law got married that's where my husband and I rented a cottage and their wedding reception was held there.

I remember visiting the Huntley in Charleston (my son went to the Citadel so we spent a lot of time there) which also went down off the coast of South Carolina near Charleston. Did you find out if the two ships were lost in the same area?
(Jeanne Miro 2:29pm November 12, 2010)
I lived near Folly Beach when my husband was stationed at Myrtle Beach AFB. I'll have to read your book.
(Robin McKay 3:10pm November 12, 2010)
I have always been a nerd and proud of it! Not a geek though as I'm not that well-versed in anything to be considered as such.

I learned to be myself instead of trying to be popular when I was in fifth grade and I never looked back. Too bad I was too extroverted to be a true loner.
(S Tieh 4:45pm November 12, 2010)
I loved high school. Probably because we Australians think differently.
(Mary Preston 4:55pm November 12, 2010)
Loved your comment on caterpillars and becoming a butterfly, how true for all!
(Linda Pillow 9:06pm November 12, 2010)
Lots of us are nerds of one sort or another (even if we don't have Mr Roger's sweater). Just think, we are what make the world work (run)!
(Victoria Colyer-Kerr 9:41pm November 12, 2010)
I think that there are more of us that had similar circumstances in school, than were the popular ones. I tended to keep to myself as well, so your blog brought back a flood of memories!! Reading about your books brought back memories regarding my Father's tour of duty in WWII. I'll have to make it a point to read them. They sound like wonderful stories. Don't worry about your closet "quirks" as I'll call them. I love to play mah jongg on the computer when I get the time for relaxation, among other things. Everyone has their little "quirks," and they're nothing to be ashamed or embarassed by. They actually make you who you are and show your intelligence.
(Peggy Roberson 10:21am November 13, 2010)
I think there is a nerdy teenager in all of us!
(Brenda Rupp 10:55pm November 13, 2010)
Okay, I admit it. I'm a nerd too. Yep, I was and still am. Going to school and learning something new has always been paramount for me--even in books. I guess that's why I love historical novels rather than historical romance; I love the actual historic setting with real-life characters, e.g., THE EVERLASTING COVENANT by Robyn Carr, which takes place between 1460 and 1485. Though even the historical characters have dialogue written for them by the authors, its probably based on what the character might have said. I learned a lot of history this way. The dialogue is easily forgotten, but the general history sticks. Ergo, I'm learning history, or at least, firming my knowledge.
(Sigrun Schulz 9:41pm November 15, 2010)
Looking forward to reading FALLING HOME by Karen White. I have enjoyed reading her other books.
(Rebecca Booth 2:05pm December 31, 2010)
Registered users may leave comments.
Log in or register now!