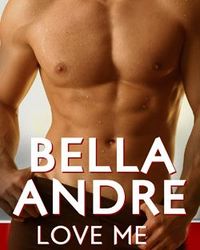 Purchase
Sequel to Take Me
Author Self-Published
July 2010
On Sale: July 8, 2010
Featuring: Janica Ellis; Luke Carson
218 pages
ISBN: 1453669973
EAN: 9781453669976
Paperback
Add to Wish List

It's been five years since Lily Ellis and Travis Carson got married and fell in love in TAKE ME....now it's finally time for Janica Ellis and Luke Carson to get their very own happy ending.
If there's one thing that Janica Ellis is absolutely certain of, it's that she and Luke Carson are totally wrong for each other. She's a wild, artistic and outspoken fashion designer. He's a type A, workaholic trauma surgeon (who just happens to be sizzling hot and her brother-in-law!). But Janica is about to be proven wrong when opposites attract...in the sexiest possible way.
After a life-changing night in the ER, Luke is desperate for escape - and relief from his personal demons. For five years he has fought his attraction to his sister-in-law, but when he's pushed too far, he can't fight it another second. He needs her. Desperately. He's spent his whole life doing the right thing. For one night, he's going to follow desire instead. Straight into Janica's arms.
Janica can't believe Luke is finally at her front door...and that he's kissing her like he's been waiting his whole life to touch her. But even as their sensual connection deepens with every touch of skin on skin - and the man she always thought was such a good boy turns out to be sinfully, toe-curlingly bad between the sheets - Janica soon realizes she wants more than Luke's body. She wants his heart too. But what will Luke do when one night of extreme passion turns into an all or nothing proposition?
Comments
49 comments posted.
Re: Love Me

books are my joy
(Brenda Hook 4:43pm September 23, 2010)
I prefer the cover with the couple on it. I also pick paperback over ebooks, since I don't own an electronic reading device.
(Ginger Hinson 2:02am September 24, 2010)
Definitely the cover of Take Me, with the couple. I love a book in my hands, so I would have to say print books over ebooks.
(Joanne Reynolds 6:18am September 24, 2010)
Print books win with me. from a marketing stand point, I think just the man on the cover as the female book buyer would like to insert her own mental image with the hot guy.
(Karen Gervasi 7:16am September 24, 2010)
I'm more attracted to colors and the general "feel/mood" of the cover than the people.
(Shannon Scott 10:01am September 24, 2010)
I definitely like covers with couples on them and perfer books as i do not have an electronic device.
(Karen Hofmaier 10:47am September 24, 2010)
I perfer a hot guy on the cover hands down. It draws me in and make me wonder how close the cover is to how the main character has been described.
(Lori Tassie 10:56am September 24, 2010)
Well.....I am more attracted to a hunk on the cover than a couple. I'll certainly will pick it up and give it a good look.

After tearing my eyes off the cover...I'll check out the blurb and stuff.

I love books....full stop!!! Doesn't matter if it's an e-book or a print. I have tons of both and enjoy reading both.

Valerie
in Germany
(Valerie Bongards 12:13pm September 24, 2010)
i like the sounds of this book
(Debbi Shaw 12:27pm September 24, 2010)
Honestly, covers don't sway me very much. I usually know what I'm going to pick up before I go to the bookstore or library. Thanks for visiting.
(G S Moch 12:30pm September 24, 2010)
Well, I don't have an e-reader, so it's all print for me. Which is fine and dandy because then I can stroke the cover when it's a hot male bod. LOL!

Honestly, it all depends on the actual cover. If I'm choosing between the two covers you are offering above; then, yes, I choose the cover of the couple. Now, if you would have offered me a different male torso or a different couple, who knows.

OMG YES! Please have the cover models in some way reflect the H/h. I just finished reading a new release where the hero was definitely blond. The cover model: brunette. Give me a break! Knock, knock...hello art department!!!
(Cynthia Netherton 12:34pm September 24, 2010)
It all depends on my mood at the time I am buying. I go for the sexy hunk cover, the loving couple, or the beautiful detailed cover with no characters on it... all depends on my mood!
(Colleen Conklin 1:11pm September 24, 2010)
I always find it disaponting when the cover has very little to with the people in the books.
(Barbara Hanson 1:22pm September 24, 2010)
The hunky guy will always get me to gravitate towards a book. Ebook or paperback it doesn't matter, the same holds true.
(Leni Kaye 1:50pm September 24, 2010)
Hi Bella,
I do want the cover to match the characters physical attributes. I like covers with the hero only and also the ones with the couple.
(Jane Cheung 1:54pm September 24, 2010)
Happy Friday! So glad to be here today. Thanks for all of the wonderful feedback!
:) Bella
(Bella Andre 2:07pm September 24, 2010)
Hi Bella! Have a great day! I love to read & have been doing it since I was 5 years old.
(Terri Quick 2:34pm September 24, 2010)
Yes, the guy of the cover is sexy ;)
(Terri Quick 2:35pm September 24, 2010)
I really like the hunky guy covers and I prefer reading print books but I would like to get an e-reader sometime.
(Cheryl Lynne 3:39pm September 24, 2010)
Hunky Guys always. Prefer paperbacks to ebooks. But that's just me!
(JoAnn White 3:46pm September 24, 2010)
A couple is most attractive to me, but those ripped Abs are something else that would be nice to hug or hold.
(Alyson Widen 3:49pm September 24, 2010)
I like both but a sexy chest is ALWAYS nice to look at ;0)
(Vickie Hightower 3:51pm September 24, 2010)
I go for the hunky guy covers every time. Thanks.
(DeeAnn Szymanski 4:02pm September 24, 2010)
I like to see a man on the front of the book.. not a women.. good job....
(Danielle Pontow 4:14pm September 24, 2010)
I am seriously drooling!
(Pamela Stewart 4:16pm September 24, 2010)
An attractive couple works best for me. It's not all about the guy.
(Mary Preston 4:19pm September 24, 2010)
I would generally say hunky guys alone. But if it is like one of your book covers where the couple is hot, wel... I do prefer cover models to at least resemble what the author has drawn in my head. ;)
(Kelli Jo Calvert 4:30pm September 24, 2010)
I think it's important to have the cover people match the author's description of them---makes no difference to me whether it's the couple or the hunk.
(Sue Farrell 4:35pm September 24, 2010)
Either or neither, depending on the book. Actually, it's the title, back blurb, and inside cover excerpt that get my attention first, and they are what influence my buying choice much, much more than the cover. Having said that, I'd probably give the solitary hunk the edge, if it's a toss-up otherwise.

And like so many others, it's the real thing all the way for me, as I don't own an e-reader, and don't like reading books on the computer, although I have been known to do it in a pinch.

Later,

Lynn
(Lynn Rettig 4:40pm September 24, 2010)
I love real books!!!
Blessings,
Marjorie
(Marjorie Carmony 4:49pm September 24, 2010)
I like the couple on book covers as opposed to a single man.
Give my paperback anytime/all the time. It is much nice to hold the book in your hands while reading.
(Robyn Lee 4:54pm September 24, 2010)
I am commenting?? I like your plot - sounds interesting.
(Beth Elder 5:07pm September 24, 2010)
Chest!!!
(Farrah Rochon 5:09pm September 24, 2010)
I actually like both your covers but to tell the truth I rarely buy a book for its cover; though once I read the book I am very disappointed when the hero and heroine do not match the cover.
(Diane Sadler 5:14pm September 24, 2010)
I go for the books featuring couples on the cover. It's easier to imagine myself in the girls shoes. lol
(Becky Pena 5:32pm September 24, 2010)
I want the covers to reflect the
characters. If the heroine is rounded
or full figured and they use an
anorexic chic, it is really irritating.
You don't have to be a size 0 to be
pretty. I like both types of covers if
they are tastefully done. Is it me, but
are the pant getting lower? Some of
these guys better not sneeze or the
cover goes to x-rated real quickly. I
like something to be left to the
imagination.

I prefer real books to e-books. Of
course I don't have an E-reader. I still
like the feel of paper and substance a
book gives.
(Patricia Barraclough 5:36pm September 24, 2010)
Wow - I just checked back in and saw that there's a cover party going on in here! :) Lots of awesome comments and I'm noting everyone's preferences with great interest. Looks a bit more even on this blog than it did earlier this week when I asked my cover ?. Sounds like no matter what, the cover needs to match the character descriptions in the book. Totally agree!

And Patricia, I had a good giggle over your comment about a sneeze leading to an x-rated cover! (Not that I'm complaining, mind you..LOL)

Looking forward to getting more feedback! I will check in again after my son's school picnic.

:) Bella
(Bella Andre 6:15pm September 24, 2010)
I like a sexy couple and prefer paperback.I will reread a book ,I like, two or three times.Different covers,if it looks interesting,but I also checkout the backcover and first page.
(Deb Pelletier 7:36pm September 24, 2010)
LOVE the hunky guy cover the most. But a sexy couple cover is nice too! And I think the photo(s) on the cover should 'match' the character it's about. Most of my books are now ebooks because I have a kindle, but I would not hesitate to buy a real book if the ebook was not available! Bella, I loved 'Love Me'!! It's my favorite so far.
(Sharon Schofield 7:45pm September 24, 2010)
I like to see a man...with some hint as to his personality
(Diane Pollock 7:56pm September 24, 2010)
I don't understand why covers sometime have a couple pictured that are nothing like the characters. They don't even try to match up haircolor or eyecolor or anything sometimes.
(Sherry Russell 9:31pm September 24, 2010)
I usually notice a couple over a single man.
(Brenda Rupp 10:28pm September 24, 2010)
I do buy the book by the cover. I don't based the cover if it has a hunky guy or two almost naked couple. I buy the book because the arts appeal to me.
(Kai Wong 12:03pm September 25, 2010)
I like both couples and hunky guys on the cover as long as they match the author's description of the characters.
(Anna McKenrick 12:05pm September 25, 2010)
I prefer a couple rather than the hunky guy covers and it doesn't matter if the cover is ebook or pring.
(G. Bisbjerg 12:18pm September 25, 2010)
I prefer couple covers that match the characters in the book. As long as the cover respresents what I can look forward to reading about, I'm happy.
(Quetzi Fernald 5:52am September 25, 2010)
I am still attached to the paperbacks. I like to have a physical book in my hands. I tend to like the covers with a couple on it more than the ones centered around the man-titty. :P Although I'm thinking a lot of the books are becoming more and more over the top.
(Rosie Nguy 5:25pm September 25, 2010)
for this book, definitely the couple & yes, they need to match the description in the book. Hate it when there's no resemblance @ all between the cover art & the book. I've been waiting forever for this book. You've made my day w/ this news!
*doing a happy dance*
(Ivy Truitt 11:48pm September 25, 2010)
I don't see anything wrong with the couples covers. There have been a few times where I have seen couple covers where the printer has gone a little over the top, and made the book look cheezy and cheap. I actually laughed out loud when I saw a couple of these covers, because I figured the writing inside would be pretty close to the cover picture. If a cover is fun, flirty, and not over the top, it makes you want to reach for the book, buy it, and read it. Single male books can be quite attractive as well, as long as they have a well-toned body, and aren't doing anything stupid that would stop someone from purchasing the book. I know I would buy a book with a hot guy on the cover if the title was good as well!! Looks like you picked a winner this time!! Congratulations!
(Peggy Roberson 12:10pm September 26, 2010)
Registered users may leave comments.
Log in or register now!