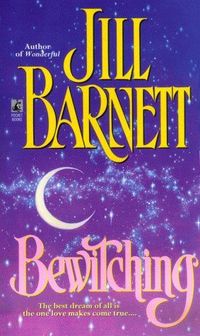 Purchase
When magic's in the air, can love be far behind?
Pocket
October 1993
On Sale: October 1, 1993
Featuring: Joy Fiona MacQuarrie; Alec, Duke of Belmore
464 pages
ISBN: 0671778633
EAN: 9780671778637
Mass Market Paperback
Add to Wish List

Romance Paranormal | Romance Historical
She had bewitched the most serious, snobbish, and handsome Duke in England. Joyous MacQuarrie...the pixie-like, green-eyed beauty had appeared from nowhere and fell unashamedly into his arms. And all that his society friends knew of the mysterious lady was that she was Scottish and that her grandmother had been a Locksley. Even her fine bloodline didn't make Joy quite proper enough to be a Duchess, but a proud nobleman like Alec, Duke of Belmore, did as he pleased...and he wanted to marry the beautiful girl who aroused his desire.
But Alec soon discovered he could not do what he pleased with Joy Fiona MacQuarrie. Bubbling with laughter, filled with spirit, she turned stately Belmore Park upside down with merriment and strange occurrences. She might even have gotten Alec to laugh -- and to cherish her -- if it had not been for the truth she hid. Though he turned to fire when he tasted her petal-soft lips, he turned to ice when he discovered that this winsome lady was, in fact, a witch. A witch whose powers of white magic were not always perfectly under control....Too late, Joy knew she was desperately in love and that nothing could stop the course of their destiny -- the scandal threatening to destroy her and the passion that held them both spellbound in a forbidden, irresistible match of two enchanted hearts.
Comments
17 comments posted.
Re: Bewitching

WOW that is so great cuz I just got an e-reader and am finding the more I look the more I find and this is a wonderful find. Thank you for offering your book in this format.
(Vickie Hightower 3:18pm June 28, 2010)
I sure would like to have a Kindle, with all the books becoming available.
(Diane Sadler 6:48pm June 28, 2010)
LOVE the cover of bewitching!! A kindle would be heaven.
(Mary Preston 7:26pm June 28, 2010)
I would love to have a kindle, but do not have one!
(Brenda Rupp 8:55pm June 28, 2010)
Goodie for those who have a Kindle. I'm in a quandary: I have way too many paper books with no space for them. Because of financial constraints, I can't afford either an e-reader or a larger apartment. Therefore, most of my books are in storage--along with a lot of other things I need. Yuck.

Jill's books are always good. Most of hers are also in storage.
(Sigrun Schulz 11:13pm June 28, 2010)
I don't have an e-reader. I know they are
handy and I should look into them, but I
like the feel of a real book.
(Patricia Barraclough 1:08pm June 29, 2010)
Would love a Kindle but as long
as there are print books, I
probably won't indulge.
(Lisa Richards 10:18pm June 29, 2010)
There's nothing like the feel of a real book in your hands. I wouldn't pass up a Kindle as a gift or prize, though. I'd give it to my husband to use, and continue reading my books!! I haven't read Bewitching yet, and would love to!!
(Peggy Roberson 10:21pm June 30, 2010)
Kindles are very expensive... I'll have to stick with my pc for now.
(Brandy Blake 1:45pm July 1, 2010)
I love Jill Barnett's books! She was my first
glom author!
(Molly Wilsbacher 9:27pm July 1, 2010)
not sure if i can part with the book feeling either; but if someone gifts me one, I game to try!!
(Barbara Studer 6:13pm July 4, 2010)
I am trying to fill my laptop with books so that I don't have to take those two extra suitcases when we travel :>)
(Karin Tillotson 1:48pm July 8, 2010)
Right now I have no was to read ebooks, but maybe luck will come my way.
(Gladys Paradowski 6:03pm July 8, 2010)
Of course, I meant I have no WAY to read ebooks. These fingernails do not make for easy typing.
(Gladys Paradowski 6:04pm July 8, 2010)
Even though I've not given in yet
and bought a Kindle, it's great
that these wonderful stories can
live on in ebooks.
(Lisa Richards 9:00pm July 8, 2010)
Awesome! I love it when I find treasures in the Kindle store. Ebooks really allow people to discover new authors and re-discover the favorite author's earlier publications.
(Brandi Evans 9:08pm July 11, 2010)
Try Kindle for Blackberry, Android, Ipad (Ietc). I don't have a Kindle device yet, but having the app on my Blackberry is AWESOME.
(Brandi Evans 9:09pm July 11, 2010)
Registered users may leave comments.
Log in or register now!