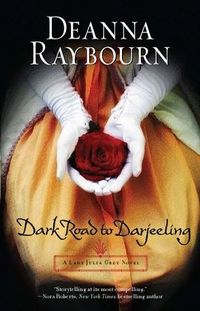 Purchase
For Lady Julia Grey and Nicholas Brisbane, the honeymoon has ended, but the adventure is just beginning.
Lady Julie Grey #4
MIRA
October 2010
On Sale: October 1, 2010
Featuring: Lady Gray; Nicholas Brisbane; Jane Cavendish
400 pages
ISBN: 0778328201
EAN: 9780778328209
Paperback
Add to Wish List

A moody Victorian-era detective and his privileged wife travel to India to unravel the mystery of a friend who dies under strange circumstances in Dark Road to Darjeeling, the fourth novel in critically acclaimed author Deanna Raybourn's Julia Gray series.
For Lady Grey and Nicholas Brisbane, the honeymoon has ended...but the adventure is just beginning.
After eight idyllic months in the Mediterranean, Lady Julia Grey and her professional Inquiry Agent husband are ready to put their investigative talents to work once more. At the urging of Julia's eccentric family, they hurry to India to aid an old friend, the newly-widowed Jane Cavendish.
Living on the Cavendish tea plantation with the remnants of her husband's family, Jane is consumed with the impending birth of her child - and with discovering the truth about her husband's death. Was he murdered for his estate? And if he was, could Jane and her unborn child be next?
Amid the lush foothills of the Himalayas, dark deeds are buried and malicious thoughts flourish. The Brisbanes uncover secrets and scandal, illicit affairs and twisted legacies. In this remote and exotic place, exploration is perilous and discovery, deadly. The danger is palpable and, if they are not careful, Julia and Nicholas will not live to celebrate their first anniversary.
Lady Julia Grey

Silent in The Grave
#1.0
Amazon.com | BN.com | | |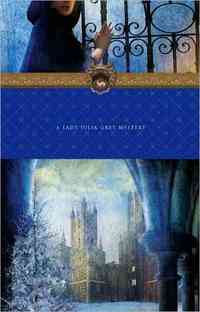 Silent in the Sanctuary
#2.0
Amazon.com | BN.com | | |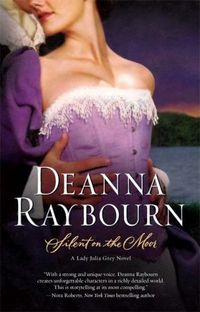 Silent On The Moor
#3.0
Amazon.com | BN.com | | |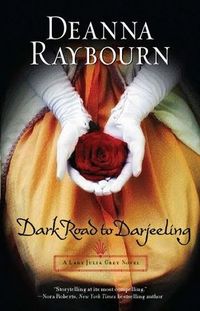 Dark Road To Darjeeling
#4.0
Amazon.com | BN.com | | |
Comments
11 comments posted.
Actually, I try to bring the book with me. Whenever we travel, I try to select books that pertain to the places we are going. For example, we were going to Northern Maine and staying at a ski liogde in the Fall. I had been reading Janet Chapman's Highlander books which take place in that general vacinity. I had just gotten the fourth book, so I took all four, reread the first three (to my husband while he was driving) and then read the fourth to him. It was kind of neat to be where the story was taking place. On our trips out West, I have historical westerns to read and non-fiction on the pioneers, Lewis and Clark, the texas Rangers, mail order brides, whatever seems most appropriate for the trip.
So many books are coming out with recipies, it is easy to celebrate finishing the book by making some of them.
(Patricia Barraclough 9:04am October 3, 2010)
My husband and I enjoy going to our National Parks. I have been reading Nevada Barr's books about some of the Parks we have visited. Now I am looking for books about the Parks we haven't yet visited. When we go, I try to find the various locations from the books
(Karin Tillotson 10:18am October 3, 2010)
Just finished reading The Outer Banks House by Diann Ducharme; couldn't wait to google the outer banks even tho the book had a map (great idea as I kept looking back at it). Family had talked about a vacation to the east coast; i already had maps ordered from the internet--so that's where we are going; so excited.
(Barbara Studer 2:10pm October 3, 2010)
I always carry books and cherish those few moments in between when nothing but the words are calling.
(Alyson Widen 3:26pm October 3, 2010)
If the story is particularly memorable it stays on my mind, my book shelf & on my to be read again list.
(Mary Preston 5:06pm October 3, 2010)
There are books that just stay with you no matter what and some I have read so often I almost know them by heart.
(Diane Sadler 6:02pm October 3, 2010)
As someone who loves photography and also loves to cook, I often find myself looking to recreate a scene I've read being described in a book, or recreating a meal that was described or even making a visit to a location described in a book that really appealed to me.
(Donna Holmberg 9:20pm October 3, 2010)
If a book has a profound affect on me, I tend to tell my girlfriends about the book, so that they can have the same experience that I have. I think I can count on one hand the number of books I have read in the past couple of years that have really been well-written to the point that they have moved me emotionally enough to tell someone about them. They weren't your "cookie cutter" type stories, and for that I feel grateful the authors wrote such wonderful books.
(Peggy Roberson 10:49pm October 3, 2010)
I read all the time and always have books with me with my e-reader it makes it easy to carry books.
(Vickie Hightower 11:25pm October 3, 2010)
I love to read and part of the excitement is when me and my bff buy the book together, Starbucks in hand. We discuss the cover and share the excitement of the wait being over and we can sink ourselves into the story, catching up with them and the everyday just slips away for alittle while. As soon as we are done then it's more coffee and discussion time. :)
When I travel I always carry a book with me, though I am not one to read on the beach, kids make that impossible and thats okay because those are moments in time I don't want to miss. :)
The ideas here are awesome, to throw a dinner party and fix foods designed around a book, thats awesome. I will keep that in mind. It would be so much fun.
One of my fave authors is throughing a get together in New Orleans for Halloween weekend and that is where her books are based. We are so excited!
Best Wishes and I look forward to reading your books.
(Chris Jones 9:46am October 5, 2010)
My entire family (which now also includes grandchildren) always travel with books. My oldest son even got in trouble in grade school for reading in class (unfortunately he was reading The Trilogy of the Rings by Tokien but it was in math class - maybe the reading teacher wouldn't have gotten upset but the math teacher was not happy).

My husband and I don't get to travel as much as we'd like but we always end up planning on going to a location that we learned about in a book (Winchester Cathedral where the organ started playing when we enterred and Lithinglow Palace in Scotland that we had all to ourselves the day we visited). We think of them as our "treasure moments" that we might have missed if they hadn't been included in books we had read.

As parents and grandparents it can be a curse and a blessing with trying to plan the iternary around visiting places everyone wants to see. Did you know that Appomatox Courthouse is hours away from anything but on the flip side even though it's a national park there aren't any waiting lines!
(Jeanne Miro 3:59pm October 5, 2010)
Registered users may leave comments.
Log in or register now!