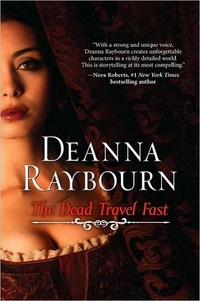 Purchase
A husband, a family, a comfortable life: Theodora Lestrange lives in terror of it all.
MIRA
March 2010
On Sale: March 1, 2010
Featuring: Theodora Lestrange; Andrei Dragulescu
400 pages
ISBN: 0778327655
EAN: 9780778327653
Trade Size
Add to Wish List

With a modest inheritance and the three gowns that comprise her entire wardrobe, Theodora leaves Edinburgh—and a disappointed suitor—far behind. She is bound for Rumania, where tales of vampires are still whispered, to visit an old friend and write the book that will bring her true independence.
She arrives at a magnificent, decaying castle in the Carpathians, replete with eccentric inhabitants: the ailing dowager; the troubled steward; her own fearful friend, Cosmina. But all are outstripped in dark glamour by the castle's master, Count Andrei Dragulescu.
Bewildering and bewitching in equal measure, the brooding nobleman ignites Theodora's imagination and awakens passions in her that she can neither deny nor conceal. His allure is superlative, his dominion over the superstitious town, absolute—Theodora may simply be one more person under his sway.
Before her sojourn is ended—or her novel completed—Theodora will have encountered things as strange and terrible as they are seductive. For obsession can prove fatal…and she is in danger of falling prey to more than desire.
Comments
7 comments posted.
Titles can be so important and
there are some titles that
make me think, How did they
come up with that? Sometimes
in a good way, sometimes not.
But I think they are important
because they can often be
reflective of what's inside -
and can determine whether or
not someone buys the book.
(Margay Roberge 8:13am February 11, 2010)
I have to admit, I never thought about how an author came up with a title. I suppose I just assumed the author always knew what it was. Now I know the book "tells" the author what it's name is. Wow. That's interesting.
(Patsy Hagen 12:42pm February 11, 2010)
I never realized how much work is put into chosing the title or how important the cover art is. I enjoyed this behind the scenes look. Thank you.
(Rosemary Krejsa 3:10pm February 11, 2010)
The title of a book is the second thing a buyer notices after the picture on the oover (if there is a picture). I think it would be great fun to be able to think up titles for books, but it would necessitate having to read the stories first if one wasn't the author. That would be time-consuming if it required reading a huge number of books.
(Gladys Paradowski 9:09pm February 11, 2010)
I had always imagined the title to come first.
(Mary Preston 11:28pm February 11, 2010)
I have read several authors who say their publisher may change the title of the book at whim. I would be a 'little' upset if I worked to find a title that I thought was appropriate and then the publisher changed it,
(Karin Tillotson 6:20am February 12, 2010)
I guess you're lucky that your titles were accepted as you submitted them. I always think the "quote" kind of title is the best. It gives the book a more literary appeal. You definitely have chosen very good and memorable ones.
(Sigrun Schulz 8:24pm February 12, 2010)
Registered users may leave comments.
Log in or register now!