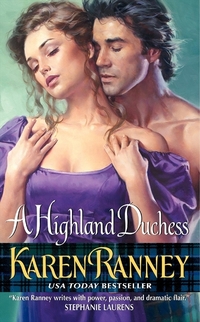 Purchase
The story of a duchess taken captive briefly?just long enough to fall in love?by a lusty Scotsman, A Highland Duchess is a wildly romantic, deeply emotional tale.
Avon
August 2010
On Sale: July 27, 2010
Featuring: Emma, Duchess of Herridge; Ian McNair
384 pages
ISBN: 0061771848
EAN: 9780061771842
Mass Market Paperback
Add to Wish List

The beautiful but haughty Duchess of Herridge is known to all the ton as "The Ice Queen." But to Ian McNair, the exquisite Emma is nothing like the rumors. Sensual and passionate, she moves him as no other woman has before. If only she were his wife and not his captive...

But for Emma and Ian, fate has decreed that the dream can never be--for pursuing it means sacrificing everything they hold dear: their honor, their futures.. and perhaps their lives.
Comments
13 comments posted.
I just love your books.Always keep me interested!
(Jean Merriott 11:11pm August 8, 2010)
Obviously,your writing was a little magic with some complexity thrown in. You had your story line in your head, yet you had to research History to make it accurate and believable. In school I was encouraged to write. My Mother discouraged me. I wish my heart had been as strong as yours was. It was always my first love. I can see the passion in your words.
(Peggy Roberson 6:50am August 10, 2010)
I couldn't write to save my life. I admire those who can & do.
(Mary Preston 7:48am August 10, 2010)
I love the way you develope your characters and can't wait to read Emma's story. We all have challenges we must face in life and each of us face them from different perspectives. I admire how you bring that aspect of all of our lives to your characters.
(Jeanne Miro 9:26am August 10, 2010)
I am so glad that you and other authors think this way since we wouldn't have anything to read if you didn't.
(Diane Sadler 10:20am August 10, 2010)
I used to imagine that I had married a real, honest to God, cowboy and had moved out West where I sat outside under the huge blue sky and wrote all day - then I remembered I couldn't write - no matter how much I wanted to be able to!
(Kelli Jo Calvert 4:28pm August 10, 2010)
My mother used to tell me that if something was worth doing, it was worth doing well...the first time!! Obviously, she knew it would be extremely difficult for creative people like you to produce quality 'reads' for the rest of us. thank you for making the effort.
(Susan Driskill 4:32pm August 10, 2010)
I am amazed at how creative people like you are! I enjoy your books keep them coming
(Vickie Hightower 9:05pm August 10, 2010)
I sm always amazed by the different plots that romance authors come up with. My hat's off to all of you!
(Gladys Paradowski 9:15pm August 10, 2010)
Persevering,you knew all along about the need and desire to write. The craft only works when you immerse yourself in it. Not so much magic, but sometimes the words seem to fly from your fingers and write themselves and evolve.
(Alyson Widen 9:22pm August 10, 2010)
I love talking to authors about their different ways of writing, and talking with them. I love to read but can't write to see my life!
dancealert at aol dot com
(Brenda Rupp 10:37pm August 10, 2010)
I love hearing the different processes
and paths authors use to get their
books on paper (or computer). The
number that decided to be authors
when they were just children is
fascinating. I enjoy your books and
would hate to think I would have
missed those stories if you had failed
to follow your dream. Heres hoping
those characters and stories continue
to develop for you.
(Patricia Barraclough 10:44am August 12, 2010)
I have got to move this up higher on my wish list. lol Can't wait to read another of Karen's great books.
(Brenda Hill 4:07pm August 23, 2010)
Registered users may leave comments.
Log in or register now!