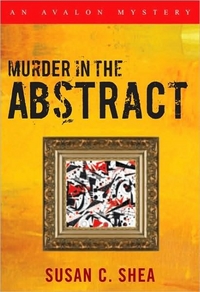 Purchase
Danielle O'Rourke #1
Avalon Books
July 2010
On Sale: June 24, 2010
Featuring: Danielle O'Rourke
272 pages
ISBN: 0803477686
EAN: 9780803477681
Hardcover
Add to Wish List

Mystery Amateur Sleuth | Mystery Woman Sleuth
Danielle O'Rourke's gala evening at the Devor Museum ends in catastrophe when the body of a young artist plummets from her office window. The police label it murder and suspect Dani, the Museum's chief fund raiser.
Self-preservation and an insider's understanding of how money moves the art world drive her to investigate who might have a motive for murder. Dani's playboy ex-husband and a green-eyed cop complicate matters as her search moves through the fashionable worlds of San Francisco and Santa Fe.
Comments
47 comments posted.
I would love the opportunity to read your book. The bad boy is always so much fun to watch.
(Joanne Reynolds 6:30am July 14, 2010)
There is at least a little of the "bad" girl or boy in all of us, thank goodness!
Blessings,
Marjorie
(Marjorie Carmony 8:10am July 14, 2010)
I would love to win this book. Thanks for the chance.
(Yvonne Butler 8:16am July 14, 2010)
Speaking from the viewpoint of an ex elementary teacher - I think the bad boys learn early on that they can get away with a lot of things by acting 'cute' and when they finally notice girls they use the same MO.
(Karin Tillotson 8:16am July 14, 2010)
I love hearing authors talk about how the characters in their stories take over, so much fun.
(Barbara Hanson 8:17am July 14, 2010)
Love a bad boy. The book looks amazing.
(Mary Preston 8:22am July 14, 2010)
Would love to read the book since I married a "quintessential bad boy". Only after this long, the bad boy routine is a little old, lol.
(Vicki Hancock 8:51am July 14, 2010)
I lusted after a "Bad Boy" during High school. No one knew but me. I can still remember the guy.
(Pat Wilson 9:25am July 14, 2010)
First I would like to wish you the best on the book, not that you need it. This sounds great and I too like to read about bad boys. Thank you for the chance to win.
(Cynthia Plaza-Harney 9:32am July 14, 2010)
Bad boys appeal to all women, young, old and in between. It's that sparkle in their eyes that just calls out to us.
(Diane Sadler 9:34am July 14, 2010)
A fell for way too many bad boys when I was a teenager--thank goodness I grew up and married an accountant. But I'd like to win your book to relive some of those exciting bad boy years.
(Sue Farrell 10:07am July 14, 2010)
There are so many taboo things going on with bad boys, of course they are fun to read. I enjoyed your column today.
(G S Moch 10:43am July 14, 2010)
We all think we want the bad boy!!
(Teresa Alexander 10:45am July 14, 2010)
I like reading about bad boys but I don't want to get involved with one.
(Cheryl Lynne 10:59am July 14, 2010)
Your book sounds intriguing and your "bad Boy" sounds like an interesting character to know. I look forward to reading about him.
(Robin McKay 11:58am July 14, 2010)
I love to read about bad boys, especially if they turn into good ones (for the heroine) at the end of the book. I dated my share of bad boys before I married my wonderful husband of 36 years. Susan, your book sounds sensational. Thanks for the opportunity to win it.
(Cathy Phillips 12:28pm July 14, 2010)
I think the bad boy brings out the
mothering instincts in most women.
We should know better, but once he
throws you that dimpled smile, you
think he can't be all bad. We can
change him, give him what he needs to
settle down and behave himself.
Right. We will never learn or give up
hope.
Sounds good.
(Patricia Barraclough 12:45pm July 14, 2010)
There's something about bad "boys" which draws me like a magnet in stories. However in real life, I let them find their own headlines.
(Alyson Widen 12:45pm July 14, 2010)
I love how your fictional guy has charmed his way into scene after scene. That's just the way they are!
(Jessica Badeaux 1:13pm July 14, 2010)
Bad boys can be exciting, but good guys can win with their niceness.
(Cathie Veres 2:20pm July 14, 2010)
Bad boys make for good characters to read about because there is so much to discover about them.
(Leni Kaye 2:21pm July 14, 2010)
I'm a bad boy lover too..hehe!!! It's great to take the journey with them and see if they can redeem themselves.

This looks like a great read.

Valerie
in Germany
(Valerie Bongards 2:37pm July 14, 2010)
sounds like a great book
(Sagrario Vigil 2:44pm July 14, 2010)
Bad boys are terrific in books but stay away from the real ones..lol
I like that you gave Dani's X the nickname "Dickie". I know a "Dickie" and I laughed when I saw his name. "Dickie" can mean different things like "Dick", "I'm Mr. Perfect", "My health condition keeps me from doing anything", "I am the most important person in my life" and the list goes on. I have to read your book to see how many times I laugh at "Dickie". lol His Mom and family still call him "Dickie" and he hates it.
Hope I win so I can begin reading your book ASAP.
I would like to find out how you ended Murder in the Abstract.
(Brenda Hill 2:51pm July 14, 2010)
Unfortunately, I have always loved the bad boys. As I've matured, I have found that I don't particularly like those traits that make them that bad boy, but my brain certainly cannot tell my heart what to feel!!
(Kelli Jo Calvert 2:56pm July 14, 2010)
I dated ALOT of bad boys being a preachers kid thay loved me and I had a ton of fun but I married a good boy and he is a great hubby and father so now I just read about bad boys and love that.
Your book sounds great I'll be adding it to my summer list.
(Vickie Hightower 3:05pm July 14, 2010)
I'm a mystery fanatic and love your description of your characters not behaving the way you planned. I can't wait to read the actual book if I'm so taken with just the description!
(Jodi Webb 3:22pm July 14, 2010)
I would love to read your book, sounds awesome! We all love them bad boys, I dated a few myself!
(Gail Hurt 4:34pm July 14, 2010)
I love hearing that characters take on a life of their own, so to speak. It makes them that much more fascinating and it speaks volumes about your talent as a writer. :)
(Michelle St. James 4:37pm July 14, 2010)
What is it that is sooo appealing about the "bad boy"?
Please enter me in your drawing. Your book sounds like a lot of fun. Thanks!
(Karen Gervasi 4:54pm July 14, 2010)
Hi! A bad boy is fun as long as he is someone else's headache. I've always thought real life bad boys as not worth my time, but fictional ones sure are fun!
(S Tieh 5:26pm July 14, 2010)
I'd like a chance to read this Bad Boy's story. Same feeling as the poster above: not sure if I can handle a real one; but I can dream and/or read about them
(Marelou A 7:10pm July 14, 2010)
Bad boys are irresistable because we know they are bad for us.
(Lisa Garrett 7:52pm July 14, 2010)
Looking forward to this book. It sounds awesome.
(Pam Howell 8:08pm July 14, 2010)
hi wishing the bes for the new book would love to read your book and blog on it
(Desiree Reilly 8:19pm July 14, 2010)
I have always love the Bad Boy type. I can't resist them.
(Kai Wong 9:27pm July 14, 2010)
Rules were meant to be broken so it is fantastic to see someone push that envelope but still remain a "good guy"at heart.
(Darci Paice 9:54pm July 14, 2010)
I love bad boys! Thanks for the opportunity!
(Brenda Rupp 11:01pm July 14, 2010)
I find myself drawn to the bad boy in books and movies. The best is when he is in a series and I can follow him from book to book. I think it is the fantasy that we can fix them that is the appeal.
(Sara Edmonds 12:47pm July 15, 2010)
Boy, do I remember a certain bad bod. He was handsome as all get out and left a string of broken hearts in his wake.
(Gladys Paradowski 1:09am July 15, 2010)
I dated the bad boy once. It was hard to
get rid of him...sex appeal, charm....how
do we get so suckered in??? Love to read
the book!
(Linda Bolton 6:29am July 15, 2010)
I've known some bad boys,and my Dad wouldn't let me date any bad boys. What a pity!! When I got older and left home, I had the opportunity to date a couple of them, but they always knew their place with me. Reading your piece brought back such a warm place in my heart, and I must read your book!! It mimics parts of my life, and I'm sure it will make for a great summer read!! Thanks so much!!
(Peggy Roberson 9:26am July 15, 2010)
I like the quote: "Better to have love and lost, than to wake up next to a psychopath the rest of your life."
(Shannon Scott 10:52am July 15, 2010)
Thank goodness he's a fictional bad boy. I wouldn't know what to do with one if he were real!
One of the things I love about reading is that I get to enjoy things I may not experience otherwise; thanks for spreading that love!
(Elaine Seymour 11:28am July 15, 2010)
I would love to read your book also. The appeal of the bad boy can be very strong pull sometimes. I have never really dated a bad boy but I can understand why you want to. The pull and excitement of being with someone who has done something wrong is very exciting to you because you have always done the right thing. It makes you very attracted to the individual. I have always wanted to date a bad boy. Please enter me in contest. Tore923@aol.com
(Victoria Zumbrum 12:17pm July 15, 2010)
One of the appeals of the bad boy is finding what makes him act the way he does. Usually it's a deep hurt. For the heroine strong enough to take him on, the reward is finding and healing the hurt. Life will not necessarily be a rose garden after that. However, it can lay the groundwork of a lasting relationship.
(Sigrun Schulz 6:45pm July 15, 2010)
I'm sorry I missed this contest, I love mysteries
(Catherine Myers 9:00pm July 15, 2010)
Registered users may leave comments.
Log in or register now!