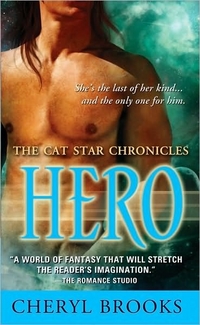 Purchase
She's the last one of her kind...and the only one for him.
Cat Star Chronicles #6
Sourcebooks Casablanca
August 2010
On Sale: August 3, 2010
Featuring: Micyala; Trag
384 pages
ISBN: 1402229410
EAN: 9781402229411
Kindle: B003YFJ5GI
Mass Market Paperback / e-Book
Add to Wish List

HE IS THE SEXIEST, MOST IRKSOME MAN SHE'S EVER ENCOUNTERED....
Micyala is the last Zetithian female left in the universe. She doesn't know what's normal for her species, but she knows when she sees Trag that all she wants to do is bite him...
HE HAS SEARCHED ALL OVER THE GALAXY FOR A WOMAN LIKE HER...
Trag has sworn he'll never marry unless he can find a Zetithian female. But now that he's finally found Micayla, she may be more of a challenge than even he's able to take on...
Cat Star Chronicles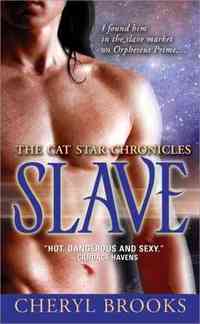 Slave
#1.0
Amazon.com | BN.com | | |

Warrior
#2.0
Amazon.com | BN.com | | |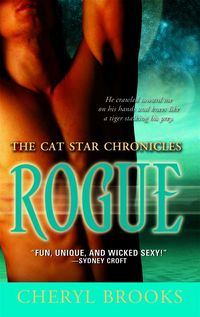 Rogue
#3.0
Amazon.com | BN.com | | |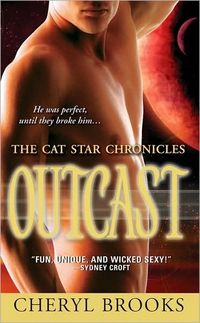 Outcast
#4.0
Amazon.com | BN.com | | |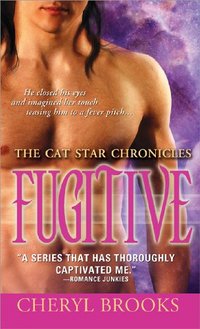 Fugitive
#5.0
Amazon.com | BN.com | | |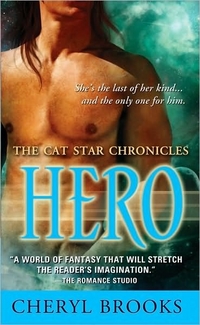 Hero
#6.0
Amazon.com | BN.com | | |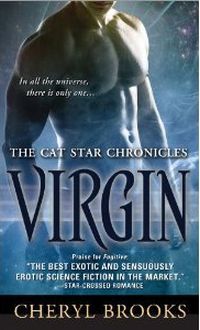 Virgin
#7.0
Amazon.com | BN.com | | |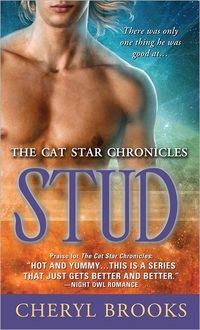 Stud
#8.0
Amazon.com | BN.com | | |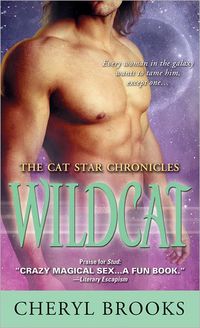 Wildcat
#9.0
Amazon.com | BN.com | | |
Comments
53 comments posted.
Re: Hero

I've read ALL of the Cheryl Brooks' Cat Chronicles series and love them. It's hard to believe she keeps getting better and better but she seems to do it each time. I adored Fugitive and look forward to reading Hero.
(Nancy Bristow 4:01am July 19, 2010)
When I read a review, I like to know
if the reviewer has read other books
by this author. Some reviews givr
too much informstion and a review
by a reader or a hater can turn me
away from a good book. I just read
what I want to read.
(Tanja Haack 4:30pm August 16, 2010)
i can see how reviews can be hurtfull, but you have to remember that not everyone likes the same things and it's impossible for everyone to feel the same way about a book. i don't often read reviews unless it's for a book that i've been waiting for from a series that i'm reading, but i do look at ratings that people give. i don't want to be swayed by what others are saying about a book before i've had the chance to make my own opinion. thanks for the chance to win your book, it sounds like a great series.
(Tina Werner 3:39pm August 17, 2010)
It is sometimes hard to not get caught up in hype. I find I trust a few of my girlfriends reviews becaause they have the same taste as me vs. the masses.
(Darci Paice 12:25pm August 18, 2010)
I can't imagine the pressure a
review must put on an author!
When reading reviews about
authors I haven't read before,
I try to get several trusted
opinions before making a
purchasing decision.
(Jacqueline Cook 12:54pm August 18, 2010)
Don't enter me in the drawing, I'm just here to support one of my fave authors...Hi Cheryl!

I have read all of Cheryl's books and even posted my own review of Hero on my little blog. I can understand the jitters when someone you don't know critique's your work. It was hard on me in school just to get papers graded. I can't imagine what it is like for someone who put their heart and soul into a work. She's braver than me!
(Jessica James 1:49am August 18, 2010)

(Theresa Doyle 3:47am August 18, 2010)
I followed you over from your blog. Hiya Cheryl! I'm glad they were good to you. I have a hard enough time submitting to my own critique group sometimes and they are wonderful. I cannot imagine the fear of putting one of my babies out there to be judged. Ugh. I second Jessica- Brava! Keep going, love your Zetithian's, haven't gotten this one yet...
(Theresa Doyle 3:55am August 18, 2010)
In writing reviews, I try to be as helpful as possible. But, I am not a writer. Just an avid reader. Really glad that the reviewer from Fresh Fiction wrote a good review for you.
(Joanne Reynolds 6:25am August 18, 2010)
Tanya,
I'll have to say, as a reader, I've never bought a book based on a review. I tend to go to the bookstore and browse the romance section. What anyone else thinks about the book doesn't enter into it. I look at the cover and read the blurb on the back, and if it sounds good, I buy it.

Very true, Tina! I realize I can't please everyone, and that's okay. One review that especially bugged me was on Amazon. This person had read one of my books and didn't like it, and she said so, very forcefully. Then she read another one! Go figure...

Darci,
I think those trusted reviews or just the recommendation from a friend are worth the most.

Jacqueline,
I don't put quite as much angst into what reviewers say as I used to. When Slave came out, I got reviews from both ends of the spectrum, so I knew that SOMEONE out there was enjoying it. Those are the people I'm writing for!

Hi Jessica!
Reviews are tough, but editor's comments are even worse. Having been through that little taste of hell, reviews should be a piece of cake, but one negative comment will stick with me for a long time. I try to think what I could've done to improve the book, but, as I've said before, I just can't please everyone!

Theresa,
I never really had a critique group. I had friends who read my books and they either liked them or they didn't. They hardly ever told me why, though. I have some critique partners now, and it's nice to get feedback along the way instead of sending it into my editor cold.

Joanne,
Some negative reviews have been very helpful, and I've learned from them. But still, a good review can't help but make you think, WOW! I actually did something right!
(Cheryl Brooks 8:24am August 18, 2010)
I agree, the hardest part of writing has to be the reviews. I always try to write a kind review, and it makes me wonder about the reviewers that rip a writer to pieces. There are kind and helpful ways to offer criticism. I love your books and eagerly await the next one. I'm glad Amazon had the Kindle version out so quickly. Have any teasers about the newest one you're working on?
(Judy Mathison 9:47am August 18, 2010)
I can see how reviews can be hurtful. There are many ways to offer helpful criticism that some people overlook. I love recommendations from friends.
(Felecia Digsby 11:41am August 18, 2010)
As a reader, I have to say that I only use a review for what it can tell me about the plot of the book. Each reviewer is a person with their own idea of what is good. Just because they are a reviewer doesn't mean they know what I like. Reviews are a good way to get a book's title out there so we readers know that it is available.
(Chris Roberts 12:29pm August 18, 2010)
love this series and the cover art is so hot thanks :)
(April Strength 12:38pm August 18, 2010)
Teasers? Let me just throw out the tagline and title I sent my editor a while back. It hasn't been approved, so it may change.

He was only good at one thing...
The Cat Star Chronicles: STUD
(Cheryl Brooks 1:01pm August 18, 2010)
Felicia and Chris,
Those are the best things about reviews--getting the word out and offering constructive criticism.

April,
I LOVE my covers, too! Anne Cain is a genius!!!!
(Cheryl Brooks 1:03pm August 18, 2010)
I write reviews and I always try to be very objective. I always look for the good things and if there is anything that I personally felt was wrong, I try to say it in a kind way.

I recently read a book by an author that I usually adore, but this book just didn't hit it with me and I was very frustrated. Of course, this does not stop me from continuing to read her books.

And yes, I love your covers too!!!!

Valerie
[email protected]
in Germany
(Valerie Bongards 2:49pm August 18, 2010)
I know that everyone likes what they like and dislikes what they dislike, but I could never tear into someones hard work... If there is a book I did not care for, I just put it aside and say it was not my cup of tea...
Glad you had a wonderful review from FreshFiction! Congrats!
(Colleen Conklin 3:00pm August 18, 2010)
I can't imagine having to read the reviews on a new book. It must be so hard.
I love reading reviews and don't make my choice from them but sometimes I read a book I would not have usually piced. Good Luck!!!!
(Mary Branham 3:13pm August 18, 2010)
When I write a review, I try to be specific about what I don't like about a book (usually a character or two). However, every book has something that attracts my attention otherwise I wouldn't have picked it up so I go with that.
(S Tieh 3:13pm August 18, 2010)
I think it must be very hard to deal with the fact that anyone can post a review about something you put so much time and effort into.
(Maureen Emmons 3:28pm August 18, 2010)
Hi Cheryl,
Yes, I agree that bad reviews are hurtful but since I started reading reviews on blogs 2 yrs ago, I have not read any really bad reviews. Those that said the book would not be their first choice did say that other people will have a different outlook so don't just go by what they said. To read other reviews and be objective. These ladies who blog are really great about letting you know what they like but they don't cut the author or book just because it does not appeal to them. I experienced a long time author who had a book published that was not up to their standards and I don't understand why they would do this? I did not buy that authors last book in this series because the previous one was lacking and just was not the best they could do.
(Brenda Hill 4:09pm August 18, 2010)
Valerie,
I've asked that question before, and most people say they would give the author another chance--particularly if they really liked some of their other books. I'm glad it doesn't deter you!

Thanks Colleen! I've read lots of books that weren't my thing, but I'll have to say, I've never written a review, and don't really want to.

That's the best part about these review sites, Mary. You get a wide variety to choose from.

With some reviews, I wonder why the book was even read by that person, S Tieh. But even if you don't like that particular genre, sometimes a book can surprise you.

Very true, Maureen! My husband reminds me frequently that any Joe Blow with access to a computer can post stuff on Amazon.
(Cheryl Brooks 4:13pm August 18, 2010)
Writing must be hard. I respect and admire anyone who has the guts to write down their thoughts.
(Vikki Parman 4:42pm August 18, 2010)
Reviewers are human and sometimes let their personal preferences interfere with literary knowledge.
Keep up writing!
Blessings,
Marjorie
(Marjorie Carmony 4:49pm August 18, 2010)
A book must be a very personal thing to it's author so I would guess that a bad review would be just like saying that you have a bad child. However, as always, one must consider the source--is it a reviewer you respect or just somebody being paid to say something.
(Sue Farrell 5:14pm August 18, 2010)
I don't usually read reviews of a book unless it's by another author. People can be so biased - if it's not what they generally read, they rip it apart - simply because they didn't completely understand it or it wasn't to their liking. They don't take into consideration such things as, was it written well? They just didn't like the subject matter or the genre.
(Kelli Jo Calvert 5:20pm August 18, 2010)
I have read only one of your books so far and I enjoyed it. Can't wait to read more!
(Raelena Pavey 5:31pm August 18, 2010)
I have always admired anyone that could write. I panic just knowing I have to write someone a note. I do enjoy reading so please enter me in your contest.
(Sheila True 5:46pm August 18, 2010)
I think I would take bad reviews very personally. Good thing I don't write for a living.
(Mary Preston 6:21pm August 18, 2010)
I just heard about this book yesterday.
I have not read any of this series.
Actually, I haven't read any Science
Fiction in quite a few years. After
reading the description of this book
and the excerpt, I need to remedy
that.

Reviews can be hard. I remember
getting very upset over evaluations of
volunteer activities. You need to
realize that not everything is
someone's cup of tea and they don't
care for a particular style or genre.
Take it for what it is worth. I read
reviews to help make selections for
myself and for book order
recommendations for a library. I
always read as many as I can because
there is usually one that will pan the
book and someone who feels it is the
best books ever written. Toss out the
high and low and see what the general
consensus is.

Best of luck with the release of Hero.
(Patricia Barraclough 7:13pm August 18, 2010)
I look at reviews of a book, however one bad review would not prevent me from buying a book. I look at the total body of work by an author and if it is an interesting topic or location I will select it. I like to make my own choice, as I may not have the same taste. Thank you for writing interesting books.
(Barbara Ryan 7:42pm August 18, 2010)
the book looks great and best for more to come i would love to win it
(Desiree Reilly 8:09pm August 18, 2010)
I always thought that it took a certain strength to be able to have one's work publicly critiqued. Congrats on the wonderful things that I continue to read about your series.
(G. Bisbjerg 8:12pm August 18, 2010)
Checking out books for me is more than just reading the reviews, although they can be tantalizing. I give a look at the beginning, crack open the middle and if I can stand it, peek at the almost ending.
(Alyson Widen 8:21pm August 18, 2010)
I would imagine reviews are tough to read. I always try to be more than reasonable when I write a review on a book I've read and post it on Good reads. Even if it isn't my cup of tea I try to find redeeming qualities!
(Brenda Rupp 9:14pm August 18, 2010)
I've never read you, which book would I read to get hooked and go lookin for more?
(JaneAnn Railey-Clear 9:20pm August 18, 2010)
I personally don't really pay attention whether the story is written from the third person or first person. My main concern: is the story well developed from the beginning, middle, and to the end.
(Kai Wong 9:24pm August 18, 2010)
Erma Bombeck was my mom's favorite author. When she died,we had the minister read the last chapter. The book was"Motherhood the second oldest Profession" ,The Epilogue, (creating mothers).I think she would have liked that.
(Deb Pelletier 9:32pm August 18, 2010)
I like making my own decisions about the books I read. I do this by doing my homework which generally includes reading an excerpt or possibly just the blurb on the cover. I consider recommendations but at the same time I consider the source of those recommendations.

Mostly I read comments or reviews about a book after I finish reading it just to see if my opinion is in the minority or majority. It's always an interesting exercise.

There are some reviewers I skip entirely because no matter what they've read, it's always given the highest rating available. That makes her opinion on any book invalid to me.

I feel no need to trash an author. If I'm upset at something written by a favorite or auto-buy author, I can put on my big girl pants and express that constructively and privately. If it's a book that I thought sucked, then I know that author's voice just isn't my cuppa. I never forget that other readers may love a book as intensely as I don't and in the end each of us will buy exactly what appeals to us. Reading is subjective and that's the nature of the beast.

When I give feedback to an author, I try to be constructive and specific with pro's and con's. In other words, I try to put myself in their shoes and act accordingly.

I happen to love the Cat Star Chronicles and have read the entire series. They have heart, heat, soul and humor, which fits my taste. They take me outside of myself, which is exactly where I want to be when I'm reading. After reading several books in the series I also enjoyed Cheryl's blog so much that I became a follower. Now we're just having fun until Virgin publishes in the spring of 2011;)

If I should win, HERO would fine a good home with a good book buddy of mine that lives out of state.
(Nancy Bristow 10:13pm August 18, 2010)
Unless a book is pure sickness (bad things involving puppies and kids) I can't be evil when talking about a book I read. I can be blunt, but not mean.
(Cathie Veres 10:52pm August 18, 2010)
Writing would be a hard field to go into. There's a lot more that goes into it than the average person realizes. There's also so many genres of love stories out there!! It makes you want to read at least one book from each author, after reading their blog. Congratulations on a good review!! I'm sure it will give you the inner strength to turn out another great book!!
(Peggy Roberson 11:21pm August 18, 2010)
As a reader I don't like harsh negative
reviews. My feeling is if you don't like
the book there's no reason to bash it,
it might not be to your liking but that's
no reason to turn someone off it
before they've had a chance to read it
themselves and with reading tastes
being so subjective it is doesn't seem
right.
(Sue Ahn 3:46am August 19, 2010)
Cheryl,
Loved the interview. Your latest is waiting on the top of my TBR list!
Carolyn Brown
(Carolyn Brown 8:06am August 19, 2010)
Whoa! So many comments, so little time....
After a long, tiring night in the ICU, it's nice to come home and find so many kind, supportive comments from friends old and new. My heartfelt thanks to you all and good luck to everyone in the drawing!

PS I finished reading one of yours, Carolyn,and all I can say is, "Hell, YEAH!"
(Cheryl Brooks 8:50am August 19, 2010)
JaneAnn,
Any of the series can stand alone, but I'd start with Slave and read them in order. If you don't like first person POV, go with Outcast, Fugitive, or Hero. *wicked grin* but if you like the idea of a threesome, start with Rogue!
(Cheryl Brooks 8:58am August 19, 2010)
Cheryl,
As a reader I try to never make a decision based on a review. As a juvenille diabetic it would be like asking me which is better - cherry or blueberry pie! Just trying to put it in perspective. Things you love, beauty and a good book are both in the eye of the beholder!
(Jeanne Miro 10:18am August 19, 2010)
Very true Jeanne!~Thanks for your input!
(Cheryl Brooks 4:14pm August 19, 2010)
I wish I could write a book, but all I can do is read books.
(Diane Sadler 8:33pm August 19, 2010)
*I also could never tear into someones work, I feel that we seem to forget that we all think different, have a different process in the way our minds work, we all need to take that into account when we read a book. If it not to your liking then that dose not mean that someone else would not enjoy it.
(Vickie Hightower 12:38pm August 20, 2010)
Reading is good, Diane! Where would we writers be without readers?

Yep, Vickie, to each his/her own!
(Cheryl Brooks 8:44am August 20, 2010)
I imagine it's a lot like sending
your child to a new school and
hoping that they will fit in.
(Lisa Richards 11:14am August 22, 2010)
It's a lot like that, Lisa. You don't know if your kid (book) will be able to hold his own out there in the cold, cruel world, but you hope he'll find some friends (readers) to help him succeed!
(Cheryl Brooks 7:45am August 24, 2010)
Registered users may leave comments.
Log in or register now!