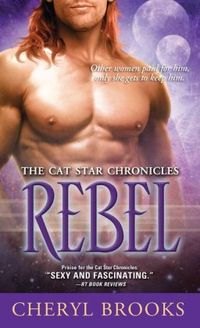 Purchase
The Cat Star Chronicles
Sourcebooks Casablanca
July 2014
On Sale: July 1, 2014
Featuring: Kimcasha; Onca
384 pages
ISBN: 1402285167
EAN: 9781402285165
Kindle: B00HFDVOCI
Paperback / e-Book
Add to Wish List

He helped to find her kidnapped friends. Will he let her steal his heart?
Kimcasha has lived by her wits since she lost her family when she was eight years old. So when three of her friends vanish, she has no fear about using herself as kidnapper's bait, until a stranger foils her plot...
After ten years of selling his services in a brothel, Onca has decided to retire. A refugee of planet Zetith, he has no family, no surname, and no woman-until he rescues a young homeless girl from a kidnapper. Onca helps Kim find her friends, but as their intense attraction deepens, he begins feeling too jaded for someone so innocent. It's up to Kim to convince him otherwise...
Comments
20 comments posted.
Re: Rebel

I have read similar story lines and liked them.
I love a man that feels so unworthy of anything. Well, anything good. Anyone good. I bet Rebel is a good story!
(Lisa Hutson 2:01am July 10, 2014)
Thanks, Lisa!
LOL! Rebel IS a good story, one that I consider to be my personal best. Good luck in the contest!
(Cheryl Brooks 8:20am July 10, 2014)
Rebel sounds really good I cant wait to read it
(Denise Smith 8:34am July 10, 2014)
Hi Cheryl!
Just stopping in to say Hi.
Lori
(Lori McPhetridge 10:19am July 10, 2014)
I hope you enjoy it, Denise!

Thanks for stopping by, Lori!
(Cheryl Brooks 10:32am July 10, 2014)
I really haven't gotten into this genre, and after reading
your posting, it's understandable why. Some of what you've
written today I have a hard time getting my head around.
Other things you've written in your posting, I might read,
because they sound a little interesting. To me, I really
believe that sci-fi is geared more to the guys than it is to
women. Even if you throw a little romance to the mix, it
doesn't change the genre. I guess I'd have to glance at a
book and see for myself. I don't mean to be a "negative
Nancy." Everyone is entitled to their own opinion, but I
just find this to be a little far-fetched. You have quite
the imagination to write these books, and for that I take my
hat off to you!!
(Peggy Roberson 11:31am July 10, 2014)
Oh boy, I have some catching up to do in this series... loved what I have read! This one sounds great... thanks for sharing!
(Colleen Conklin 1:15pm July 10, 2014)
I have not read this series yet - GASP!!!! - so I have plenty to catch up on and look forward to - awesome.
(Felicia Ciaudelli 1:22pm July 10, 2014)
That's the great thing about science fiction stories, anything can happen
(Maureen Emmons 1:32pm July 10, 2014)
Love supernatural books and stories!
(Vicki Hancock 4:14pm July 10, 2014)
I have not read any of your books, so hope I win one.
(Judy Ferguson 6:10pm July 10, 2014)
looks like a great read and I love the cover
(Jennifer Beck 7:36pm July 10, 2014)
Great yummy cover!!
(Felicia Plastini 8:25pm July 10, 2014)
Thanks for the comments, everyone! Good luck in the contest!
(Cheryl Brooks 9:20pm July 10, 2014)
Love a little supernatural with my romance. It sounds like a
great book. I can't wait to read it.
(LaRonda Atchison 11:54pm July 10, 2014)
I haven't try your paranormal series yet. I have tried your historical romance and love it.
(Kai Wong 2:18am July 11, 2014)
Love sci fi/paranormal/romance blends! I've heard great things
about this series and own all the books- now I just need to
find time to read them!
(Debbie Wiley 7:58am July 11, 2014)
Rebel certainly sounds good. I really enjoy paranormal themed
books.
(Tammy Cy 9:23am July 11, 2014)
Sounds out of this world!
(Linda Barrier 1:23pm July 11, 2014)
I love science fiction stories. They help me expand my imagination! Good luck with the tour.
(E Felder 9:13pm July 11, 2014)
Registered users may leave comments.
Log in or register now!