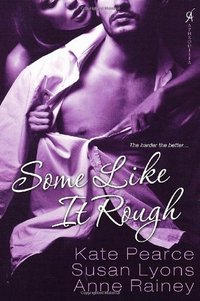 Purchase
Aphrodisia
March 2010
On Sale: March 1, 2010
256 pages
ISBN: 0758238983
EAN: 9780758238986
Paperback
Add to Wish List

Romance Erotica Sensual | Romance Anthology
Some Like it Rough by Kate Pearce
Luke Warner wants to chill out when he cashes in his stocks and returns to his hometown. But things heat up when he reunites with his best friends, Julia and Paul, and invites them both to share in a sexual adventure like they've never had before...
Private Eyes by Susan Lyons
Assigned to work undercover as an exotic dancer, straight-laced Haley Croft discovers the thrill of strutting her stuff. And when she catches sexy Ry Montana checking out her moves, she can't wait to give him his own private show...
Cherry On Top by Anne Rainey When massage therapist Cherry DuBois rubs her oil-slicked hands all over Dante Ricci's rock-hard body, red-hot desire courses through her. She longs to lose control and give herself to the pleasures of sexual submission.
Comments
17 comments posted.
I like gossip magazines to read when I want to let my mind wander - no stress reading them and flicking through until I find something of interest. Novels are my favourite and then I like to sit and relax while I read into another world or time!
(Barbara Hanson 8:49am May 10, 2010)
I read for pleasure only. Magazines are a quick read, usually read while watching TV.
(Pat Wilson 9:06am May 10, 2010)
I like magazines but I love books.
Magazines are for me to be read when I have to listen to hubby or kids while reading BUT a book is when I close all out and loose myself into what I'm reading and I love it when the author is that good so good that I live and breath that book and just can NOT put it down. Your books do that for me, keep the GREAT books coming!!
(Vickie Hightower 9:33am May 10, 2010)
I read to experience things
that I wouldn't otherwise be
able to experience in my own
life. I would never have the
opportunity to join the mile
high club; airplanes scare
the living heck out of me. In
magazines I read the book
snippets to find new authors.
(Tanja Haack 9:46am May 10, 2010)
sounds like a yummy book!
(Sherry Russell 10:03am May 10, 2010)
Congrats Susan on Sex Drive being chosen as Cosmo's red hot read for May!
I love just about all kinds of books. The main things that turn me off are when the hero is too controlling. I like a heroine who can handle herself and a hero who is man enough to not get all angry when she does.
Mindy :)
(Mina Gerhart 10:42am May 10, 2010)
Barbara, I'm the same that I choose different things to read at different times.

Pat, I admire that you can multi-task and pay attention to two things at the same time.
(Susan Lyons 11:26am May 10, 2010)
Vickie, thanks so much for the kind words about my books. I definitely plan to keep them coming - so long as the publishers keep buying from me (fingers crossed!). LOL re reading mags while listening to hubby or kids. And yes, I can totally relate to finding that private space and time when you can really sink into a book.
(Susan Lyons 11:27am May 10, 2010)
Tanja, that's a great reason for reading. And yes, it lets you go to places you'd never go yourself (e.g., airplanes) and experience things you wouldn't otherwise be able to. I read the book snippets too. If I went into a book store and just browsed, I'd spend thousands of dollars, so I have to be more focused about my purchases. I read reviews, read author comments on review sites and blogs, and listen to friends' recommendations. Being a writer hooks you up with so many other writers, there's a never-ending supply of books that sound like "must be reads"!
(Susan Lyons 11:29am May 10, 2010)
Thanks, Sherry. I hope you check it out.

Hi Mina, and thanks for the congrats. I'm with you on hating controlling men, and loving men who have enough self-esteem that they don't feel threatened by a strong woman. If a guy needs to feed his ego by dominating a woman, he's no hero to me!
(Susan Lyons 11:30am May 10, 2010)
Congrats on Cosmo! I do not usually pick up a magazine and read... I spent my time with my nose in books... I have read a handful of books that "lost me", mostly because of over describing things... sitting there reading page after page of description bores me...
(Colleen Conklin 12:45pm May 10, 2010)
I think it is wonderful that you got a snippet in Cosmo! Such a popular magazine, so much publicity for you!
(Joanne Reynolds 12:49pm May 10, 2010)
Colleen, I'm the same as you re too much description. I think each of us reads for something a bit different. For me, it's all about characters and relationships - so I'll skip over description and even skip over action scenes. But other people love detailed descriptions or love tons of action. It's kind of like when you watch a movie on TV with someone. You each get up to get a drink or go to the bathroom at a different spot. For me, I'll get up during chase scenes because I'm bored. LOL.
(Susan Lyons 1:39pm May 10, 2010)
Thanks, Joanne.
(Susan Lyons 1:39pm May 10, 2010)
When i'm looking for a book with no particular author in mind i'm looking at the cover first. then reading the back. If either of those work for me i'm probably buying the book. A time or two i've done that been disapointed by what's on the inside but not often. I really like a mix of things genre wise too. Usually i skip aropund the different genre's between book to keep it fun for me. I carry a book wherever i go just in case i get time to read it and i read some books while watching TV. good for reruns lol

Lisa
(Lisa Boggs 2:27pm May 10, 2010)
I would love to win this book. This would be a great escape while at the beach!
(Felecia Digsby 2:34pm May 10, 2010)
Lisa, here's to always having a book with you "just in case"!

Felecia, yes, it's steamy beach reading.
(Susan Lyons 3:09pm May 10, 2010)
Registered users may leave comments.
Log in or register now!