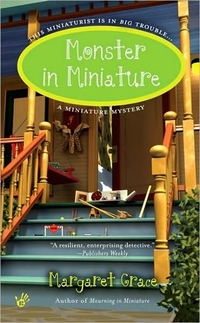 Purchase
Miniature Mysteries #5
Berkley Prime Crime
April 2010
On Sale: April 6, 2010
Featuring: Geraldine Porter
304 pages
ISBN: 0425233901
EAN: 9780425233900
Paperback
Add to Wish List

Mystery Cozy | Mystery Amateur Sleuth | Mystery Hobbies
This miniaturist is in BIG trouble...

For a festive Halloween project, Geraldine Porter and her granddaughter, Maddie, set out to create a multi-story haunted dollhouse. But their holiday fun turns to fear when a neighborhood scarecrow turns out to be a bloody corpse.
Comments
66 comments posted.
I pick a book because of the story and am also a little confused as to a labeled genre. Add me to your line-up for rearranging the book shelves!
(Joanne Reynolds 6:24am July 30, 2010)
I always dreamed of having a dollhouse full of miniatures but with a son it's more like miniature pirates and cowboys. I'd love to read your book.
(Jodi Webb 7:36am July 30, 2010)
A close minded reader misses out on a lot of good books. Sometimes it's good to step out of your comfort zone. your book looks like a lot of fun! Count me in, please.
(Karen Gervasi 8:19am July 30, 2010)
I'm open to all sorts of genres in books. Mysteries are one of my favourites, but I do like to try other kinds as well.
(Kelli Rolvaag 8:53am July 30, 2010)
I love mysteries and suspense, but I'm game to read just about anything. I like the funny, quirky ones too.
(JoAnn White 9:29am July 30, 2010)
It is so difficult to find the books you are looking for and so easy to get distracted by other books. My wish is that all fiction: fiction, mystery, romance and sci fi be shelved together by alphabet of author and non fiction the same. To make it easier for us to browse and find what we are looking for.
(Diane Sadler 9:40am July 30, 2010)
I'll help with the re-shelving. I look for a good read. I like paranormal, urban fantasy, romance, mystery, horror, or a combination of all the above.
(Julie Swaney 10:05am July 30, 2010)
I'd help with the reshelving too if the now-known and more-or-less-understood categories didn't make the search for something an authorless--i.e. one I'm not specifically looking for by author--somewhat shorter.
(Sigrun Schulz 10:23am July 30, 2010)
P.S. I can spend more than an hour just looking at a small shelf of books. I'd hate to have all that huge choice at once. So I guess I'm the odd one out here.
(Sigrun Schulz 10:27am July 30, 2010)
I would just like to be locked in a book store overnight and read all night long. With the restrooms and the café, it would be almost like home.
(Jackie Robertson 10:39am July 30, 2010)
I used to read just paranormal books but now I'm pretty open to all genre.
(Tracey Dent 10:45am July 30, 2010)
I love to read and am interested in almost all genre.
(Robin McKay 10:53am July 30, 2010)
I love your reshelving idea. Let me know where and when, okay? I can't tell you the number of times I haven't been able to find a specific book without a map of the store!
(G S Moch 10:56am July 30, 2010)
I like mysteries, romance, biographies,paranormal, I read almost anything that sounds good.
(Cheryl Lynne 11:00am July 30, 2010)
I usually read anything that I can get my hands on, and although I usually avoid romance, horror and thriller genres, I'll read a book from these genres if the story is interesting enough.
(Dovile Petrasiunaite 11:15am July 30, 2010)
what a great title. and the cover work is real spiffy
(Sue Hieber 11:33am July 30, 2010)
I am a avid mystery reader but read other stuff as well. This one looks like a fun read. Looking forward to reading it and Thanks for a chance to win a copy
(Teresa Ward 11:44am July 30, 2010)
I do enjoy a good mystery and I love the sound of yours. Sounds like a fun read!
(Gail Hurt 12:00pm July 30, 2010)
Seems like a fun read, I love a good mystery.
(Sheila True 12:02pm July 30, 2010)
Wonderful to know that I'll have a lot of
help reshelving! And it's true that being
locked in a bookstore overnight is kind of
its own reward.
(Camille Minichino 12:26pm July 30, 2010)
Hi, Camille! Congrats on Monster in Miniature; success couldn't come to a NICER author!
I don't mind being in the Mystery section, especially if the alternative is ''Literature.'' That's where one bookstore put my ''Mama Gets Hitched'' mystery. Someone looking for a high-minded, literary read might be thrown for a loop by Mama!
(Deborah Sharp 12:58pm July 30, 2010)
There are some classic literature books that should be sub-categorized. I don't think they would be considered 'great literature' if they were shelved by their genre. Jane Eyre as a romance. Rebecca as a mystery. Or, give Jasper Fforde a read and then try to fit him into a sub-category. :-)
(V Scott 1:00pm July 30, 2010)
The title brings back memories of the doll house I had as a child.
Blessings,
Marjorie
(Marjorie Carmony 1:03pm July 30, 2010)
It really depends on what i'm in the mood for. My moods vary from week to week, one week i could be in the mood for Historical romance the next paranormal, next mystery. when i'm sad i grab a sandra hill book because i know it will cheer me up. so see what ever i'm in the mood for.
(April Kirby 1:18pm July 30, 2010)
Personally, I make it easy on myself. I simply shelve EVERYTHING in author alpha order, regardless of genre or classification. As a former librarian, and the daughter of two librarians, how else COULD I shelve it?!?!?

Later,

Lynn
(Lynn Rettig 1:19pm July 30, 2010)
I volunteer to help with the re-shelving. I simply like a good read. There have been a few times when I've looked all over the store for a particular book and the clerk would pull it off the shelf in a section that I tried to figure out why it was shelved there.
(Leni Kaye 1:22pm July 30, 2010)
Debbie, your Mama fits anywhere! And
thanks to all who are chiming in here. I
can't wait to send a book out!
(Camille Minichino 1:33pm July 30, 2010)
oops, I meant to UNclick the contest box!
(Camille Minichino 1:33pm July 30, 2010)
I'm always open to a good book.
(Vikki Parman 1:37pm July 30, 2010)
I'm sick of genre labeling! Some books could be listed under 4-5 different genres. Sometimes an author gets locked in to a genre because of their early writings. I pick my books on what I've heard, an author I already read or an awesome cover!
(Cathie Veres 1:37pm July 30, 2010)
I love paranormals, mixed into all kinds of genres.

I also like all kinds of genres and many of my fav authors write a mixture of genres. I can imagine it's hard for the book shops to shelve their books. I am so happy you are going to help them out...hehe!!!

Valerie
in Germany
(Valerie Bongards 1:48pm July 30, 2010)
I also volunteer to help with the re-shelving. What about authors that write several different types of books. What is the difference between mystery and suspense? Can't we just alphabetise by author?
(Karin Tillotson 1:49pm July 30, 2010)
Books can have their faces in many categories and at times, I can't figure out which is the lead genre. Like crosstraining, it's a good thing to get out of your comfort zone and attempt a little something different.
(Alyson Widen 2:17pm July 30, 2010)
I read just about anything but prefer sci-fi and paranormal. And if there's a mystery in the story, well, all the better! As for your reshelving project, I'll leave that for you. Just make it easy for us oldtimers to find what we're looking for without too much trouble. Thanks.
(DeeAnn Szymanski 2:34pm July 30, 2010)
Hi Margaret
This is just too funny...
"I'm planning to lock myself in a bookstore, any bookstore, overnight and re-shelve the books. Before you call the authorities, let me explain."
You'd probably end up on the news the very least and you'd at least get more exposure for your own books... it could be a total win/win:)
(Yadira Alonzo 2:42pm July 30, 2010)
i can't wait to read your books
(Debbi Shaw 2:46pm July 30, 2010)
As a person who was locked into a bookstore, and almost locked in another, it was not nearly as fun as you might think. The quiet was eerie; it's amazing how much noise people riffling through pages make.

I like the separate categories myself. Of course, I don't read exclusively in one genre so it all depends on my mood. In a library or bookstore, I do make my way through Mysteries and Sci-Fi before Fiction. The problem comes up when the book is more than one genre. Where would I find it? Under Sci-fi for the vampires? Under Romance? Under Fiction? Thank you, book catalog! Of course, this means that I don't browse as much as I'd like.
(S Tieh 3:19pm July 30, 2010)
Sometimes books are categorized into many different subgenres and you don't know exactly what kind of book you're picking up. I don't usually mind as long as I enjoy the book.
(Jane Cheung 3:30pm July 30, 2010)
I'm a diehard mystery fan (cozies and historicals) and that's mostly what I read so that's the section I check out first at the bookstore. I've read one of your Margaret Grace books and have a couple others, but not the latest.

I don't know about the reshelving, but the books at the main library need to be re-alphabetized because they're out of order!
(Michelle Fidler 3:41pm July 30, 2010)
I particularly like to read cozy mysteries so I like the categorization. I must admit, thought, that many books can fit into multiple categories and must pose a problem when shelving. I am game to read other good books when I'm in the right mood--but I avoid the romances like the plague.
(Sue Farrell 4:39pm July 30, 2010)
I want to know how S got locked in a
bookstore!
(Camille Minichino 5:02pm July 30, 2010)
My first love is mysteries, though I will read any genre as long as the story appeals to me.
(Fallon Hadley 5:50pm July 30, 2010)
As a former bookstore worker and manager, I completely understand your reasoning. I sometimes got frustrated by the categories and "accidentally" filed extra copies in literature or "general fiction" to interest new people, who then would search out the authors they had found. I have trouble understanding how people can limit themselves to reading only one category.
(Sharon Mitchell 5:50pm July 30, 2010)
When I'm in a bookstore, I usually look through all of the fiction bookshelves including the Mystery and Romance sections. I've always thought of the separation of genres as a distinction as opposed to exclusion. Mystery is such an important part of Fiction that it had to be given it's very own section.
(Chantel Williams 5:55pm July 30, 2010)
If you read only one or two types of books, is it like eating the same food everyday also? And who gets to decide what category a book is shelved under? I want to be that person! I read just about everything, depentant on my mood at the time and sometimes one book will lead me to another by a different author and genre. Mostly, I look at the other works of the author and if I like their work I will usually try another by them. My main concerns are how sexy is the hero and how SMOKIN' are the love scenes?
(Vickie McCarter 5:58pm July 30, 2010)
I do seek out certain categories. That is often dictated by the season & the mood.
(Mary Preston 7:22pm July 30, 2010)
Monster in Miniature is the
most intriguing book title I've
heard in a long time
(Joy Botkin 7:47pm July 30, 2010)
I enjoy all kinds od books and love reading
(Vickie Hightower 9:21pm July 30, 2010)
I read many genre's. I would love to read your book!
(Brenda Rupp 11:15pm July 30, 2010)
i love all genres and im sure your book will be great
(Sagrario Vigil 11:34pm July 30, 2010)
I'm with you as far as bookstores go!! When you go in there half the time, it's so hard to find the books you want, unless you're looking for a particular author. If you're looking for a particular genre of book, that's when you run into trouble. A lot of bookstores, other than Barnes and Noble, have limited space, so they just seem to cram books on the shelves anywhere, just to have full shelves. It seems as if they want to cater to kids, though. They have half of the store dedicated to all sorts of books for kids. I'm thrilled that they want kids to read, but it's the adults that buy the books anyway. I say equal time for us!!
(Peggy Roberson 10:01am July 31, 2010)
Your fustration is mine. So glad I "found" your books.
(Joanne Hicks 1:06pm July 31, 2010)
I am open to all genres. I think
you are right about the labeling
of books. Your book sounds like
a really good read!
(Theresa Jaquess 1:23pm July 31, 2010)
Sounds like a great read.
(Sheila True 1:40pm July 31, 2010)
Labeling really doesn't make sense when you think about it. There is really only fiction and non fiction. I will help with those shelves.
(Elizabeth Parzino 1:44pm July 31, 2010)
Labeling doesn't really work any more. My favorite genre is romantic mysteries and they fit in two sections!
(Jennifer Burggraf 2:22pm July 31, 2010)
If it sounds good I will read it!
(Raelena Pavey 2:35pm July 31, 2010)
wow you have alot to choose well if i was chosen i let you now about the book and then i blog on goodread and other site and fb twitter i love to do it for alot of authors
(Desiree Reilly 2:39pm July 31, 2010)
Hello Margaret, Please enter me in this fantastic contest and please let me know when I am a winner too! May GOD bless you and everyone with success always, CECILIA
(Cecilia Dunbar Hernandez 2:43pm July 31, 2010)
I love to read all types of books and try something new like a new author. I like the title of this book, it makes you wounder and want to read it. Best luck on the book.
(Cynthia Plaza-Harney 4:19pm July 31, 2010)
I can't wait to read this book, it sounds great!
(Laura Albert 4:51pm July 31, 2010)
Mystery is one of my favorite
categories, so I like that there is a
section labeled that way. But I totally
get where you are coming from about
being separated from "Literature". I'll
help you reorganize. I'd like to get
locked in a bookstore for weeks, don't
know that I'd to any shelving, but I'd
definitely be reading!!!!!!
(Judy Killen 5:34pm July 31, 2010)
I do like my books "labeled"
by genre as depending on my
mood my taste varies from YA
to Paranormal to Sci-Fi. I'd
love to be shut up in a
bookstore for a re-shelfing
party.
(Lisa Richards 7:24pm July 31, 2010)
I cruise the shelves at stores and libraries lookingnat all the books. I will read just about anything. It just needs to sound like a good story with good characters. At the library where I worked, we shelved fiction by the authors name. Since all genres are mixed, people are exposed to everything. It helps them discover authors they may otherwise not try.

Cozy mysteries are becoming more popular. A good thing.
(Patricia Barraclough 8:39pm July 31, 2010)
I read a bit of everything, so I wander all over the place when I am in a bookstore. I glance at the subject signs, but don't let them stop my browsing. I always wind up buying books I didn't come for. But since I know three individuals who read mysteries exclusively, I think having a sign say "Mysteries" would be a great help to them. And I don't think bookstores are putting down mysteries by leading folks to them. Most all books in a bookstore are literature of one type of another, except for calendars and such, so a sign saying "Literature" doesn't tell one much.
(Gladys Paradowski 8:51pm July 31, 2010)
LOL... I'd settle for being able to find the Mystery section in some book stores. Nothing ever seems to be set up in a logical fashion.
(Donna Holmberg 1:57am August 1, 2010)
Registered users may leave comments.
Log in or register now!