"A funny, thrilling, heartbreaking murder mystery starring a thoroughly likable amateur sleuth."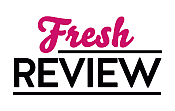 Reviewed by Paula Myers
Posted June 25, 2010

Mystery Cozy | Mystery Amateur Sleuth | Mystery Hobbies
When Geraldine Porter sets out with her granddaughter Maddie to tour the neighborhood Halloween displays, they are looking for inspiration for the haunted doll-house they are going to create together. They find themselves in the middle of a police investigation when the scarecrow on one front porch turns out to be a bloody corpse.
Gerry and Maddie wait with the teens who discovered the body until Gerry's nephew Skip, a local police officer, arrives on the scene. Thinking her involvement over, Gerry is content to let the police do their job, until a crafter friend seeks her assistance. The scarecrow is her friend Susan's brother, and Susan is convinced he didn't commit suicide. Though the local cops are leaning in that direction, Skip isn't sure of the conclusion and continues the investigation.
Then Gerry and Skip discover the victim had ties to Gerry's late husband, and she learns he kept some pretty significant secrets from her throughout their marriage. Determined to know the truth, and with a little help from her precocious granddaughter, Gerry begins digging into the life of the victim, and the life of the man she loved, hoping to clear both of any hint of scandal before the real killer strikes again.
MONSTER IN MINIATURE by Margaret Grace is in turns a funny, thrilling and heartbreaking murder mystery. Gerry Porter is a thoroughly likable amateur sleuth, determined to get to the truth regardless the cost. Young Maddie is laugh-out-loud entertaining in her efforts to be involved and help solve the mystery, providing several of the pertinent clues that lead Gerry and Skip in the right direction. The mystery is well-plotted and the tying together of the various loose ends is satisfying, making this a difficult to put down page-turner!
SUMMARY
This miniaturist is in BIG trouble...

For a festive Halloween project, Geraldine Porter and her granddaughter, Maddie, set out to create a multi-story haunted dollhouse. But their holiday fun turns to fear when a neighborhood scarecrow turns out to be a bloody corpse.
---
What do you think about this review?
Comments
No comments posted.

Registered users may leave comments.
Log in or register now!