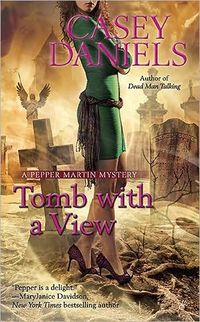 Purchase
A Pepper Martin Mystery #6
Berkley
July 2010
On Sale: July 6, 2010
Featuring: Pepper Martin; Marjorie Klinker
304 pages
ISBN: 0425235513
EAN: 9780425235515
Paperback
Add to Wish List

Cemeteries come alive for amateur sleuth/reluctant medium Pepper Martin.
Cleveland's Garden View Cemetery is hosting a James A. Garfield commemoration. For tour guide and reluctant medium Pepper Martin this means that's he'll surely be hearing from the dead president himself. And when she's assigned to help plan the event with know-it-all volunteer and Garfield fanatic Marjorie Klinker, she'll wish Marjorie were dead...too bad someone beats Pepper to it.
Comments
56 comments posted.
Re: Tomb With A View

Ghost stories are so fascinating. Is the spirit evil, lost, etc?
(Joanne Reynolds 6:36am July 19, 2010)
Enjoyed the post.

Sounds like a wonderful series. So sorry about the passing of Mary.
(Pat Lieberman 7:32am July 19, 2010)
Ghost? Did someone say ghost? I love a good ghost story. For many years, the only romance books I would buy would be the Gothic stories in hopes the author would have a good story to tell. When we travel, I look for local ghost tours and locally printed ghost books. For a brief time, I joined a ghost-hunting group (before the TV shows). After all that, I have never seen one. :-)
(V Scott 8:08am July 19, 2010)
I love the paranormal world stories and Ghost!!!
(Melinda Zedekar 8:12am July 19, 2010)
I love ghost stories and watching shows on hauntings. I do believe that ghosts do exist and would like to think that my fathers spirit is still with us
(Julie Parrish 8:31am July 19, 2010)
I love ghost stories but not sure if I believe in ghosts. Maybe someday I will meet one and that will change my mind.
(Pam Howell 9:09am July 19, 2010)
It's amazing, isn't it? A while back, nobody talked about ghosts much except for "weird" people. Now, there are so many people who are interested. I was at a wedding on Saturday. . . and found people to talk about ghosts with! I think it's interesting that people are finally opening up to the possibilities.
And speaking of that...anyone here ever visit Lily Dale, New York?
(Casey Daniels 9:13am July 19, 2010)
I don't believe in ghosts but I like reading ghost stories
(Sandy Giden 9:28am July 19, 2010)
As a child, I never liked
ghost stories, 'cause I did
have monsters that went bump
in the night. As an adult,
reading ghost stories helped
clear the darkness. So yes, I
do love a good ghost story.
(Tanja Haack 9:30am July 19, 2010)
I love stories and movies about ghosts. Yes, I believe in ghosts. I think some of my relatives who have passed come back and visit me sometimes.
(Cheryl Lynne 9:32am July 19, 2010)
Sounds like such fun!
(Mary Tilman 9:33am July 19, 2010)
I love the series and just finished Tomb with a View and passed it on to my sister and her boyfriend. It's one of the few series they both read.

I don't believe in ghosts, but if they exist would love to see one (a benevolent one).
(Anne Muller 10:43am July 19, 2010)
I've followed Pepper from the beginning...Tombs of Endearment broke my heart for her. I absolutely believe in ghosts!
Ivy
(Ivy Truitt 10:44am July 19, 2010)
Ghost stories used to scare me to death...and I really hated haunted houses...
(Shannon Scott 10:55am July 19, 2010)
I have to say that I DO believe in Ghost! There is always the unknown reason why something gets moved from one place to the other so why can't it be a Ghost!
(Karen Vega 11:04am July 19, 2010)
Love paranormals but I'm staying in a haunted inn in Maine and I hope I'm not in the "haunted room".
(Teresa Roberts 11:58am July 19, 2010)
You chose an interesting President for your ghost story. He was all those things you mentioned, yet he isn't very well-known. I'm looking forward to seeing how he makes out in your novel.
(G S Moch 1:06pm July 19, 2010)
I have had a few paranormal experiences myself, I have not seen a ghost, but I do believe that they exist.
(Dawn Miller 1:57pm July 19, 2010)
I really enjoy the Pepper Martin books and have passed them along to my friends who are now fans as well. I love how they keep you right there till the very end and they make me laugh. That is priceless to me. I am looking forward to reading this one as well and I did not know that about President Garfield. If I write with my left hand it looks like chicken scrath. :) And I agree if you can make Garfield funny, it would be you. :)
I love Ghost stories and when I was younger my mom would be visited by people we knew who had passed. I would wake up hearing someone walk through the hall or wake up cold. They don't visit me except in dreams which isn't as freaky you know. I love going to haunted places and sometimes you can really feel it when you first step foot in those places and sometimes you feel nothing. There is a tale here in San Antonio, that if you go to thie one set of rail road tracks and park the car on the tracks, little finger prints will appear on the trunk, bumper after they push you off the tracks. It is said they were killed by a train hitting their bus and they push the cars off so it won't happen again. Lots of fun Hauntings here.
Great blog and best wishes.
(Chris Jones 1:59pm July 19, 2010)
Cool railroad ghost story, Chris! Glad you like the Pepper books. As far as dreaming about people who have passed, I've heard those called "visitation dreams." I've had them, too, and once, had to tell a newly departed uncle that he was, indeed, dead. He hadn't quite gotten the message yet!

Teresa, love the idea of a haunted inn in Maine. How cool would that be!

Ivy, I've heard much the same comments about "Tombs of Endearment." Lots of people were sorry to see things not work out between Pepper and Damon.

All, so much fun to hear who believes/who doesn't. As far as haunted houses...if you mean those phoney, gory ones at Halloween...yuck! I don't get it.
(Casey Daniels 2:45pm July 19, 2010)
i don't believe in ghosts... but seeing is
believing...
(Tina Werner 2:47pm July 19, 2010)
I don't really believe in ghost but I really enjoy reading stories about them. I would love to read this book!
(Gail Hurt 3:12pm July 19, 2010)
I believe in ghosts when eerie things are happening or there's too much coincidence for it to be anything else. I knew a family who celebrated All Hallows Eve instead of Halloween and I'm certain that their home had extrasensory happenings as it was set back from the road and no one would go near.
(Alyson Widen 3:33pm July 19, 2010)
I love to read stories like these.
(Felecia Digsby 4:41pm July 19, 2010)
Ghosts, even thought I have never seen one, I believe they are around... series sounds like it would be very interesting to read!
(Colleen Conklin 7:14pm July 19, 2010)
I do indeed believe in ghosts!
(Lisa Garrett 8:43pm July 19, 2010)
Not only do I believe in ghosts, I live with them. Since my family have moved to my current home when I was four, strange and unexplained things happened in the house.

What else can you expect when the house was built back in 1885?
(Kai Wong 8:55pm July 19, 2010)
Your books sounds wonderful. I've love to
give them a try. I love good old fashioned
ghost stories.
(Molly Wilsbacher 9:02pm July 19, 2010)
I'm not sure how old fashioned the books are, Molly! Pepper is definitely a modern woman--and she's got the wardrobe and the attitude to prove it! But the stories are nice and ghostly.

Kai, love the sound of an 1885 house. I, too, believe there must be energy from all those years still residing in places like your house. How can a place not pick up the vibrations of all that's happened there?

Late here in Ohio. Will check in again tomorrow! G'night, all! Sleep tight. Watch out for things that go bump in the night!
(Casey Daniels 10:48pm July 19, 2010)
yes i believe in ghosts
(Sagrario Vigil 11:23pm July 19, 2010)
I haven't read these yet and yes, I believe in ghosts!
(Kirsten Kimball 11:29pm July 19, 2010)
i adore pepper!!!!! and love your sense of humor
(Tami Bates 2:19am July 20, 2010)
i beliee in ghosts!!!!!!! here in the south , we got plenty
(Tami Bates 2:20am July 20, 2010)
I definitely believe ghosts or spirits exist; just last night I saw a show on CourtTV called "Haunting Evidence" and it was fascinating! It has a medium, psychic profiler, and paranormal investigator try to get information on cold cases through their paranoramal means, and it was both exciting & scary to see/hear what they found out!
(Bella Franco 2:29am July 20, 2010)
I believe in ghost.lived in a few haunted house in my life.Does not scare my ok once when my stuff animal was in mid air.ater that I got rid of that one never could see that one the same way again.
(Stacey Smith 3:30am July 20, 2010)
I absolutely believe in ghosts. I grew up in a haunted house and we had alot of witnesses. Also the people now living in it has had many experiences themselves. I still get freaked out in old houses.
(Vicki Hancock 5:21am July 20, 2010)
It's so cool to hear about so many haunted experiences. Thanks for sharing, everyone. And thanks, Tammi, for your kind words about Pepper!
(Casey Daniels 7:35am July 20, 2010)
I truly believe in ghosts. My daughter and I both saw the same one several times in our old house. Your series sounds wonderful!
(Karen Gervasi 8:24am July 20, 2010)
Not sure I believe in ghosts but I do believe our spirit lives on.
(Diane Sadler 12:07pm July 20, 2010)
Just reading the current Reader's Digest and found this: My house is haunted by a ghost-writer. Last night, I came home and my autobiography had been written. By Comic Craig Sharf
(Karin Tillotson 2:32pm July 20, 2010)
I don't tell ghost stories, but we do
have several that live with us in this
house. Everyone except my husband
has experienced them. I'll have to
check out this series. I haven't read
much in the paranormal field. There is
so much out there, it is a matter of
finding what appeals to my tastes.
(Patricia Barraclough 3:34pm July 20, 2010)
I definitely believe in ghosts. I've seen many unexplained things that I can only chalk up to ghostly activity.
(DeeAnn Szymanski 4:09pm July 20, 2010)
I'm not sure if I believe in ghosts so I suppose that's what draws me to read ghost stories.
(Sue Farrell 5:53pm July 20, 2010)
I DO believe in spooks...I DO believe in spooks...I DO believe in spooks...LOL! Seriously, I always "sensed" things in the old farmhouse on the farm where I grew up (the grandparents lived there). I remember practicing piano and actually stopping to turn around because I just KNEW someone was there watching/listening. I also felt things in the other farmhouse where my family lived, but couldn't "rationalize" it...I knew people died in Grandma's house, but not in mine. Fast forward to the summer I got married (I was 33) when my dad gave me a book about the children of my great-great-grandparents. I was stunned to learn that "our house" was the Grandmother's or Mother-in-law house built when my great-grandfather married (he was the youngest of 16), for his parents...and that my great-great-grandparents did die in that house!
(Sara Studebaker 6:27pm July 20, 2010)
I don't NOT believe if that makes any sense.
(Mary Preston 7:06pm July 20, 2010)
No I do not believe in ghost but its fun to read about them. Thanks for the chance to read.
(Yvonne Butler 7:14pm July 20, 2010)
WOW! The cover is absolutely amazing. I love the contrast of the sexy woman and the dangerous grave she's in.
(Yadira Alonzo 7:27pm July 20, 2010)
I wouldn't necessarily call them ghosts. I believe they're people from our past who have come to pay us a visit. My Mother comes to see me every so often, and let's just say I know it's her!! Your book sounds so good, and I can't wait to read it. To combine the spirit of a former President into a story was quite an undertaking (no pun intended). Your late friend Mary was an added inspiration. How lucky you were to have her in your life.
(Peggy Roberson 9:53pm July 20, 2010)
Sounds like a hoot of a book.
Can't wait to read it!
(Lisa Richards 10:08pm July 20, 2010)
Yes, I do believe in ghosts. There's too many things that are unexplainable to not believe.

Later,

Lynn
(Lynn Rettig 12:21pm July 21, 2010)
No, I don't believe in ghosts, but I remember a house that children in our neighborhood always thought was haunted.
(Gladys Paradowski 2:58am July 21, 2010)
I don't really believe in ghosts but I am very careful around any area that looks spooky.lol As a teenager we would pile in car and go to an abandon house and look for ghosts. Never found any.lol
(Brenda Hill 10:05pm July 21, 2010)
I believe in ghosts. Ghost stories make me shiver if they are too evil. I like the ghosts that have a purpose, and need to get something resolved, so they can move along.
(Jan Terry 2:10pm July 22, 2010)
I haven't read these yet but I love reading about ghosts
(Julie Swaney 9:47pm July 22, 2010)
I believe in ghosts. We have one that lives here, he was smoking here until my husband had a talk with him! Would love to read your book.
(Brenda Rupp 10:37pm July 23, 2010)
When my first 2 girls were babies we lived in an old log
cabin house. Every night when I would give them a bath you
could feel the presence of the old man who had lived and
died there. It was very comforting having him there because
my husband worked nights and I knew he was there to watch
over us and protect us. You would feel the breeze of him
walk past you and sit down in the bathroom and watch so
nothing would happen. I was never scared at all. He was a
very gentle soul and I was glad he was there for us.
(Esther Rossi 6:12pm January 26, 2013)
Registered users may leave comments.
Log in or register now!