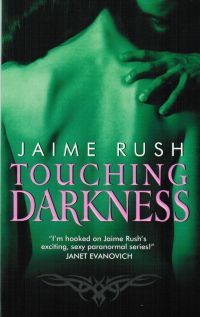 Purchase
Offspring #3
Avon
May 2010
On Sale: April 27, 2010
Featuring: Nicholas Braden
384 pages
ISBN: 0061690376
EAN: 9780061690372
Mass Market Paperback
Add to Wish List

Nicholas Braden, a psychic spy in a covert government program, suspects he's a pawn in a mad man's quest for justice. His boss's stunning assistant is too loyal to give him answers, but Olivia's secret, wild side bends his mind and fires his body. As they edge closer to the darkest truth, good and evil blur, threatening their very survival.
Offspring

A Perfect Darkness
#1.0
Amazon.com | BN.com | | |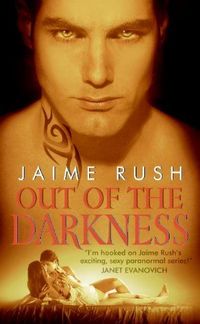 Out Of The Darkness
#2.0
Amazon.com | BN.com | | |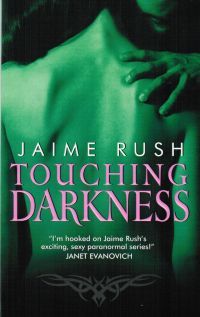 Touching Darkness
#3.0
Amazon.com | BN.com | | |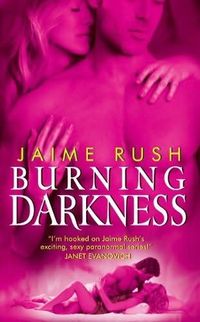 Burning Darkness
#4.0
Amazon.com | BN.com | | |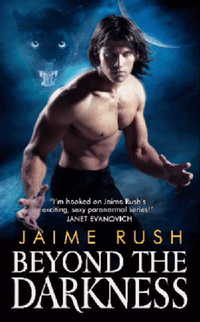 Beyond The Darkness
#5.0
Amazon.com | BN.com | | |
Comments
34 comments posted.
Great review, Kay! Love your enthusiasm!

Cheers,
Jaime Rush
(Jaime Rush 3:43pm April 19, 2010)
The best part about my job as a learning support assistant is when the child I am working with are finally able to succeed as a task with out my help needed anymore - the smile on their faces says it all. The worst part is having to nag at them to do their work and learn their spellings and read each day - they don't like to be nagged!
(Barbara Hanson 8:59am May 5, 2010)
I'm a homemaker. The best part
is taking care of my family.
The not so best part is my
family needs a lot of taking
care off.
(Tanja Haack 9:27am May 5, 2010)
O'm retired but did enjoy working as a motel manager for 11 years. Met a lot of interesting people. It was hard work but I worked with my husband every day so that was different.
(Pat Wilson 10:35am May 5, 2010)
i want 2 read this !!
(Debbi Shaw 12:17pm May 5, 2010)
Watching my nephew learn new things everyday is the best... the worst, the destruction an almost 2 year old can cause!
(Colleen Conklin 1:00pm May 5, 2010)
Meeting new interesting, fun people is the best part. The only bad part is the traveling.
(Leni Kaye 3:22pm May 5, 2010)
As a farm wife the best thing is seeing the beautiful field of our crops. The worst thing is tramping through the hog lots.
Blessings,
Marjorie
(Marjorie Carmony 3:37pm May 5, 2010)
I am retired and the best thing is that I have LOTS of unscheduled time to do LOTS of things I have always wanted to do. The worst is that my family and friends know that I am retired with LOTS of unscheduled time and they think I should be able to do what they want whenever they want. Therefore, some days I could have 15 scheduled 'things' and other days nothing. Oh, well, the alternative is that no one calls me, right?
(Karin Tillotson 3:59pm May 5, 2010)
Love Books like this. I'm retired now so theat's the BEST thing and the worst thing is trying to figure out what I want to do with my time! LOL I have so many projects waiting for me, that I can't make up my mind!
(JoAnn White 4:42pm May 5, 2010)
The best part is feeling I've done something good for someone. The worst part is dealing with the public. Nuf said...
(Kelli Jo Calvert 5:49pm May 5, 2010)
The best thing is I have ALL the school holidays off - I am an Early Childhood Teacher. The worst is, for the work I do, I don't have nearly enough holidays.
(Mary Preston 6:13pm May 5, 2010)
I'm a grandmother. The best part is being with my son, daughter-in-law and grandson everyday. The worst part is, when they argue about whatever, trying to keep my opinions to myself, especially when it has to do with my grandson.
(Patsy Hagen 6:15pm May 5, 2010)
The best part of my job in customer service is when you help someone out and they are polite and grateful to you. It really makes you feel good.
The worst part are the really rude phone calls that I also get. You just grin and bare it.
(Dena King 6:15pm May 5, 2010)
I understand how your fan mail can be quite a task. Anyway, your book sounds very good and I would love to read it.
(Lisa Garrett 7:23pm May 5, 2010)
The best thing about my job is helping people take care of themselves. The worst is the hours are irregular and I like balance in my life.
(Alyson Widen 7:25pm May 5, 2010)
I just retired a few months ago after working as a coder in Medical Records in a hospital. I had always loved my job but the last year or so, so many new Medicare regulations that keeping changing and now there is going to be a whole new coding system. Am glad I don't have to learn that--too old to learn new stuff that is not fun anymore
(Barbara Studer 8:05pm May 5, 2010)
The best thing about my job is that I know I am helping the people under my care. The worst thing about my job is that providing care for a large number of people can be an unexpectedly overwhelming challenge in scheduling, creativity, and diplomacy.
(G. Bisbjerg 8:27pm May 5, 2010)
This is a great interview. I'm a disabled nurse. I spend my time reading and cross stitching. If I didn't keep busy I would go crazy.
(Julie Swaney 8:29pm May 5, 2010)
congrat on your book and hope may more come soon and then i would love to read about it and would blog abotu it on a cvouple differnt site
(Desiree Reilly 9:00pm May 5, 2010)
I am a housewife and mother of 3. I am so glad to have seen this discusion, I am always looking for new authors/books and this sounds awesome!!!
(Brandy Blake 9:12pm May 5, 2010)
I work at the library, so the best part of my job is helping people! The worst part is seeing kids not wanting to read! Please enter me - it looks great.
(Martha Lawson 9:20pm May 5, 2010)
I'm now semi-retired so I have more time to read good books, and would sure like to read this one.
(Paulette Hendrix 9:36pm May 5, 2010)
I'm a housewife and my husband is laid off right now.
The best part is that he is my best friend! The worst part is that he is around all day and all night right now and I had grown used to being alone all day for seven years since he was laid off last. He helps me when I need help around the house, but he also makes messes with little projects that he starts too.
I really like to read it is my escape and I have such great respect for authors!
(Brenda Rupp 9:47pm May 5, 2010)
My best thing is the bonues we can earn.
my worst thing is I'm on the phones ALL day.
(Dina Stornello 9:53pm May 5, 2010)
Best thing is I have a wide variety of responsibilities; worst thing is there is not enough time to do everything that needs done.
(Diana Donahoo 10:12pm May 5, 2010)
Best thing about my job is knowing where to find information. Worst thing about my job is inheriting problem projects from people who don't know what they are doing and because my supervisor thinks I'm a miracle worker (Ms. Fix-It).
(Kai Wong 10:49pm May 5, 2010)
Hello Jamie, Please enter me in this great contest. I love entering and winning contests from FreshFiction.com
God Bless YOU, Cecilia
(Cecilia Dunbar Hernandez 11:03pm May 5, 2010)
I'd like to be entered too
(Catherine Myers 11:08pm May 5, 2010)
Thank goodness I am retired now. Before, the worst thing was working with my coworker who did what he wanted to without regard to regulations etc. He was out of the office more than in and I had to work 2 jobs. Big time STRESS.

Best, I had some great friends and co-workers that I have ever had.

Would love to win your book. I love mystery and suspense.
(Brenda Hill 11:44pm May 5, 2010)
Great lists! It's interesting to find more about a writer's life. :0)
Best thing for me, I can dedicate a lot of time to my daughter. Worst thing, the payment.
(Julia Blanco 8:13am May 6, 2010)
We are farmers and the best seeing the feild start to grow and the worst spreading fetarlizer, That is the crappiest job on the place!
(Vickie Hightower 9:44am May 6, 2010)
I love these! And thanks to those who commented on my books!

I MADE IT! For some reason, I kept checking the site all day yesterday and didn't see my blog. =:O I tried everything, even getting in on my husband's pc. Strange! But thanks to everyone who stopped by and posted, and best of luck winning the book! Note to the winner: contact me thru my website to request a signed bookplate, sent free of charge.
(Jaime Rush 1:13pm May 6, 2010)
Jamie, great list!

Best thing - work from home
Worst thing - I miss having people to
gossip with
(Sue Ahn 10:39pm May 6, 2010)
Registered users may leave comments.
Log in or register now!