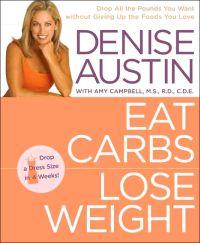 Purchase
Eat Carbs, Lose Weight : Drop All the Pounds You Want
Denise Austin
Yes, you can have the carbs you love and lose weight--and it's healthier for you, too! Just follow this revolutionary, satisfying eating plan from beloved fitness guru Denise Austin.
Rodale
August 2005
320 pages
ISBN: 1594862338
Hardcover
Add to Wish List

If you love carbs, you've looked at the low-carb diets that are all the rage and despaired of ever finding a program that works for you. Denise knows the feeling. As an active person, Denise knew she had to keep carbs in her life--they gave her power and endurance for her demanding days. Daunted by low-carb diets, she searched for a diet that would allow her to eat carbs and not gain weight. Instead, she discovered a diet that helped her lose weight.
In her first diet book ever, Denise Austin teams up with Joslin Clinic nutritionist Amy Campbell to produce a sound, nourishing, truly delicious eating plan that allows readers to welcome their favorite foods--like real bread, hearty pasta dishes, and even potatoes--back onto the table, and still lose all the pounds they want, this time for good! Denise offers a 4-week program--based on her own diet and her 9 Rules of Weight Loss--that will guide carb-lovers to a healthful way of enjoying their savory, crunchy, energy- giving fare. Find out:
* What really causes carbohydrate addiction and how to avoid it without "cutting" carbs
* What foods set you off and how to satisfy your cravings without bingeing
* Which carbs help you look and feel younger

Enjoy the more than 100 mouthwatering all-new recipes--and discover an eating plan you can honestly imagine staying on for life! You can have your carbs--and lose weight, too!

Media Buzz
Imus in the Morning - September 28, 2005

Comments
No comments posted.

Registered users may leave comments.
Log in or register now!