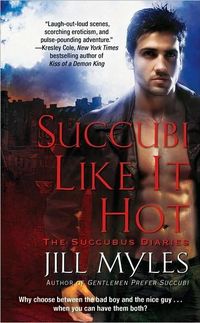 Purchase
Why choose between the bad boy and the nice guy... when you can have them both?
The Succubus Diaries #2
Pocket Star
February 2010
On Sale: January 19, 2010
Featuring: Jackie Brighton
368 pages
ISBN: 141657283X
EAN: 9781416572831
Mass Market Paperback
Add to Wish List

Romance Paranormal | Fantasy Urban
With a flirtatious new figure, her dream job as an archaeologist, and two gorgeous boyfriends to scratch her seductive Itch—an angel and a vampire—Jackie Brighton is totally getting the hang of life as a succubus. Then her need for sex spirals out of control, and she accidentally knocks the pizza guy unconscious with her touch. Great, she's cursed. Unfortunately, neither of her jealous lovers is exactly talking to her right now.
So after Jackie strikes a deal with a crafty demon, she and her best friend Remy take a cross-country road trip to deliver a cryptic message to the nation's oldest succubus (who doesn't look a day over eighteen.) Their journey gets weirder with every mile—demonic possession, a charming stalker, a deadly hotel room warning—but when they get to New Orleans, Jackie discovers a dangerous catch to her supernatural bargain. Someone wants her dead (again), but has she been sleeping with the enemy? Or do the forces of evil think they're some kind of match for a vixen in a miniskirt?
Comments
8 comments posted.
Oh my Angel, Vampire and now a
Demon to choose from what is a
Succubus to do?
This is going to be even better than
the original book in the series and so
much fun to boot....
Jackie B Central Texas
jacabur2008ATgmailDOTcom
(Jackie Burris 4:27pm December 18, 2009)
Camping can definetly wind up as quite the adventure.
(Kellie Demarsh 12:47pm January 20, 2010)
My husband ended up in the hospital in Ely, Nevada during our road trip - congestive heart failure. He is like the Energizer Bunny - still going strong!
(Karin Tillotson 1:57pm January 20, 2010)
Road trips can be fun, especially with interesting companions; but, as you say, they can include some unexpected adventures. I love to travel.
(Gladys Paradowski 3:30pm January 20, 2010)
In my experience road trip equals unpredictability. You've got to love that!!!
(Mary Preston 5:35pm January 20, 2010)
Camping on a roadtrip to West Virginia and shooting the rapids of the Yogiheny River was one I'll never forget during my college years.
(Alyson Widen 6:31pm January 20, 2010)
ah yes - memories of pitching the tent in a "nice little hollow", only to wake up in the middle of a thunderstorm with the tent "afloat" in the rain..
[email protected]
(Penny Tuttle 8:09pm January 20, 2010)
My husband & two friends arrived very late to a camp ground in Estes Park CO on s Labor Day weekend.At the time it was the highest place we could camp. We pitched our tent in the dark by lantern light so as not to disturb our fellow campers. Boy was it cold. We ended up zipping two sleeping bags together & using the other two bags under & over us. We girls were fairly warm, but our husbands both on the out side about froze! Waking up in the morning we found out why. It had snowed about two feet! And, we about fainted when we saw where we were camped..on the very edge of a cliff! a few more feet & we would have been part of the scenery way, way down!! We ended up breaking camp & renting a cabin vacated by fellow tourists that thought the snow was a little too much. Ah, yes memories!!
(Jean Merriott 1:53am January 21, 2010)
Registered users may leave comments.
Log in or register now!