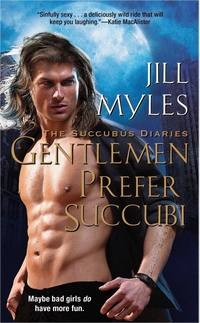 Purchase
Gentlemen Prefer Succubi
Jill Myles
The first of two fun and sexy paranormal romances featuring a succubus, a vampire, and a fallen angel.
The Succubus Diaries #1
Pocket Star
January 2010
On Sale: December 29, 2009
Featuring: Jackie Brighton
384 pages
ISBN: 1416572821
EAN: 9781416572824
Mass Market Paperback
Add to Wish List

Who knew an angel could get a girl in so much devilish trouble?

Jackie Brighton woke up in a dumpster this morning, and her day has only gotten weirder. Her breasts grew overnight, her sex drive is insatiable, and apparently she had her first one-night stand ever . . . with a fallen angel. Of course, she only remembers gorgeous Noah's enormous, er, package.
And their steamy shower sex. Hmm . . . and the dark stranger whose bite transformed her into an immortal siren with a seductive Itch. With help from Noah and fellow succubus Remy Summore, Jackie adapts to her new lifestyle—until she accidentally strikes a deal that sends her lover into the deadly clutches of the vampire queen and lands Jackie, Remy, and the queen's wickedly hot right-hand man into the middle of a fierce battle for an ancient halo.
But how's a girl supposed to save the world when the enemy's so hard to resist?
Comments
19 comments posted.
My choice is always going to be Vampire.
The recipe sounds yummy. I will have to give it a try.
(Gigi Hicks 12:15pm December 18, 2009)
I like the idea of Angel Bark. I love chocolate and look forward to the holidays when plenty is laying around tempting me.
(Alyson Widen 12:46pm December 18, 2009)
Have to go with the Angel Bark since I don't care for cherries in chocolate.
(Kelli Jo Calvert 12:59pm December 18, 2009)
I'm going to go for the Vampire Bark. I like cherries and that was a deciding factor. Thank you so much for the recipes. I will be making both.
(Leni Kaye 2:04pm December 18, 2009)
Vampire Bark, of course!
(G S Moch 2:32pm December 18, 2009)
Angel, of course!
(Karin Tillotson 3:45pm December 18, 2009)
Vampire! Sounds yummy! I am
going to give the recipe a try,
my girls are all about Twilight,
I think they'll get a kick out
of the name.
(Erin Thompson 3:57pm December 18, 2009)
Boy sounds like when I turned 14 and
everything seemed to happen
overnight with the hormones and
stuff. Love this premise of the heroine
not quite being heroic and cannot wait
to read about the yummy choices
between the Vamp and Fallen Angel.
Fun reading ahead, long time till end
of December release...

Jackie B Central Texas
jacabur2008ATgmailDOTcom
(Jackie Burris 4:30pm December 18, 2009)
Thanks for the recipes, something I'll definitely try.
(Theresa Buckholtz 5:21pm December 18, 2009)
I want both Vampire & Angel. So naughty of me.
(Mary Preston 5:54pm December 18, 2009)
I have a friend who makes a lot of candy for Christmas, I'll have to share this with her! Yummy!
(Brenda Rupp 8:13pm December 18, 2009)
I want both . You can only do that at Christmas
(Patricia Kasner 8:23pm December 18, 2009)
I have a devil on one shoulder and an angel on the other. What a difficult decision! I'll have both. Congratulation on the release of your first book!
(Rosemary Krejsa 8:48pm December 18, 2009)
Dark chocolate wins for me every time. So I'll go with the Vampire if I can't have some of each.
[email protected]
(Penny Tuttle 9:11pm December 18, 2009)
Oh! Vampire without a doubt. Who doesn't want to walk on the dark side once in a while?
(Diane Sadler 9:50pm December 18, 2009)
The Vampire Bark, hands down.
(Armenia Fox 10:22pm December 18, 2009)
Thanks everyone! I hope you like it! I am terrible at cooking but holiday bark is always so easy and everyone loves it! Happy Holidays!
(Jill Myles 12:00pm December 19, 2009)
I'll have to have the Vampire bark, since dark chocolate has anti-oxidants and is good for you! lol
(Susan Driskill 8:28pm December 19, 2009)
I woudl have to have the Vampire bark. I love dark chocolate!
(Lisa Glidewell 11:57pm December 19, 2009)
Registered users may leave comments.
Log in or register now!