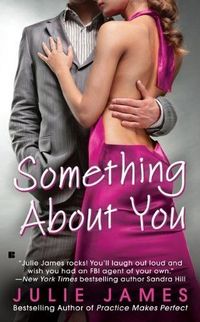 Purchase
Fate has thrown two sworn enemies into each other's arms. . .
FBI/US Attorney #1
Berkley Sensation
March 2010
On Sale: March 2, 2010
Featuring: Cameron Lynde; Jack Pallas
336 pages
ISBN: 0425233383
EAN: 9780425233382
Kindle: B0030DHPAM
Paperback / e-Book
Add to Wish List

Contemporary | Romance Suspense
FATE HAS THROWN TWO SWORN ENEMIES... Of all the hotel rooms rented by all the adulterous politicians in Chicago, female Assistant U.S. Attorney Cameron Lynde had to choose the one next to 1308, where some hot-and-heavy lovemaking ends in bloodshed. And of all the FBI agents in Illinois, it had to be Special Agent Jack Pallas who gets assigned to this high-profile homicide. The same Jack Pallas who still blames Cameron for a botched crackdown three years ago and nearly ruining his career... ...INTO EACH OTHER'S ARMS Work with Cameron Lynde? Are they kidding? Maybe, Jack thinks, this is some kind of welcome-back prank after his stint away from Chicago. But it's no joke: the pair is going to have to put their rocky past behind them and focus on the case at hand. That is, if they can cut back on the razor-sharp jibes and smother the flame of their sizzling- hot sexual tension...

Media Buzz
All Things Considered - June 16, 2015

FBI/US Attorney
Comments
46 comments posted.
I am always looking for new authors to read.
(Marie Manolio 3:25pm March 16, 2010)
There is no way that someone else has
not found this to try for Something
About You by now, I have been
following you everywhere on your
promotion Julie and am absolutely
enthralled by this story... It has humor
and adventure and Style!!!

jackie b central texas
(Jackie Burris 6:59pm March 17, 2010)
No matter what the show is about,
drama or comedy I always find I'm
more interested if there's some
romance in it or at least the hint of a
possible romance. Thinking along the
lines of your Jason Bourne comment, I
think 24 also needs more romance
written into it.
(Jung Ja Ahn 12:51pm March 19, 2010)
This story sounds wonderful! It is so different from anything else I have ever read. I am totally intrigued! What a plot!
(Gladys Paradowski 1:37am March 19, 2010)
My favorite storys included romance & mystery.
(Sherry Russell 8:08am March 19, 2010)
Arsenic and Old Lace and Moonlighting are good examples.
(Marlene Breakfield 9:35am March 19, 2010)
Love the story, who wouldn't. A little James Bond & Cary Grant.
(Pat Wilson 10:12am March 19, 2010)
Good morning, everyone! Thought I'd
pop in to say hello. I'll be in and out
all day in case anyone has any
questions.

Matt Damon, James Bond, Cary Grant...
all fun things to talk about on a Friday
morning. ;-)
(Julie James 10:51am March 19, 2010)
The book looks like a fun one. It reminds of the television show Castle except the woman is the tough one there.
(Maureen Emmons 11:25am March 19, 2010)
I really like the TV show Castle because it has a nice mix of suspense and humor. Your new book sounds like it also has a perfect mix. I loved your first 2 books. You are a master of witty dialog and battle of the sexes scenes.
(Cheryl Castings 12:09pm March 19, 2010)
I think Karen Rose does suspense and humor well. I agree that Hitchcock movies are at the top of the list as far as films go.
(Leni Kaye 12:09pm March 19, 2010)
I think Sean Connery with a side of Nathan Fallion would be an interesting combo.
(Robin McKay 12:47pm March 19, 2010)
I have always been an Alfred Hitchcock and Jason Bourne fan. Your formula of putting the two together with romance rocks. I really going love reading this book.
(Kai Wong 1:04pm March 19, 2010)
I agree with the Castle comments. It is the sidebar humor that I enjoy and you book sounds like a must buy!
(Karin Tillotson 1:14pm March 19, 2010)
HELLO WELL I WISH THE BEST TO YOU AND THE BOOK YOU ARE DOING
AND T HEY SEEM GREAT BESTOF LUCH IN THE YEAR
(Desiree Reilly 1:23pm March 19, 2010)
I really have to try your books, they sound like wonderful reads...
(Colleen Conklin 1:32pm March 19, 2010)
I already have this book in my B&N Wishlist and I'm gonna have to pick it up! The more I read about it, the more I have to have it! I love suspense, but throw in some humor and it's great - perfect even. I LOVE when the hero and heroine can't stand each other at first, then have to fight their attraction to each other, then eventually end up together!!
(Kelli Jo Calvert 1:37pm March 19, 2010)
The TV shows Castle, Monk, The Odd Couple were instances where opposites attract. I love the conflicts and discussions (arguments). The resolutions are a bit of a win for everyone.
(Alyson Widen 1:56pm March 19, 2010)
I also love to watch Castle. It can be so funny. Plus Nathan Fillion is so easy on the eyes.
(Linda Kish 2:08pm March 19, 2010)
I love the TV Shows Bones and Law and Order Criminal Intent and Criminal Minds. I love books by Jayne Ann Krentz and Linda Howard because they have romance and suspense.
(Sherry Strode 2:41pm March 19, 2010)
I think "The Mentalist" is a show that balances humor and suspense very well.
(Jane Cheung 2:47pm March 19, 2010)
Great list of tv show heroes. Another one of my favorite tough guys in Mark Valley in the new tv show Human Target. A total kick butt, handsome hero who can pull off a bit of snark, kill the bad guy, and romance the girl.
(Cathy MacDonald 2:55pm March 19, 2010)
WOW, I love Hitchcock. This has to be one of the best of the best and I do want to read as soon as possible. I like this type of setting with mystery, intrique, and of course a love angle. LOL
(Brenda Hill 2:58pm March 19, 2010)
I love romance and suspense.
Then if you mix in some
laughter, you've got the
recipe for a best seller. And
anybody who loves Hitchcock,
has got the cookbook with that
secret recipe in it.
(Lisa Richards 4:08pm March 19, 2010)
Hope the contest results will be something about me. HA!
Blessings,
Marjorie
(Marjorie Carmony 4:18pm March 19, 2010)
Sounds like a good book. I love it when there is a hard a$$. When you mix that with humor, it's usually the best kind of book along with the mystery stuff too.
(Vicki Hancock 4:49pm March 19, 2010)
love the excerpt. Love suspense. Hitchcock is my favorite director. My favorite tough guy is hard to choose, but I always loved Rod Taylor. I loved him in Marnie.
(Phyllis Lamken 5:21pm March 19, 2010)
Wrong time, wrong place - love that because we all can relate. I think that suspense interspersed with humor & a little romance works brilliantly. I want all my emotions to come into play. I was thinking about Cary Grant in "Father Goose". Funny war time movie.
(Mary Preston 5:46pm March 19, 2010)
Julie, I've read your other books and loved them. This one I know I'll enjoy especially with a Hitchock flair to it and Jason Bourne's looks. I was always enthralled by Hitchock's movies and TV show as a kid.
(Nancy Alexander 5:48pm March 19, 2010)
Hi again, everyone!

Just thought I'd pop in to say hello...
glad you're enjoying the excerpt! And
you guys have some great suggestions
of books/TV/films that mix humor
and suspense.
(Julie James 6:03pm March 19, 2010)
Please enter me in your fantastic contest. Thank you and God bless you too,
Cecilia
(Cecilia Dunbar Hernandez 6:24pm March 19, 2010)
I'm currently reading Hard to Hold
by Stephanie Tyler. Jake is a tough-
guy hero to boot!
(Amber Leigh Williams 6:30pm March 19, 2010)
Since I love Hitchcock's stories, I am very anxious to read 'Something About You'. The book sounds great and the characters sizzle.
(Rosemary Krejsa 8:13pm March 19, 2010)
Suspense and humor is great fun! Joss Whedon did it wonderfully for tv and movies.
(G. Bisbjerg 9:16pm March 19, 2010)
...I know, I know. Paranormal but still suspenseful and wonderfully humorous stuff.
(G. Bisbjerg 9:17pm March 19, 2010)
I now have to go and buy your latest book. It sounds like a really great read. I look forward to reading it.
(Maude Allen 10:39pm March 19, 2010)
Thanks for the excerpt. I keep reading good things about this book. Please enter me. Thanks, Sue
(Susan Hussein 11:59pm March 19, 2010)
Beleve it or not my favorite movie is Die Hard the sence of humer in a bat spot make the movie great and i think Bruce Willis is hot in it.your book looks like fun.
(Stacey Smith 1:29am March 20, 2010)
I loved all the Hitchcock movies because they left you on the edge of your seat. One of my favorites was North by Northwest with Rear Window following a close secone. This latest synopsis has me anxious to read Something About You. I have tried to find it and have not as yet, but...I am determined. Thank you so much for sharing your wonderful talent with us.
(Cindy Olp 1:42am March 20, 2010)
Give me a guy like Daniel Craig and an adventure like James Bond; a little mystery like Castle and I have a wonderful bonk in my hand!!
(Lisa Glidewell 1:48am March 20, 2010)
I love a good romance/suspense novel but it seems that many of them are either heavy on the suspense/light on the romance or heavy on the romance/light on the suspense.

Your book sounds like it has a wonderful balance of both...and a book I'd love to have the chance to win. Count me in please!!!
(Mitzi Hinkey 3:51am March 20, 2010)
Please enter me in your fantastic contest.
Thanks, Cecilia
(Cecilia Dunbar Hernandez 3:26pm March 20, 2010)
I love Hitchcock movies when I was growing up. They are still some of my favorite movies to watch,like, Marnie and Psycho.

Matt Damon as Bourne has really brought this movie character to exciting new heights.
(Armenia Fox 11:39pm March 20, 2010)
First to mind is TV show Moonlighting, noticed it was mentioned earlier as well, absolutely loved that show.. The book sounds great, I'm going to have to add it to my wishlist.
(Jo Ann Jansing 2:30pm March 21, 2010)
I'm liking the new Diana Orgain new mom/mystery series... A good balance!
(Jane Maritz 6:34pm March 21, 2010)
Sounds like a good story. what made
you decide to make it a humorous
thriller? Murder usually is not a
humorous situation. I like a snarky
relationship between the protagonists
of a story. It adds a bit of spice.
(Patricia Barraclough 8:40pm March 22, 2010)
Registered users may leave comments.
Log in or register now!