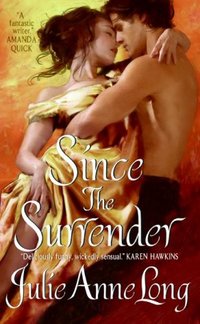 Purchase
Pennyroyal Green #3
Avon
August 2009
On Sale: August 1, 2009
384 pages
ISBN: 0061341614
EAN: 9780061341618
Kindle: B001NLKYRO
Mass Market Paperback / e-Book
Add to Wish List

A man of action. . .
Fearless. Loyal. Brilliant. Ruthless. Bold words are always used to describe English war hero Captain Chase Eversea, but another word unfortunately plays a role in every Eversea's destiny: trouble. And trouble for Chase arrives in the form of a mysterious message summoning him to a London rendezvous . . . where he encounters the memory of his most wicked indiscretion in the flesh: Rosalind March—the only woman he could never forget.
A Woman of Passion. . .
Five years ago, the reckless, charming beauty craved the formidable Captain's attention. But now Rosalind is a coolly self-possessed woman, and desire is the last thing on her mind: her sister has mysteriously disappeared and she needs Chase's help to find her. But as their search through London's darkest corners re-ignites long-smoldering passion and memories of old battles, Chase and Rosalind are challenged to surrender: to the depths of a wicked desire, and to the possibility of love.
Pennyroyal Green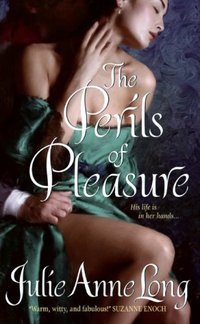 The Perils of Pleasure
#1.0
Amazon.com | BN.com | | |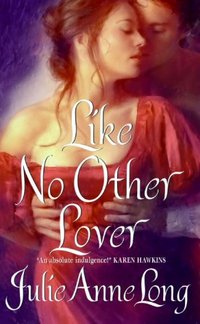 Like No Other Lover
#2.0
Amazon.com | BN.com | | |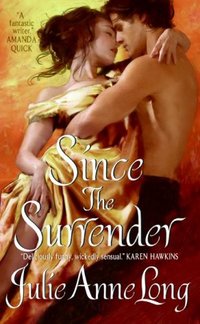 Since the Surrender
#3.0
Amazon.com | BN.com | | |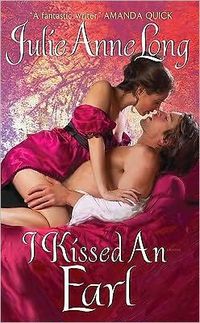 I Kissed An Earl
#4.0
Amazon.com | BN.com | | |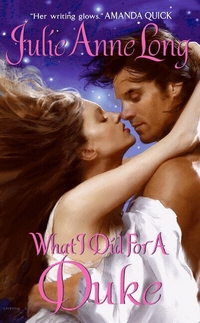 What I Did For A Duke
#5.0
Amazon.com | BN.com | | |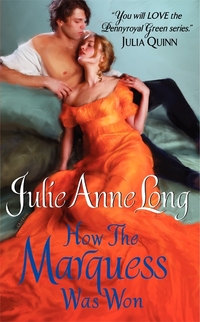 How the Marquess Was Won
#6.0
Amazon.com | BN.com | | |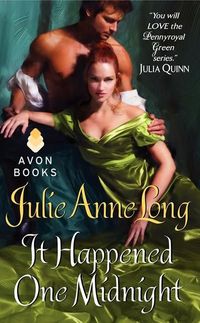 It Happened One Midnight
#8.0
Amazon.com | BN.com | | |
Comments
14 comments posted.
You know how to make the reader flip through the pages furiously trying to predict where the next taut tension will be. And then the hero leaves and my breath deflates until the next crisis.
(Alyson Widen 11:02am August 10, 2009)
Alyson -- so glad I can keep you guessing! ;) That's my OWN definition of a page-turner, so I'm delighted my books keep you turning the pages!!
(Julie Long 12:17pm August 10, 2009)
Hmm, too bad I didn't see this book at the bookstore today. It sounds very intriguing, like all your books, Julie. I'll have to see if I can get back there soon to get it. Sometimes Chapters is a little behind in getting books.
(Sigrun Schulz 4:37pm August 10, 2009)
Now the I read this excerpt, I'm hooked. I want to read the book to find out what develops between Chase and Rosalind and how/if they find the missing girls. I hope I have the patience to wait.
(Rosemary Krejsa 4:45pm August 10, 2009)
Great excerpt!! Now I've GOT to read the book!!
(Martha Lawson 8:48pm August 10, 2009)
Hey Sigrun!! How have you been?? Always interesting to find out what books you're able to find in Canada! Let me know what you find out, if you can!

Rosemary, if you're curious, you can find another excerpt on my website! Not that it reveals the whole mystery, or anything -- LOL. But if this excerpt hooked you, I figure I might as well reel you in a little more! LOL.

Martha -- hope you do get a chance to read it! I'd love to know what you think if you do. ;) Can't miss it in the bookstore -- it's bright golden yellow, and the cover hero is even more delicious on the real thing than on the .jpg! :)
(Julie Long 9:19pm August 10, 2009)
I don't read many historicals but it does sound good
(Diane Sadler 9:23pm August 10, 2009)
Hey Diane! Will you believe the author if she tells you it IS good? LOL. What kinds of things do you like to read? I think STS has a little something for everybody: humor, danger, romance, SERIOUS steaminess, mysterious paintings of busty angels, sinister puppets -- you name it. LOL. Just name something, I'll tell you if it's in there.;)
(Julie Long 9:53pm August 10, 2009)
It does sound like a good book. I read historicals but not as much as contempory.

Linda Henderson
(Linda Henderson 1:13am August 11, 2009)
Hey Linda! Thanks for reading the excerpt! What kind of historicals do you check out when you read them?
(Julie Long 1:53am August 11, 2009)
Wonderful excerpt. Sounds like an
enjoyable book. Historicals are my
preference.
(Patricia Barraclough 10:49pm August 11, 2009)
Hi patricia! So glad you enjoyed the excerpt! If you check out the book, you'll have to let me know what you think of it! :)
(Julie Long 1:08pm August 12, 2009)
"It occurred to her that despite his impatience with details, he noticed the details that mattered. He listened far more than he let on."

I also found that of my second husband. It was only ten or fifteen years later that he did not notice or care any more!

But how wonderful to dream, to live through love, through your heroines again, that is I think what your books do for us. Let us live and be happy through their hero's and heroines, again and again.
(Julie Kertesz 7:37am September 9, 2009)
Julie and Patricia in regards to the excerpt I can wrap it up in a single word HOT1
(Susan Lathen 3:32am October 6, 2009)
Registered users may leave comments.
Log in or register now!