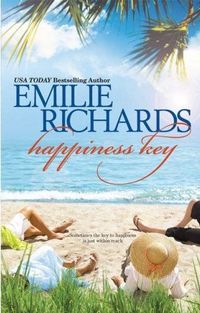 Purchase
Sometimes the key to happiness is just within reach
MIRA
July 2009
On Sale: July 1, 2009
Featuring: Janya Kapur; Tracy Deloche; Wanda Gray
560 pages
ISBN: 0778326608
EAN: 9780778326601
Paperback
Add to Wish List

When her husband is sent to prison, pampered Tracy Deloche is left with twenty-five acres of Florda Gulf Coast sand, five tumbledown beach houses and no idea how to start over. An exile in a strange country, Janya Kapur leaves her wealthy, close-knit Indian family for
Comments
17 comments posted.
Re: Happiness Key

enjoyed your comments. If I would have seen the houses on that street I'm afraid that my book would have been titles Odd Man Out!
(Karin Tillotson 10:36am June 30, 2009)
As a reader, if the title of a book doesn't catch my interest, I often do not pull it off the shelf. Happiness Key is a title that would get my attention.
(Robin McKay 11:00am June 30, 2009)
Those are deep questions regarding happiness, Emilie. You made me think and you also made me really want to read Happiness Key.

And, no, I think many times we don't recognize happiness when we have it and only miss/recognize happiness when it is gone. Also, we can spend far too long searching for what is right under our nose. Trust me, there are myriad ways to ruin happiness from the very simple to the very complex.

Told you that you made me think!
(Kay Martinez 12:16pm June 30, 2009)
I grew up in Ohio and live in a another part of the country, so I know how different settings can look. Certainly makes for an entirely different feel to a book!
(LuAnn Morgan 12:27pm June 30, 2009)
Emilie, your comments were very interesting. I thought that the title was usually given after the book was written. It is always interesting to see what goes on behind the scenes. Thank you.
(Rosemary Krejsa 1:17pm June 30, 2009)
The title of a book is usually what catches my eye, unless it's by an author that I like to read. Like your comments.
(JoAnn White 5:09pm June 30, 2009)
Titles are important. No question. I'm one of those "odd" authors that has to have the title and write around it. If a publisher wants to change it, it throws me for a loop.

Kay, I've done a lot of thinking (and reading) about happiness since the idea for this book formed. I've asked my readers to tell me with comments on my blogs what makes them happy. Very interesting to think about.
(Emilie Richards 5:45pm June 30, 2009)
The creative process - it can be
surprising how it works. Never seems to
be the same from author to author, and
sometimes for the same author. Sounds
like a good summer read.
(Patricia Barraclough 10:45pm June 30, 2009)
The novel comes first. After getting inot the story line, I believe the author can then pick a title to match what has been written
(Paula Staton 9:07pm July 1, 2009)
I think the author comes up with the title of the novel while writing it. How hard it would be to write a full novel around a title!
(Patsy Hagen 12:33pm July 4, 2009)
I find it interesting that you find a title first since other authors seem to have a lot of problems with them--at least, the publisher often does and sometimes the author asks readers to come up with one.

I've often wondered how to define "happiness," and especially how we can pursue it. For many of us, life is good when we have moments of happiness with a general feeling of contentment. I'm eager to read your thoughts on that in this book.
(Sigrun Schulz 6:37pm July 4, 2009)
This is a very catchy title and it probably would cause me to pull the book off the shelf.
(LuAnn Morgan 9:17pm July 25, 2009)
After reading the excerpt, I'll definitely read this book. I'd love to win a signed copy.
Lorraine
MOML1@COX.NET
(Lorraine Larose 9:57pm July 25, 2009)
Happiness Key - sounds like two
women starting over in very different
circumstances than what they are used
to. I am sure they will learn a lot
about themselves. Sounds like the
perfect beach read.
(Patricia Barraclough 10:16pm July 25, 2009)
I this is so going on my to buy list.....
(Ann w 11:36pm July 25, 2009)
Great comments. As to how an author comes up with a story? I find letting a title suggest a story refreshing and fun, but of course, it's just the beginning. Not all titles are as suggestive as this one was nor as important to the theme. Each book we write and whatever suggests a story is different each time, as well. I once wrote an entire novel from a line in a Bob Dylan song, and in the end, no one would have known it but me.

A happy end of summer to all of you. The women of Happiness Key and I are finishing the sequel this week.
(Emilie Richards 8:42am July 26, 2009)
Just wanted to say thank you for picking me out as a winner of Happiness Key contest. The bag is so lovely and I am one that will use all the sun lotions as I have such fair skin. So appropriate, thanks again. Carol Priddy
(Carol Priddy 3:03am September 8, 2009)
Registered users may leave comments.
Log in or register now!