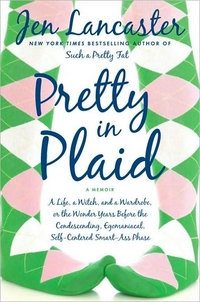 Purchase
A Life, a Witch, and a Wardrobe, or, the Wonder Years Before the Condescending, Egomanical, Self-Centered Smart Ass Phase
NAL Hardcover
May 2009
On Sale: May 5, 2009
Featuring: Jen Lancaster
384 pages
ISBN: 0451226801
EAN: 9780451226808
Hardcover
Add to Wish List

The hardcover debut from the New York Times bestselling author— the prequel to Bitter is the New Black.

In Pretty in Plaid, Jen Lancaster reveals how she developed the hubris that perpetually gets her into trouble. Using fashion icons of her youth to tell her hilarious and insightful stories, readers will meet the girl she used to be.

Think Jen Lancaster was always "like David Sedaris with pearls and a super-cute handbag?" (Jennifer Coburn) Think again. She was a badge-hungry Junior Girl Scout with a knack for extortion, an aspiring sorority girl who didn't know her Coach from her Louis Vuitton, and a budding executive who found herself bewildered by her first encounter with a fax machine. In this humorous and touching memoir, Jen Lancaster looks back on her life—and wardrobe—before bitter was the new black and shows us a young woman not so very different than the rest of us.

The author who showed us what it was like to wait in line at the unemployment office with a Prada bag, how living in the city can actually suck, and that losing weight can be fun with a trainer named Barbie and enough Ambien is ready to take you on a hilarious and heartwarming trip down memory lane in her shoes (and very pretty ones at that).
Comments
50 comments posted.
Re: Pretty in Plaid

The only thing I don't show up early for is work. If I show up for work early they put me to work. Everything else I am early for unless I am meeting someone that never shows up on time. If that is the case I take my time.

Julie
(Julie Harper 10:48am May 17, 2009)
I can usually be found 10-15 minutes early at any event, but if there's browsing available I would need at least an hour!
(Janet Beckley 10:50am May 17, 2009)
I'd rather be early than late. My sis and I went to a reading last week and arrived about 15
minutes early. Thought I'd buy the book and have the author sign it. Well, I bought a pre-
signed book (didn't want it personalized as I'm giving it away) and then we spied a very
comfy-looking sofa in the author reading area. Yeah, we sat :) It was the most enjoyable
reading I've been to, not only because of the author but also because of that wonderful sofa.
Pays to be a little early! I wish Jen Lancaster would visit my city. My daughter loves her
books and I've meant to read them. I'll add it to my TBR list...
(Mary Hundley 10:52am May 17, 2009)
I was born early and I have been early for everthing ever since. It is very rarely I am late for appointments or events.
(Kathleen O'Donnell 10:54am May 17, 2009)
Julie, I love being early for work on the days that I open. That means I get time in the building all alone, and can get things
done with no one asking me for anything. There are things that my boss wants done, and she's learned not to ask me to do a
big project in the middle of the day because I will always wait until a day I open and do it then when no one is around to bother
me.

Mary, what book signing did you go to?

I'm glad to see that most people are early birds. I work with people who are always late, and seem to have no remorse about
that, and I can't stand to be tardy! If I'm going to be late I try to call and let the person know.
(Sandi Shilhanek 11:03am May 17, 2009)
I too am early for everything. I will putter around until the apointed time, but I really hate to be late for anything. You tend to miss too much if you come in at the last minute!
(Margie Hall 11:16am May 17, 2009)
I really dislike being late so I try to be early. My children do not appreciate this trait and tend to make me late for things. I always have a book or my laptop to play games on in the car if I can't get inside where I'm going.
(Alana Gibson 11:39am May 17, 2009)
I'd certainly rather be early than late to something, so I shoot for early. I've always got a book with me, so if I'm too early, I can read to pass the time.
(Jill Hayden 12:16pm May 17, 2009)
I really prefer to be early and when I'm going somewhere alone, that happens. However if my husband is with me, we are always late, no matter how early we get started.
(Lillie Applegarth 12:19pm May 17, 2009)
LIllie, I always try to get my husband out the door early! I start getting him moving like 15
minutes before the time I actually want to leave! He has managed to learn to get out when I'm
having to take him to the work in the am, but there is some nagging on my part, but it is
lessening!
(Sandi Shilhanek 12:30pm May 17, 2009)
Sandi, I went to a book signing for Elizabeth a couple of years or so and I found myself to be an early bird- only about 15-30 early. The reason was I wanted to get a good seat. She first talked about her writing and her latest book which at that time was Dream When You're Feeling Blue. Then she signed books that we had with us. Also there were books of her there for sale which I picked up 2 or 3 that I hadn't read yet. I also that night got put on her mailing list too. Mine took place at a middle school. Ok well that was my one and only time so far book signing I have been too. I have had my Father go to a book signing for Jodi Picoult because she was down in his area I think last year and my Father bought me some of Jodi's books that I want and I also got them signed and a picture of her which I have put away for safe keeping. Ok I'm done now
(Maggie Roso 1:08pm May 17, 2009)
I meant Elizabeth Berg
(Maggie Roso 1:09pm May 17, 2009)
I am an early bird too. Like the quiet of getting somewhere ahead of the crowd, and having time to get settled.
(Cathy MacDonald 1:10pm May 17, 2009)
I am usually early, even for work, but I do have a doctor who I always have to wait for,so for him I get there on time.
(Joyce Mandle 1:25pm May 17, 2009)
I prefere to get places 1/2 hour to an hour early..... or more depending on the bus schedules. My grandma always told me it was always better to be an hour early some place than a minute late, and I have always tried to live by that rule, especially now that I take the bus every where. And yes, I always I have a book to read if I am early. LOL
(Melissa Tackett 1:29pm May 17, 2009)
Sandi, it was for Elizabeth Berg (Maggie and I share similar tastes, perhaps?). I see her whenever she comes to town. Love her books!
(Mary Hundley 1:36pm May 17, 2009)
I wish I was an early bird, but the world always seems to conspire against me so that I'm lucky if I arrive anywhere on time!

Every time I would try to leave and have 30 minutes before class, there would be an accident or some sort of traffic jam so that I had to walk into class with my tape recorder in hand so that I didn't miss anything!

It's always been that way and it still is to this day. If it isn't the traffic, it's my IBS or my arthritis and stiff muscles.

I literally have to plan to leave an hour earlier than we need to in order to get someplace on time!

If I end up early, it only happened because everyone else was even later than I was, weather was really bad and I was one of few willing to brave it, or the function was late in getting started.

So I guess you could call me punctual, that is if I haven't completely slept through something!
(Carrie Hinkel-Gill 1:48pm May 17, 2009)
I am like you. I had to stop wearing a watch years ago because it made me way too early for everything. I am usually early except for thing a like a doctor or dentist appointment where I try to be as close to on time a possible to avoid waiting in the waiting room.
(Merri Crawford 1:49pm May 17, 2009)
Sandi~~I'm always early~~I can't stand to be late. LOL, at work they make fun of me because I come in like an hour early, but then I have time to do things like set up my coffee pot, get my paperwork ready, etc, and don't feel rushed. If I'm running behind I feel that way all night~~doesn't matter if I am or not, it's like I'm chasing my own tail, lol.
(Melissa Bradley 2:31pm May 17, 2009)
I'm also one who is always on time or a few minutes early to appointments or events. I hate to be late, be hurrying, and for people to have to wait for me.
(Janet Lewis 3:22pm May 17, 2009)
as a rule I'm not an early person but for a signings I am LOL I'm just on time, mostly
(Barbs Ferris 3:57pm May 17, 2009)
I am usually early and then I hate the waiting..lol
(Joy Hoormann 4:22pm May 17, 2009)
I am always early for everything, which makes my kids nuts.
(Debra Czarnogursky 4:26pm May 17, 2009)
I try to be right on time. If I show up too early, I feel like I'm rushing the person I'm meeting with and that may make them uncomfortable.
(LuAnn Morgan 4:36pm May 17, 2009)
I like to be early. I am always worried that something unexpected will happen and make me late.
(Rosemary Krejsa 4:42pm May 17, 2009)
I had to be on time for work so I always left in plenty of time in case something happened along the way. I still arrive early (even help the hostess set up some times) and that's why I carry a book and Sudoku with me at all times! Also my camera - just in case!
(Karin Tillotson 4:51pm May 17, 2009)
I normally like to be a few minutes early, jsut so I don't have the feeling people are waiting around for me. As for signings (having hosted quite a few) I always try to get there about 20-30 min. early, if only to get a good parking spot.
(Sara Edmonds 4:55pm May 17, 2009)
I like to be early except for the doctor - always have to wait so get there just on time.
(Karen Barnett 5:16pm May 17, 2009)
I sail in at the last minute for many things, but not for food. I like being early enough for readings/book signings to get an aisle seat.
(Alyson Widen 5:22pm May 17, 2009)
I tend to be a few minutes early for appointments, meetings, etc. Sometime I go early to get a good seat (movies)or to make sure I get a parking place not to far away. In my area traffic can be very congested so it depends on where I am going. I hate being late, would much rather be early and I always carry a book with me just in case I have to sit awhile!
(Donna McClure 6:05pm May 17, 2009)
Mostly I am early by 5 minutes; I hate making anyone wait for me, it's just rude. However the other members of my family: husband, son and daughter, do not have the same courtesy which angers me. So it is a constant struggle when going anywhere with them from telling them the outing starts 15 min. earlier than they believe to actual threats.
Oh well, we still get there don't we?
(Diane Sadler 6:15pm May 17, 2009)
I would rather arrive early that late. I usually bring a book along with me where ever I go so I can keep myself busy.
(Judy Anderson 6:36pm May 17, 2009)
I'm another early person. My dad was habitually late for everything--especially picking me up--when I was a kid and I learned how irritating it is. However, it also taught me to always have a book with me, so good lessons learned all around. :)
(Michelle St. James 6:53pm May 17, 2009)
I'm always early. Sometimes you can get into and out of your appointment faster. But I always carry a book so I have something to read while waiting (because sometimes even when you have an appointment you have to wait awhile).
(JoAnn White 7:27pm May 17, 2009)
I prefer to be early rather than stressed when I arrive. My dh is very good at getting somewhere on time- we even arrived in Vegas 15 minutes before my son had to sign in for a tournament lol. I'm not nearly that good at judging how far and how long - especially with Dallas traffic. I always have a book with me to kill time if I need to.
(Ilene Pedersen 11:04pm May 17, 2009)
Actually I fall into all three categories.
I prefer to be early and sit and read
while waiting. If that isn't possible, an
on time arrival is a must. Then we all
have the days where nothing goes
right and late is what we are stuck
with.
(Patricia Barraclough 11:13pm May 17, 2009)
I prefer to be early whenever possible. It is just too stressful to be running late.
(Maureen Emmons 6:20am May 18, 2009)
I always prefer to be early but somehow manage to barely make it in time or actually be a little late! One of these days, I will be organized enough to be the early one!
(Sharla Long 10:41am May 18, 2009)
I'm a early person always about 10 minutes early,
Penney
(Penney Wilfort 11:10am May 18, 2009)
I would rather show up early somewhere than show up late. I can always sit with a good book if I have to to make the time go by faster.
(Michelle Sauer 12:09pm May 18, 2009)
I'd love to be an early-bird, however, that gene seems to be missing in my makeup. I try. My husband is always ready at least half an hour before I am, even if I start getting ready to go before him. Though I do always have a book along, in case a miracle happens and I'm early. I'm very seldom late, though, just barely on time.

By the way, who won the book bag from last week? There was a problem with something, and my message is the only one I saw.
(Donna Breitkreuz 1:28pm May 18, 2009)
I'm still having trouble with these things ending up in my junk mailbox. I did notice today that it came up with a capital M, so maybe that's the problem. I'll change it and see what happens next week.
(Donna Breitkreuz 1:31pm May 18, 2009)
I would rather be early than late so if I can I will arrive as early as possible and just sit and read or look around.
(Debbie Beverley 4:53pm May 18, 2009)
If I'm totally honest, it depends on the event. Usually I make it on time, but I have my days that I'm lucky if I'm only an hour behind.
(Lanae Tatman 5:49pm May 18, 2009)
I try to be on time and never more than 5 mins late. My DH wants to always be early so he is always waiting for me!
(Martha Eskuchen 7:36pm May 18, 2009)
Well, I use to be early to everything. And then I had children. It wasn't too bad with just one, but then I added one to that. Good thing I stopped, or I'd probably be late to everything instead of just making it. This mostly applies to work. Everything else just depends. Never late for dr appts (& usually early) though. I don't want to have to wait any longer than necessary. And I definitely take a book!
(Amanda Reeder-erdly 8:24pm May 18, 2009)
As evidenced by the lateness of my comment here, I'm hardly on time for anything! Fun comments!
(Laurie Damron 10:25pm May 18, 2009)
I am always late. No matter how early I try to leave the house I end up at least a minute late.
(Barbara Baugh 8:37am May 20, 2009)
It is in my genes, I swear. My father was always late; I had to threaten to disown him if he showed up late for my graduations and wedding! However, I do try and be on time for doctors' appointments, etc. but I make them for late morning or afternoon since I don't function well in the morning.
(Trudy Miner 1:51pm May 25, 2009)
After years of working, I don't like to
have any timeline, but as with most of
us, there are always times to be
somewhere. I would like to be an on
time person but it doesn't always work
out.
I'm also not a morning person like
Trudy and try to make my
appointments for later in the day. I
also cannot get around any more
without a walker or wheelchair so it
makes it harder. Especially if I have to
have someone drive me. Love to read
though and I can still do that without
help! Praise God!
(Deanna Whitehouse 12:10pm May 31, 2009)
Registered users may leave comments.
Log in or register now!