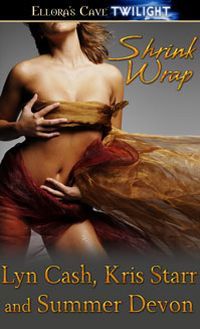 Purchase
Elloras Cave
November 2008
On Sale: October 29, 2008
242 pages
ISBN: 1419958070
EAN: 9781419958076
Paperback
Add to Wish List

Invisible Touch By Summer Devon
Book 1 in the Shrink Wrap series.

When Bonnie spurns the sexual advances of a real creep, she suddenly finds herself invisible to any man she finds attractive. She soon learns that the creepy man she turned down is also an amateur sorcerer who has placed an invisibility curse on her. Now he's threatening to make it permanent unless she agrees to spy on his boss, a man Bonnie finds irresistible. She just can't keep her hands from exploring his sexy body!

At first Jared thinks he's going crazy. He knows he's embracing a delicious female but he doesn't know if the invisible being is an actual woman or ghost. When things heat up between Jared and Bonnie, they find a way to communicate. Now they have to figure out how to thwart Jared's enemy or Jared will never get a good look at the woman he's felt…all over.
Seeing Is Believing By Kris Starr
Book 2 in the Shrink Wrap series.

Jessie LaFontaine is haunted — literally. By a one-hundred-seventy-seven-year-old ghost with a high libido and a nasty habit of transferring her naughty urges toward sexy men to Jessie. Desperate to get rid of her specter for good, Jessie follows the advice of a curiously knowledgeable cabbie and pays a visit to a parapsychologist. Problem is, Dr. Nicholas Federov is the studly hunk Jessie got down and dirty with at a nightclub, thanks to the amorous apparition. To make matters worse, Nicholas wants Jessie just as badly as she still wants him.

Who knew getting rid of a ghost could be so hard…or feel so good?
Crystal Clear Persuasion By Lyn Cash
Book 3 in the Shrink Wrap series.

Some weekly agendas are more taxing than others, and Shyla Stewart's just about overbooked. Her boss is forcing her to go on some woo-woo New Age retreat. She's been given a "sex stone" that seems to have a mind of its own and complete control over her libido. Her therapist just gave her a vibrator, and some wiseass cab driver with an eerie sense of intuition tells her she needs to get laid. Add one hunky, lumberjack-type stranger who seems to want Shyla as badly as she does him, and it's anybody's guess what will happen next. How much change and sex and crazy magic can an introverted workaholic take before the wild woman within her breaks free?
Comments
No comments posted.

Registered users may leave comments.
Log in or register now!