Summer Devon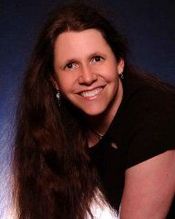 Blogging at Fresh Fiction
Summer Devon | Give Me the Dessert Tray...
January 9, 2009
I love anthologies. They're like getting small portions of several desserts. You don't have to choose between the mousse, the chocolate dipped strawberry Read More...
Pseudonym for Kate Rothwell.

Summer Devon is the alter ego of writer Kate Rothwell. Until she met Summer, Kate was a mild-mannered writer with kids, a husband and a dog. To channel this new identity, Kate has to recall her wild younger days--okay, not that wild, though she did stints as a bartender and an artist model.
They share a few similarities, yet Kate and Summer are very different. Summer cares about her appearance, can dance and walk for miles in high-heeled shoes, has a rich melodic laugh and naturally beautiful fingernails. Her advanced degree is in something very exotic that led to a well-paid career in a field she'd like to discuss, but regretfully, can't. She can pop bonbons and type at the same time and never gets chocolate on the keyboard or her blouse. Though her clothes are generally shapehugging, she never suffers from static cling.
Log In to see more information about Summer Devon
Log in or register now!
Series
Books:
The Shepherd and the Solicitor, October 2015
e-Book
The Bohemian and the Banker, April 2015
e-Book
Must Loathe Norcross, December 2014
e-Book
Revealing the Beast, July 2014
e-Book
The Gentleman?s Madness, January 2014
e-Book
Sibling Rivals, October 2013
Hardcover / e-Book
The Gentleman's Keeper, July 2013
e-Book
Unnatural Calamities, December 2011
e-Book
The Mad Baron, April 2011
e-Book
Powder of Love, April 2011
e-Book
Taken Unaware, August 2009
Paperback
Out of This World Lover, January 2009
Paperback
Shrink Wrap, November 2008
Paperback
Who's Your Daddy, May 2008
Paperback
I Dream Of Dragons, March 2008
Volume 1
Paperback
Taming Him, January 2007
Ellora's Cave
Trade Size
Learning Charity, April 2006
e-Book