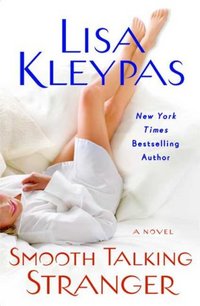 Purchase
St. Martin's Press
April 2009
On Sale: March 17, 2009
Featuring: Ella Varner; Jack Travis
384 pages
ISBN: 0312351666
EAN: 9780312351663
Hardcover
Add to Wish List

Ella Varner has it all--a successful career as an advice columnist, a handsome boyfriend, and a circle of friends in Austin. When anyone has a problem, Ella knows the answers.
But one night she receives a call that changes everything. And as Ella's world is turned upside-down, she meets a man who is the opposite of everything she ever wanted . . . a man who will offer her the most irresistible challenge she has ever known . . .
Videos
Comments
31 comments posted.
Just finished this and really enjoyed it. Looking forward to reading more by Lisa Kleypas.
(Bridget Lopreiato 7:40pm October 30, 2009)
My dad is working overseas and both my grandads have passed away. I never met my grandpa from my father's side and I only met my grandpa from my mother's side once when I was in grade school. I just sent my dad a powerpoint presentation of the pics my cousins and I took when my sis and I went to province this May. =)
(Rose Valentino 9:34am June 20, 2010)
I'm spending Father's Day with my husband. The girls will call & tell him Happy Father's Day. I don't have a father, never did. So I will cook my Husband his favorite dinner & watch the golf game.
(Pat Wilson 10:15am June 20, 2010)
Happy Father's Day to all dads!
(Wilma Frana 11:30am June 20, 2010)
How sad to never have had a father. Unfortunately my father and I didn't get along well, but he
was there on some of the more important days of my life. He has been deceased a long time
now, and unfortunately my one son doesn't remember him, and my other son never met him.
Like some of you I only knew one grandfather, and he also gave me books, and I still have those
books he gave me.
(Sandi Shilhanek 11:31am June 20, 2010)
Hi Sandi-It sounds like you had a nice visit with your mom. My dad has been gone many years but on Father's Day I still get a little blue. Sure do miss him. My dh already had a father's day call from our dd and dgd--that made his day! I can't think of any father books to recommend.
(Mary Perry 11:32am June 20, 2010)
I don't really have anyone to celebrate Father's Day with, and I can't really think of a favorite book with a father in it, so today is just a nice, lazy Sunday for me.
(Barbara Elness 12:46pm June 20, 2010)
I am blessed to be able to enjoy Father's day with my dad. He's not big on gifts, so all he asks is that we spend time with him. And I'm happy to do that for him.
(Joelle Beebe 12:59pm June 20, 2010)
For Fathers day this year we are having pork ribs, cole slaw, potato salad and brown beans. It's one of my dh favorite meals.
(Maude Allen 1:27pm June 20, 2010)
Just spending time with family as always...
(Colleen Conklin 1:43pm June 20, 2010)
Thank you for your post, Sandi.

I recommend this pop-classic novel that delves into a father-child relationship: Francoise Sagan's "Bonjour Tristesse", an international bestseller back in the fifties. It's still a compelling story of an unconventional father-daughter bond. Both are at best free spirits, at worst totally reckless and irresponsible. This attitude leads to complications in their relationships with romantic partners and each other. It all ends in tears, as hinted at by the title---"Hello Sadness". A bracing alternative to the obligatory upbeat attitude and HEAs of today's romance fiction. I also recommend the 1958 film version, with David Niven and Jean Seberg as the father and daughter.

Keep up the good work!
(Mary Anne Landers 2:32pm June 20, 2010)
My Dad and Stepdad are now gone, but hubby gets to celebrate with two of our children. My daughter is home on leave from the military just in time for Father's Day...so that's one of his presents this year!
(JoAnn White 2:42pm June 20, 2010)
My dad is gone as of last year, so I'll remember all the helpful parts and the hikes he liked to lead family and friends on.
(Alyson Widen 2:47pm June 20, 2010)
My father passed away in Dec 92 of prostate cancer but I still miss him so much. He was 73. On fathers day we all met at my mom and dads and had dinner (all brought dish) and gave him his gifts. I have an older sister and my baby brother passed away in 2003 after getting to see his first 2 grandchildren. There are 5 now. My dad loved his 3 children and was always there for themus when or if they needed him. His grandchildren (7) were very important to him and he spent a lot of time with them and all of them still talk about him. He did not live to see any of his great grand children which is now 7 but he would have been tickled to be with them. He had so much patience as did my brother and would explain or answer all their questions. My mom passed away in 2006 and still missed him so much. I never saw 2 people so much in love as they were.
(Brenda Hill 3:42pm June 20, 2010)
Both my Dad and Father-in-law have passed, but DH has his day today. We celebrate with his favorite dinner tonight, but today he'll be having some much needed quiet time and drink at the local tavern watching his football.

LOL, just the few hours away from the controlled chaos of home will refresh him.
(Armenia Fox 4:04pm June 20, 2010)
My brother and I took our Father out to dinner last night and I'm cooking dinner for him tonight. I'm very glad to still have him as we had a very major scare almost two years ago.
(Robin Greene 4:27pm June 20, 2010)
We had a combination Father's Day
cookout and grandbaby's BD party
at the pool.
(Lisa Richards 4:45pm June 20, 2010)
My father passed away after a long illness in early 1983, so I haven't celebrated Father's Day for a long time. I was just thinking yesterday that intellectually and psychologically I was closer to my father; while emotionally and philosophically I was closer to my mother (d 2003). I had never thought of that dichotomy. I do wish that I still had both of them.
(Sigrun Schulz 4:55pm June 20, 2010)
For Dad ,we have a cookout.
(Deb Pelletier 5:06pm June 20, 2010)
BBQ & beer is the way to go with my Dad. Never fails to please.
(Mary Preston 6:35pm June 20, 2010)
Unfortunately I worked all weekend long; retail is not family friendly for special occasions. I did make a point of taking my husband on a date last night to his favorite restaurant and we did have a very nice evening.
(Diane Sadler 8:06pm June 20, 2010)
As usual, our children and their
families came over and we grilled and
ate on the porch. We got back from
vacation last week, so we went over
some the the things (books) we
brought back. Was a nice relaxed
afternoon.
Afraid I can't think of any books
primarily about dads in a crucial role.
I know I have read them, but at the
moment I am drawing a blank. (must
be because all those dishes are
waiting for me and the kitchen needs
to be cleaned up.)
Hope everyone had a great Father's
Day.
(Patricia Barraclough 8:30pm June 20, 2010)
My Father's Day was spent at
church and with family. As for
favorite literary father's
with crucial roles - I love To
Kill a Mockingbird and a lot
of that had to do with Atticus
Finch.
(Jacqueline Cook 9:43pm June 20, 2010)
My mother in law is in the hospital with a broken hip so we are spending our day there, she is legally blind and needs assistance eating, etc. She is very afraid of being there. My Dad lives up north and I had to be happy with just calling him to wish him Happy Fathers Day! He was happy to hear from me.
(Brenda Rupp 9:48pm June 20, 2010)
For Father's Day, my hubby got to pick
what we did all day. From lunch and
dinner, to a movie of his choice. I
ended up sleeping through the A Team
(I would have rather seen Letters to
Juliet again about The Juliet Club), but
it was his day after all!
(Molly Wilsbacher 10:36pm June 20, 2010)
My Dad passed a long time ago but I do have a wonderful father-in-law that is a great guy. I am blessed
(Vickie Hightower 11:07pm June 20, 2010)
My father has issues that keep us from seeing him. I truly miss him as he defnitely could make me laugh and I have great childhood memories of him.
Today, my husband and I spent the day with our kids, working on our sons trucks, at least they did, then had Chinese for dinner. Today was also my husband and I's 18th wedding anniversary, a doubly special day!
(Sharla Long 11:43pm June 20, 2010)
Since I now live a few hundred miles away from my family, I gave my Dad a call, and fixed a nice dinner for my husband. We spent the rest of the evening relaxing, and exjoying our apartment in the country, enjoying the birds and wildlife that come on the property, and trying to catch up on some reading.
(Peggy Roberson 7:42am June 21, 2010)
I called my father (who lives too far away to visit) and also wished him a happy Father's Day on facebook and had a Father's Day barbecue for my boyfriend's father (who lives much, much closer).
(S Tieh 7:40pm June 21, 2010)
At home with my kids and husband, they are making dad's day special by helping him with his garden. I will be making his favorite dinner :)
(Darci Paice 9:14pm June 21, 2010)
Oh, we don't really celebrate Father's Day. It's my hubby's birthday tomorrow and then he will get a special celebration!!!
(Valerie Bongards 12:59pm June 26, 2010)
Registered users may leave comments.
Log in or register now!