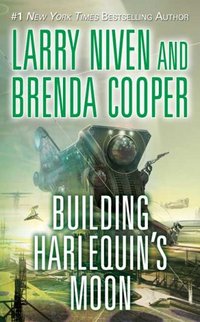 Purchase
Tor Science Fiction
April 2006
On Sale: April 4, 2006
512 pages
ISBN: 0765351293
EAN: 9780765351296
Mass Market Paperback
Add to Wish List

The first interstellar starship, John Glenn, fled a Solar System populated by rogue AIs and machine/human hybrids, threatened by too much nanotechnology and rife with political dangers. The John Glenn's crew intended to terraform the nearly pristine planet Ymir, in hopes of creating a utopian society that will limit intelligent technology.

But by some miscalculation they have landed in another solar system, and extremely low on the antimatter needed to continue to Ymir, they must shape the nearby planet Harlequin's moon, Selene, into a new, temporary home. Their only hope of ever reaching Ymir is to rebuild their store of antimatter through decades of terraforming the moon.

Gabriel, the head terraformer, must lead this nearly impossible task, with all the wrong materials. His primary tools are the uneducated and nearly illiterate children of the original colonists, born and bred to build Harlequin's moon into a virtual antimatter factory. With no concept of the future and with life defined as duty, one girl, Rachel Vanowen, begins to ask herself the question: what will become of the children of Selene once the terraforming is complete.
Comments
No comments posted.

Registered users may leave comments.
Log in or register now!