Larry Niven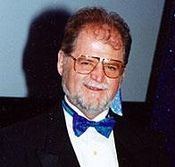 Larry started writing in the 1960s and is now considered one of the grand masters of hard science fiction. Larry is a great science fiction advocate and has been involved in the SF Fandom community since the early seventies. A good way to meet Larry in the flesh is to attend a convention with him, as he often makes time for book-signing sessions (not to mention dinners and parties) after participating in SF panels.
Log In to see more information about Larry Niven
Log in or register now!
Series
Books:
The Legacy of Heorot, May 2021
Heorot Series #1
Mass Market Paperback / e-Book (reprint)
The Legacy of Heorot, February 2020
Heorot Series #1
Paperback / e-Book
Bowl of Heaven and Shipstar, February 2020
Mass Market Paperback / e-Book
Ringworld's Children and Fleet of Worlds, March 2016
Paperback / e-Book (reprint)
Writers of the Future Volume 31, May 2015
Paperback / e-Book
Bowl Of Heaven, October 2012
Hardcover / e-Book
Betrayer of Worlds, October 2010
Hardcover
Escape from Hell, February 2009
Hardcover
Man-Kzin Wars XII, February 2009
Hardcover
Juggler of Worlds, September 2008
Hardcover
Inferno, September 2008
Paperback
Oath of Fealty, January 2008
Mass Market Paperback / e-Book
Fleet of Worlds, October 2007
Hardcover
N-Space, September 2007
Paperback
The Draco Tavern, December 2006
Mass Market Paperback
Building Harlequin's Moon, April 2006
Mass Market Paperback
Scatterbrain, July 2004
Mass Market Paperback
The Barsoom Project, May 2003
Dream Park #2
Mass Market Paperback
Saturn's Race, June 2001
Mass Market Paperback
Beowulfs Kinder., November 1999
Paperback
Destiny's Road, May 1998
Mass Market Paperback
Achilles' Choice, March 1991
Mass Market Paperback
Dream Park, July 1986
Paperback