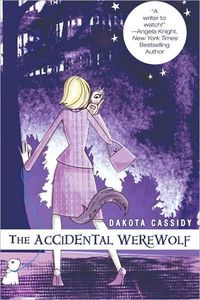 Purchase

Berkley
February 2008
On Sale: February 5, 2008
Featuring: Marty Andrews; Keegan Flaherty
336 pages
ISBN: 0425219305
EAN: 9780425219300
Paperback
Add to Wish List

When Marty Andrews gets bitten by a mangy mutt while walking her teacup poodle, her blond hair darkens, the hair on her legs starts growing at an alarming rate, and her mood swings put her dream job as a sales rep for Bobbie-Sue Cosmetics in serious jeopardy.

Then a drool-worthy man shows up at her door claiming that he accidentally bit Marty. And since he's a werewolf, she is now, too. Thinking Keegan Flaherty is clearly insane, Marty refuses to believe a word until a kidnapping makes her realize there's more at stake than just her highlights. And she must put her out-of-control life in the hands of the man who makes her blood run wild in more ways than one...
Accidental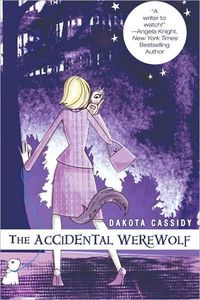 The Accidental Werewolf
#1.0
Amazon.com | BN.com | | |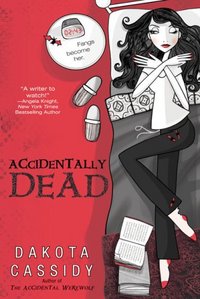 Accidentally Dead
#2.0
Amazon.com | BN.com | | |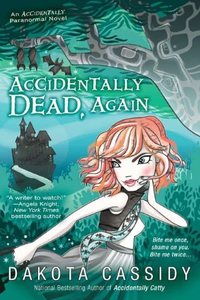 Accidentally Dead, Again
#6.0
Amazon.com | BN.com | | |
Comments
13 comments posted.
I have wanted to read this book ever
since I saw the first blurb about it. I'll
have to get to the book store soon!
(Kissa Starling 9:56pm June 4, 2008)
Receiving free books, allows me to step into something new. Also I'm more involved in book sites, where I read blogs, watch trailers, and read excerpts. It keeps me in the know about new authors and books. My only problem is finding time to read all the books I want to read.
(Theresa Buckholtz 1:45pm November 17, 2009)
I read alot of reviews and recommendations, and also by word of mouth.
(Vikki Parman 2:51pm November 17, 2009)
Winning free books gets me started with new authors. ALso, having the author blog on a site that I already read (i.e., Fresh Fiction).
(Karin Tillotson 3:57pm November 17, 2009)
I've been introduced to several new authors by winning their books. I now look for those authors websites and new books. Great way to read outside my regular box!!!
(JoAnn White 4:33pm November 17, 2009)
Talking with different author on blogs introduce me into a whole new realm of books. I, too, think that winning books bring new authors into my world. I love it.
(Lisa Glidewell 5:27pm November 17, 2009)
Listening to authors at booksignings and reading blogs has expanded my range of books. I used to never pick up science fiction or war, but now give them a try.
(Alyson Widen 5:46pm November 17, 2009)
Heather: Thanks for your post.

I have a pretty wide comfort zone, one that encompasses several genres and themes. There's no way I can read all that's in it, so looking for material outside it isn't really an issue with me.

What's more, if a type of book is banished to my "I'm not interested" zone, it's usually for a good reason. Even the greatest push in advertising, PR, and word-of-mouth won't send me there.

Having said that, it's good to know what's out there so I can stay up on the market and get an idea of what readers want. And for that, I largely rely on two sources.

One is Facebook, through both my FB friends and the many groups and pages for readers and writers that I belong to.

The other is websites for readers and writers. Fresh Fiction is at the top of the list. And your Daily Dose blog is my favorite!

Keep up the good work!
(Mary Anne Landers 5:51pm November 17, 2009)
Exchanging books with friends is a way to try new authors; also when I've been given gift cards to bookstore That is my cue to try new authors that I would not have purchased otherwise. And of course the many websites we can browse for authors.
(Diane Sadler 6:08pm November 17, 2009)
I've got to agree with the
free books from contests, I've
found several new authors that
I love and read some books
that I might not have bought
but throughly enjoyed. Book
blogs have probably introduced
me to the most new books and
authors. I love to read the
reviews and hear about books
that are coming out months
down the road. My wishlist and
TBR pile has increased beyond
belief. I also have read
several free reads posted by
authors that have caused me to
immediately look for more of
their books, often even
purchasing the one that I just
read free. Thanks to sites
like this, I have have found
new books that I have spent
hours enjoying.
(Lisa Richards 6:49pm November 17, 2009)
The gift of books has certainly widened my choice of reading. Having been introduced to certain authors I have sought more of their work. Word of mouth very is important too.
(Mary Preston 7:40pm November 17, 2009)
Today we have so many ways to discover new authors and try different genres. Publishers and authors have excerpts and/or free reads. I especially love the video trailers. Reading the reviews on new novels is always useful and, of course, we have the old stand-by (word of mouth). E-books certainly have changed our buying and reading habits.
(Rosemary Krejsa 7:52pm November 17, 2009)
I'm no longer actively looking for new authors and books to read; I've got far too big a TBR pile. However, some of the authors blogging here have piqued my interest and there is at least one of them that I was able to find at the library. I've read the first of the series and will probably read more of them.
(Sigrun Schulz 11:29pm November 17, 2009)
Registered users may leave comments.
Log in or register now!