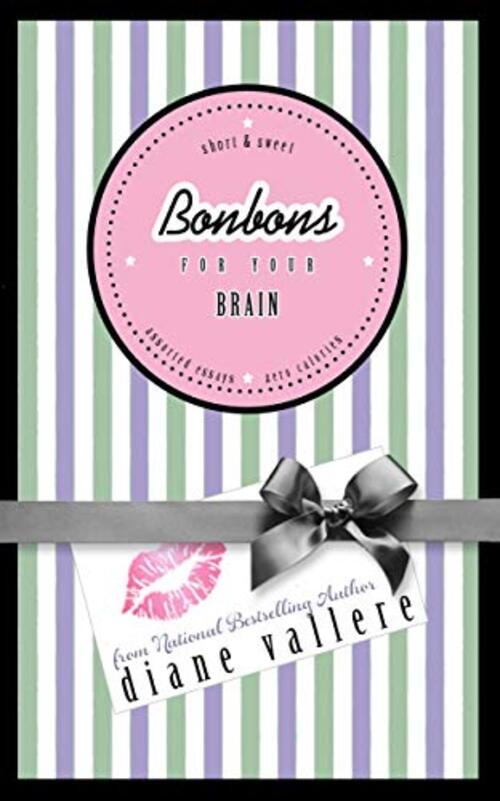 Purchase
Polyester Press
April 2019
On Sale: April 2, 2019
194 pages
ISBN: 1939197643
EAN: 9781939197641
Kindle: B07MBV3V68
Hardcover / e-Book
Add to Wish List

Other Editions
Paperback (April 2019)
Are you craving something sweet?

Something satisfying?

Something that will make you laugh and think and feel like you made a new friend?
National Bestselling author Diane Vallere brings you a collection of insightful essays designed to entertain. BON-BONS FOR YOUR BRAIN is filled with short, standing-in-line-length essays divvied into categories for fashion & beauty (truffles), goal setting (dark chocolate), creative aspirations (artisan), health (70% pure cacao), things to think about (nougat), and just plain nutty (pistachio).
Diane shares the positive outlook and unique way of looking at life that informs her five humorous mystery series and ongoing quest for personal growth. Nibble on this content one essay a day or binge on the whole book. With zero-calories, it's the perfect indulgence to satisfy your inner hunger.
Grab your copy of BON-BONS FOR YOUR BRAIN and start snacking!
Table of Contents
INTRODUCTION
TRUFFLES (FASHION & BEAUTY)
Remembering Yesterday
Sweatpants Are Never The Answer
It Started With A Chanel Suit
Hemming And Hawing
Arguments For and Against Buying a
Black Leather Fringed Skirt
Too Much Of A Good Thing?
Closet Magician
Cashmere Fantasy
It's All Just A Little Bit Of Fashion Repeating
Ode to a Leather Jacket
The Power of a Makeover
When Good Nail Polishes Go Bad
DARK CHOCOLATE (GOAL SETTING)
On The Road Again
Wasp Work Ethics
Utah
I Did It My Way
Something Different, For A Change
But I Don't Wanna!
Anatomy Of A Goal
Tough Love
The Waiting Place
If It Were Easy, Everybody Would Do It
Flute Lessons
Waiting To Be Perfect
70% PURE CACAO (HEALTH)
The You that You Show to the World
What's So Bad About A Mid-Life Crisis?
If Age is a State of Mind, Why Do My Joints Crack When I Stand Up?
I Don't Believe You
Jumping The Battery
Feminism And Freaky Bugs
Photo Finish
Fish Out Of Water
NOUGAT (CHEW ON THIS)
Unboxing Barbie
Glitter Matters
The Jazz Made Me Cry
If It Wasn't For All The Cat Hair
Why Do You Like Me?
Goodbye Scooter
Tarnishing My Image
Why I'm Thankful For My Mismatched Spoons
PISTACHIO (SOMETIMES YOU FEEL LIKE A NUT)
It Ain't All Confetti
That's Mine. Go Get Your Own
William Shatner Is A Con Man
Shatner Redux (What Can I Say? It Was A Life-Changing Event.)
Eyebrows, Teeth, And Vulnerability
Because They're Green And Squishy, That's Why!
Is Liking Cats A Waste Of Time?
A Chance of Showers
Luck
ARTISAN (FOR YOUR CREATIVE PASSIONS)
Life Is A Musical
Six A.M. Is A State Of Mind
It Started With A Gallon of Yellow Paint
Critical Mass
Stupid is as Stupid Does
Commitment vs. Investment
Moon Mission
Dreams
Detective and Buyer: More Alike Than You'd Think
Life Imitating Art Imitating The Road Not Taken
Make It Work
It's Like Steak When It's Resting, I Guess
In The Driver's Seat
NOTE FROM DIANE
Comments
No comments posted.

Registered users may leave comments.
Log in or register now!