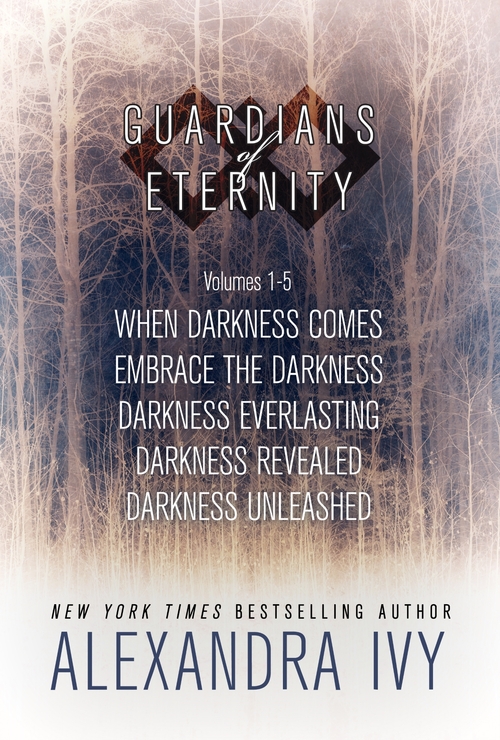 Purchase
Bundle 1
Guardians of Eternity Bundle
Zebra
April 2021
On Sale: March 30, 2021
ISBN: 1420154001
EAN: 9781420154009
Kindle: B08SPNDRGK
e-Book
Add to Wish List

Bound by loyalty, The Guardians of Eternity are powerful, seductive vampire warriors. Unequaled in skill and courage, they are sworn to protect their charges from all danger—except their own hungry desires. Share the thrill in this mesmerizing collection from New York Times bestselling author Alexandra's Ivy's long-running series . . .

WHEN DARKNESS COMES
Abby Barlow has just survived an explosion and watched her employer die, and now she's in a seedy Chicago hotel with the sexy, unearthly Dante, a man she both desires and fears. For 341 years, Dante has stood as guardian to The Chalice, a mortal woman chosen to hold back the darkness. A twist of fate has made Abby that woman. Now she is Dante's to protect, at all costs . . .

EMBRACE THE DARKNESS
The last of her kind, half human, half Shalott, Lady Shay's blood is a precious aphrodisiac to vampires. But when a curse lands her on the slave auction block, Viper, chief of a deadly vampire clan, longs to possess her. Yet he wants her to surrender freely—and is willing to go to hell and back to spend eternity with her . . .

DARKNESS EVERLASTING
Possessing a secret strong enough to end a race of demons, Darcy Smith is an unwitting pawn in an epic battle. Consumed with lust for Darcy, vampire Styxwill do anything to keep her from Salvatore Giuliani, the leader of the weres who aims to make her queen. Which man can Darcy trust? For all it takes is one bite to plunge her into a lifetime of servitude—or pleasure . . .

DARKNESS REVEALED
Two hundred years ago Anna Randal gave herself to Conde Cezar in a night of passion. Since then, Anna has become filled with unearthly power, and the vampire responsible has eluded her efforts to track him down, until now. . . . Cezar's encounter with Anna cost him two centuries of penance. But one thing hasn't changed—his body's response to her . . .

DARKNESS UNLEASHED
A scarred recluse, Jagr makes no secret of his disdain for others. But as a member of Chicago's powerful vampire clan, he must track down a missing were pureblood Regan Garrett. But Regan has no intention of complying. And though Jagr agreed not to harm the stubborn female, he'll gladly kiss her into submission, awakening an urge he hasn't felt in centuries . . .
Guardians of Eternity Bundle
Comments
No comments posted.

Registered users may leave comments.
Log in or register now!