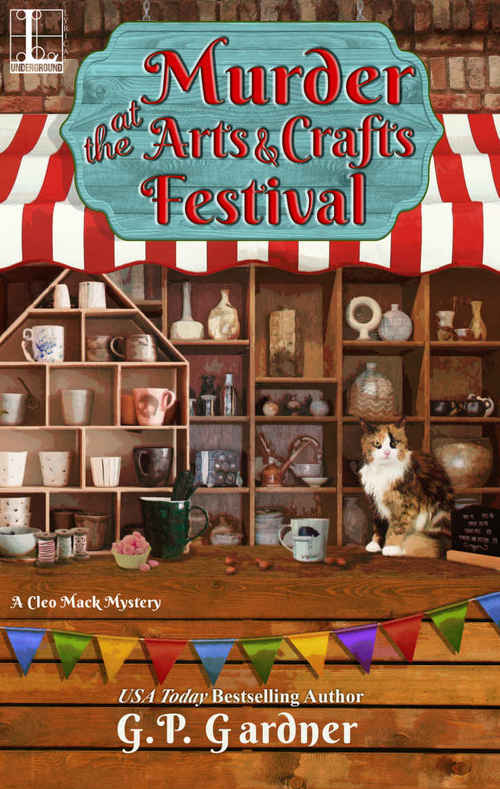 Purchase
Murder at the Arts and Crafts Festival
G.P. Gardner
A Cleo Mack Mystery #3
Lyrical Press Underground
December 2019
On Sale: December 3, 2019
Featuring: Cleo Mack
ISBN: 151610904X
EAN: 9781516109043
Kindle: B07P9MRK5D
e-Book
Add to Wish List

Mystery Woman Sleuth | Mystery Hobbies | Mystery Cozy
It's late March in Fairhope, Alabama, and artists from around the country are flocking to the bayside town's Arts & Crafts Festival. The annual tradition has something for everyone, only this year, the main attraction is murder . . .

Cleo Mack's life has been a whirlwind since she inadvertently became the executive director of Harbor Village, a retirement community bustling with energetic seniors. Juggling apartment sales, quirky residents, and a fast-moving romance is tricky business. But on-the-job stress develops a new meaning when Twinkle Thaw, a portrait artist known to ruffle a few feathers, arrives unannounced for the weekend's festival and drops dead hours later—mysteriously poisoned . . .

Twinkle's bizarre death doesn't seem like an accident. Not with a sketchy newcomer slinking around town and a gallery of suspects who may have wanted her out of the picture for good. As Cleo brushes with the truth, she soon finds that solving the crime could mean connecting the dots between a decades-old art heist and an unpredictable killer who refuses to color inside the lines . . .
Cleo Mack Mystery
Comments
16 comments posted.
Re: Murder at the Arts and Crafts Festival

To experience the creativity of local artisans!
(Tracy Urschler 1:10pm January 17, 2020)
legallyblonde1961@yahoo.com I like arts and crafts festivals for the
atmosphere. I love seeing the creativity.
(Kara Marks 11:11pm January 17, 2020)
Arts & Crafts Festivals are like eye candy to me. I always
find new ideas and something to buy usually made of fabric.
Seeing the goods displayed proudly and watching the craft
people at work are experiences I cherish.
(Alyson Widen 12:38pm January 18, 2020)
I love seeing what people have made. I tend to find
something I have to have, or I come up with an idea for
something to make myself. There's always so much to see!
(Alicia Kozak 12:22pm January 18, 2020)
Arts and Crafts festivals open my eyes to see how many
talented artisans we have in our area. I love to see how
they turn ideas into beautiful creations. Beach themed items
are my favorite.
(Maryann Skaritka 12:53pm January 18, 2020)
I enjoy the artwork, but I also enjoy people watching and
the food. I always discover a new coffee or treat at
festivals.
Congratulations on your series and thanks for the contest.
(Jackie Layton 2:18pm January 18, 2020)
I love seeing all the crafts: pottery, blown glass, and
quilts. Also the huntgood you can usually find there.
The book sounds interesting. Thanks for the chance.
(Ann Ivey 6:57pm January 18, 2020)
I love seeing what artists do in their medium. The
creativity always amazes me and of cours,the food. :)
(Jane Starcher 9:11pm January 18, 2020)
I just love seeing all the different crafts that people come
up with. I love getting people unique gifts for Christmas,
so I always buy things during the year when I find them for
each person.
(Jamie Gillespie 10:04pm January 18, 2020)
I like seeing what people have come up with. I'm not
creative enough to craft
(Katrina Dehart 11:00pm January 18, 2020)
I love seeing the tallent and all the different items that
can be seen
(Vickie Couturier 8:20am January 19, 2020)
I enjoy seeing the amazing crafts and visiting with the artists.
(Anna Speed 1:33pm January 19, 2020)
I like all the cool glazes and finishes potters put on their ceramics!
(John Smith 9:01pm January 19, 2020)
the mystery: You'll never know what you'll find . . ..
(Martin Bodnar 8:10am January 20, 2020)
I love the variety of selections and to see all the
beautiful creativity and myriad of colors. I love the cover
of your book.
(Nancy Reynolds 12:19pm January 20, 2020)
I enjoy looking at all the crafts and talking to the vendors.
(Risa Rispoli 10:14pm January 20, 2020)
Registered users may leave comments.
Log in or register now!