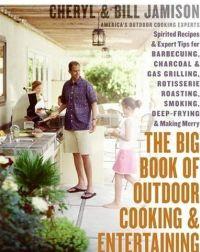 Purchase
Spirited Recipes and Expert Tips for Barbecuing, Charcoal and Gas Grilling, Rotisserie Roasting, Smoking, Deep-Frying, and Making Merry
Morrow Cookbooks
May 2006
560 pages
ISBN: 0060737840
Hardcover
Add to Wish List

America's outdoor cooking experts Cheryl and Bill Jamison have something big to say. So it takes a book this big to hold it all. They have put their knowledge about outdoor cooking and entertaining into one gigantic, colossal, humongous, comprehensive guide. Bursting with more than 850 recipes and hundreds of tips and how-tos for grilling, barbecuing, smoking, rotisserie roasting, planking, big-pot frying, and boiling, The Big Book of Outdoor Cooking and Entertaining is the only backyard cookbook you'll ever need.
Cheryl and Bill traveled the globe sampling regional outdoor favorites, from barbecued Kansas City ribs to Texas brisket. They feasted on succulent rotisserie chickens from France, and banana-leaf-wrapped dishes from Mexico's Yucatán. They learned from the experts who fry up Chesapeake crab cakes, boil up a mess of Cajun crawfish, or perch poultry on a beer can for a long soak in wood smoke. Then they came home and cooked and cooked until they had it right, so you can get it right.
Whether it's hot little tapas, a serious steak, a juicy burger, flavorful fish, a pan full of paella, pizza or pasta topped with grilled vegetables, or chicken done to a turn, Cheryl and Bill will coach you to perfect results. And to round out those party meals, they offer an enormous selection of starters, sides, drinks, and desserts that will win raves from family, friends, and guests.
The Big Book of Outdoor Cooking and Entertaining is chock-full of the Jamisons' signature easy-to-follow recipes for dishes like Jalapeño Cheeseburgers, Guava-Sauced Baby Back Ribs, Tamarind-Tangerine Chicken Breasts, and Guinness-Soaked Pork Chops. In addition, they've included a load of advice on equipment and tools, tips for the very best results, vignettes on outdoor cooking celebrations, and plenty of menu ideas.
With The Big Book of Outdoor Cooking and Entertaining, you'll be the life of your own party. It's not just the last word on outdoor cooking. It's the biggest.

Media Buzz
Today - June 9, 2006

Comments
No comments posted.

Registered users may leave comments.
Log in or register now!