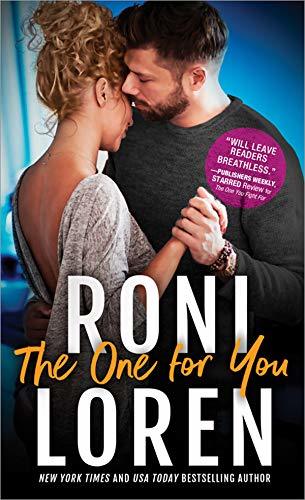 Purchase
The highly-anticipated fourth book in Roni Loren's unforgettable The Ones Who Got Away series.
The Ones Who Got Away #4
Sourcebooks
January 2020
On Sale: January 1, 2020
448 pages
ISBN: 1492693197
EAN: 9781492693192
Kindle: The One fo
Mass Market Paperback / e-Book
Add to Wish List

She got a second chance at life.
Will she take a second chance at love?
Kincaid Breslin wasn't supposed to survive that fateful night at Long Acre when so many died, including her boyfriend—but survive she did. She doesn't know why she got that chance, but now she takes life by the horns and doesn't let anybody stand in her way
Ashton Isaacs was her best friend when disaster struck all those years ago, but he chose to run as far away as he could. Now fate has brought him back to town, and Ash doesn't know how to cope with his feelings for Kincaid and his grief over their lost friendship. For Ash has been carrying secrets, and he knows that once Kincaid learns the truth, he'll lose any chance he might have had with the only woman he's ever loved.
Comments
21 comments posted.
Re: The One for You

I'm hoping to get organized
(Katrina Dehart 1:41pm December 31, 2019)
Losing weight is the same resolution I make. Yet the
only time that worked was with a deadline of my
daughter's summer wedding. I went on a strict high
protein and green veggie diet. With the support of
acupuncture and Chinese herbs for weight loss, lost 50
pounds in 6 months which have slowly crept back. Healthy
eating and moderate exercise are my goals for this year.
(Alyson Widen 2:25pm December 31, 2019)
Walk more and plan to clean out and organize things that have been accumulating for years.
(Jean Patton 2:47pm December 31, 2019)
Exercises more and organize the house
(Glenda Martillotti 3:09pm December 31, 2019)
I have to get organized. Bought some new storage containers
and things to help me with this.
(Jamie Gillespie 3:14pm December 31, 2019)
I haven't really thought a resolution. If anything I would love to get a lot more scrapbooking & doing genealogy on my family
(Cynthia St. Germain 5:16pm December 31, 2019)
I don't really do resolutions the way I have in the past
as they don't really ever get done. My goal this year is
to get back on my food plan so that I feel better
physically as well as work out occasionally. I have a
goal to declutter my home as well. I'm tired of walking
around things.
Lastly, I wanted to thank you for writing this series.
It's not something that I ever really thought about, but
I believe it needed a spotlight. This series gave me more
feels than any in a long time.
(Jennifer Schaber 6:19pm December 31, 2019)
I don't really make resolutions but I'm going to try and be more positive and believe in myself more.
(Amber Hall 9:09pm December 31, 2019)
My resolutions for this year are the same as always. To try
and get my house in order and start to down size.
(Hopeless) Get more exercise and start doing yoga again.
(Possible) Travel more - maybe we will get to Ireland and
Scotland this year. (Very likely) Read more (Definitely) Try
not to stay up so late on the computer (Maybe)
(Patricia Barraclough 12:24pm January 1, 2020)
NO resolutions (& no regrets!)
(Martin Bodnar 7:54am January 1, 2020)
going to try to be healthier this new year,make better
choices,,2019 was a rough year,,on Valentines day my
husband told me he was filing for Divorce
(Vickie Couturier 9:24am January 1, 2020)
I try to always live a happy, positive life so I don't really do New Year resolutions. I could always say lose more weight but the older I get, the less that happens!
(Sue Galuska 12:06pm January 1, 2020)
My goal is to declutter my place.
(Sharon Good 2:17pm January 1, 2020)
Making new year resolutions was not something done among my family members when I was a child, and, as a result, it's never seemed important to me.
(Anna Speed 6:02pm January 1, 2020)
I don't make New Year resolution because I never stick to
them. I just try to do better each year.
(Lynne Brigman 6:07pm January 1, 2020)
New Year's Resolution each year is to so ply be healthier,
and be more active! I hope to lose a few pounds this year, a
d I plan to run a 5k! Wahoo!
(Mackenzie Bates 5:10am January 3, 2020)
Organize and declutter!
(Tracy Urschler 8:33am January 3, 2020)
I want to get more exercise and feel happy with myself - and
declutter.
(Nancy Reynolds 4:48pm January 3, 2020)
I don't make resolutions but my goal is to take better care
of myself this year.
(Tina Rucci 4:14pm January 4, 2020)
Need to clean house!
(Rebecca Shields 9:16pm January 5, 2020)
Focus on authenticity - work, people, activities.
(Samantha Tennant 11:57pm January 5, 2020)
Registered users may leave comments.
Log in or register now!