Roni Loren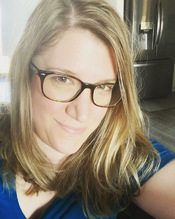 Blogging at Fresh Fiction
Roni Loren | 20 Questions: WHAT IF YOU & ME
July 6, 2021
1--What is the title of your latest release? WHAT IF YOU Read More...
RONI LOREN | Author-Reader Match: YES & I LOVE YOU
March 2, 2021
Instead of trying to find your perfect match in a dating app, we bring you the "Author-ReaderMatch" where we Read More...
Roni Loren | Exclusive Interview: THE ONE FOR YOU + Giveaway!
December 31, 2019
Welcome back to Fresh Fiction, Roni! Please introduce yourself and tell us about the fourth book in The Ones that Got Read More...
Roni Loren | Five Fun Ways to Get Ready for a New Year of Reading
January 8, 2019
I love the beginning of the year. I'm not one to set resolutions necessarily because I set goals monthly and quarterly, but I do Read More...
Roni Loren | The Beauty of a Paper Reading Journal
January 11, 2018
If any of you follow me on social media, you'll know I'm a bit of a paper product junkie. I'm a diehard Read More...
Roni Loren | Starting a New Series: Jump In or Go Back to the Beginning?
January 20, 2013
If you're a regular romance reader, you know that most books tend to be part of a series. Some of those series are truly Read More...
Roni wrote her first romance novel at age fifteen when she discovered writing about boys was way easier than actually talking to them. Since then, her flirting skills haven't improved, but she likes to think her storytelling ability has. She holds a master's degree in social work and spent years as a mental health counselor, but now she writes full time from her cozy office in Dallas, Texas where she puts her characters on the therapy couch instead. She is a two-time RITA Award winner and a New York Times and USA Today bestselling author.
Log In to see more information about Roni Loren
Log in or register now!
Series
Loving on the Edge | Not Until You | Pleasure Principle | Ones Who Got Away
Books:
For You & No One Else, July 2022
Say Everything #3
Trade Size / e-Book
What If You & Me, July 2021
Say Everything #2
Trade Size / e-Book
Yes & I Love You, March 2021
Say Everything #1
Trade Size / e-Book
The One for You, January 2020
The Ones Who Got Away #4
Mass Market Paperback / e-Book
The One You Fight For, January 2019
The Ones Who Got Away #3
Mass Market Paperback / e-Book
The One You Can't Forget, June 2018
The Ones Who Got Away #2
Mass Market Paperback / e-Book
The Ones Who Got Away, January 2018
Ones Who Got Away #1
Mass Market Paperback / e-Book
Loving You Easy, September 2016
Loving on the Edge #9
Trade Size / e-Book
Wanderlust, July 2016
e-Book
Off the Clock, January 2016
Pleasure Principle #1
Paperback / e-Book
Break Me Down, November 2015
e-Book
Call On Me, July 2015
Loving On The Edge #8
Paperback / e-Book
Yours All Along, June 2015
e-Book
Nice Girls Don't Ride, May 2015
e-Book
Nothing Between Us, January 2015
Loving on the Edge #7
Paperback / e-Book
Not Until You, November 2014
Loving on the Edge #4
Paperback / e-Book
Forever Starts Tonight, September 2014
e-Book
Need You Tonight, March 2014
Loving on the Edge #6
Paperback / e-Book
Not Until You Believe, August 2013
Not Until You #7
e-Book
Caught Up In You, August 2013
Loving on the Edge #5
Paperback / e-Book
Not Until You Love, August 2013
Not Until You #8
e-Book
Not Until You Surrender, July 2013
Not Until You #6
e-Book
Not Until You Crave, July 2013
Not Until You #3
e-Book
Not Until You Trust, July 2013
Not Until You #4
e-Book
Not Until You Beg, July 2013
Not Until You #5
e-Book
Not Until You Risk, June 2013
Not Until You #2
e-Book
Not Until You Dare, June 2013
Not Until You #1
e-Book
Fall Into You, January 2013
Loving on the Edge #3
Paperback / e-Book
Melt Into You, July 2012
Loving on the Edge #2
Paperback / e-Book
Crash Into You, January 2012
Loving on the Edge #1
Trade Size / e-Book