Juliette Cross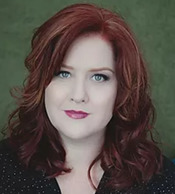 Blogging at Fresh Fiction
Juliette Cross Interview - A Vampire and a Witch Get a Second Chance at Love
November 4, 2022
I'm usually a sucker for second chance-at-love stories and I loved RESTING WITCH Read More...
ApollyCon 2022 - My First Book Convention
August 8, 2022
I have been a romance reader for years, but I've never been fortunate enough to attend a reader convention. Until now. This Read More...
Juliette Cross | 20 Questions: PARKS AND PROVOCATION
April 8, 2022
1--What is the title of your latest release? PARKS AND PROVOCATION, Book Read More...
Juliette Cross | Author-Reader Match: WITCHES GET STITCHES
February 10, 2022
Instead of trying to find your perfect match in a dating app, we bring you the "Author-Reader Match" where we Read More...
Juliette Cross | My New Love in Romancelandia: Podcasting
November 21, 2019
Last year, my niece Jessen Judice asked me to co-host her new venture--a review podcast for fangirls of romance who love to Read More...
Juliette Cross | Hardcore Alpha Vs. Sensual Seducer
January 18, 2018
I had a conversation with a friend the other day, debating why independent-minded, strong-willed women crave alpha males. She, being one of these Read More...
Juliette Cross | Why Fairytales?
June 22, 2017
"Fairy tales do not tell children the dragons exist. Children already know that dragons exist. Fairy tales tell children the dragons can be killed Read More...
Juliette Cross | The Leading Men We Love to Love
October 21, 2014
Because I like to analyze and title just about everything (neurotic reader/writer that I am), I've analyzed and labeled each of the various Read More...
Juliette calls lush, moss-laden Louisiana home where the landscape curls into her imagination, creating mystical settings for her stories. She has a B.A. in creative writing from Louisiana State University, a M.Ed. in gifted education, and was privileged to study under the award-winning author Ernest J. Gaines in grad school. Her love of mythology, legends, and art serve as constant inspiration for her works. From the moment she read JANE EYRE as a teenager, she fell in love with the Gothic romance--brooding characters, mysterious settings, persevering heroines, and dark, sexy heroes. Even then, she not only longed to read more novels set in Gothic worlds, she wanted to create her own.
Log In to see more information about Juliette Cross
Log in or register now!
Series
Vessel Trilogy | Age of Gray | Vampire Blood | Stay a Spell | Green Valley Heroes
Books:
Resting Witch Face, November 2022
Stay a Spell #5
e-Book
Always Practice Safe Hex, June 2022
Stay a Spell #4
e-Book
Parks and Provocation, April 2022
Green Valley Heroes #2
Paperback / e-Book
Walking in a Witchy Wonderland, October 2021
Stay a Spell
Paperback / e-Book
Witches Get Stitches, July 2021
Stay a Spell #3
Paperback / e-Book
Don't Hex and Drive, September 2020
Stay a Spell #2
Paperback / e-Book
Wolf Gone Wild, January 2020
Stay a Spell #1
Paperback / e-Book
Coldest Fire, November 2019
Dominion #4
e-Book
The Emerald Lily, February 2018
Vampire Blood #4
e-Book
The White Lily, November 2017
Vampire Blood #3
e-Book
The Red Lily, June 2017
Vampire Blood #2
Paperback / e-Book
The Black Lily, March 2017
Vampire Blood #1
e-Book
The Deepest Well, February 2016
Age of Gray #1
e-Book
Bound in Black, August 2015
Vessel Trilogy #3
e-Book
Waking the Dragon, July 2015
Paperback / e-Book
Sealed in Sin, May 2015
Vessel Trilogy #2
e-Book
Forged in Fire, February 2015
Vessel Trilogy #1
e-Book
Soulfire, October 2014
Nightwing #1
e-Book