Carmen Falcone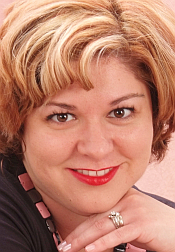 Blogging at Fresh Fiction
Carmen Falcone | Writing and Reading in Corona Times
September 15, 2020
I have to say, I never thought I'd be writing about a pandemic. Right? For months now, we have been Read More...
Carmen Falcone | Reading Outside of Your Comfort Zone
January 21, 2020
So, it happened. 2020 is here! We all talk about resolutions, but this got me thinking. As a reader, what are your Read More...
Favorites Movies and Favorites Books: a Love Story
May 22, 2017
(Keep reading for the giveaway at the end.) A lot of times people ask me where I find inspiration to write my books. Of course Read More...
Carmen Falcone | Traveling Through Books: Yes, Please!
March 21, 2016
Ladies and gentlemen, we are ready for takeoff… Even though we don't actually read this line every time we read a romance Read More...
Carmen Falcone | High-Profile Nannies & Bosses: A Delicate Affair
January 9, 2016
Even before I started writing A WEEKEND OF MISBEHAVING, I was always drawn to Read More...
Carmen Falcone learned at an early age that fantasizing about fictional characters beats doing math homework any day. Brazilian by birth and traveler by nature, she moved to Central Texas after college and met her broody Swiss husband—living proof that opposites attract. She found in writing her deepest passion and the best excuse to avoid the healthy lifestyle everyone keeps talking about. When she's not lost in the world of romance, she enjoys spending time with her two kids, being walked by her three crazy pugs, reading, catching up with friends, and chatting with random people in the checkout line.
Log In to see more information about Carmen Falcone
Log in or register now!
Series
Naked Truth | Time to Misbehave | The Brazilians | Dirty Debts
Books:
The Billionaire's Betrayal, September 2020
e-Book
Sold to the King, January 2020
Highest Bidder
e-Book
Good Girl's Bad Lessons, October 2018
Dirty Debts #3
e-Book
Good Girls Like it Dirty, August 2018
Dirty Debts #2
e-Book
Good Girl Gone Bad, April 2018
Dirty Debts #1
e-Book
Forbidden In-Law, March 2018
Forbidden #4
e-Book
Brazilian Capture, May 2017
The Brazilians #2
e-Book
Forbidden Virgin, February 2017
e-Book
Heartbreakers and Heroes, July 2016
e-Book
Brazilian Revenge, March 2016
The Brazilians #1
Paperback / e-Book
A Weekend of Misbehaving, January 2016
Time to Mishbehave #1
e-Book
Seven Sins, October 2015
e-Book
Accidentally Seduced, September 2015
The Naked Truth #3
e-Book
Accidentally Still Married, April 2015
The Naked Truth #2
e-Book
Accidentally Hooked, March 2015
The Naked Truth #1
e-Book
Kidnapping the Brazilian Tycoon, August 2014
e-Book
A Vengeful Affair, July 2012
e-Book