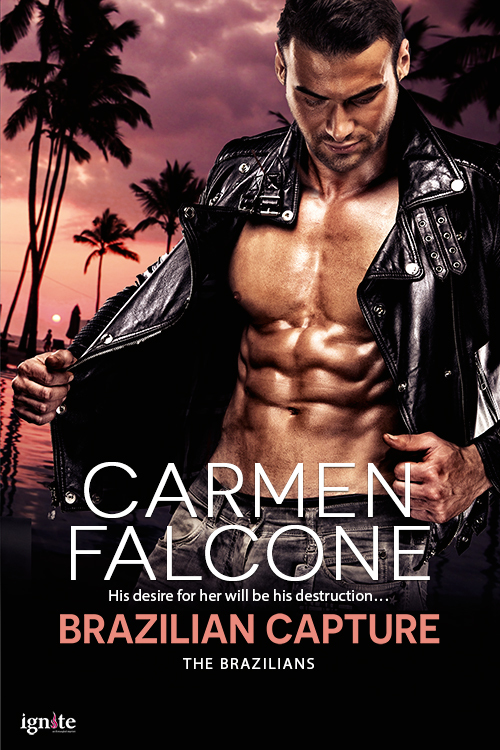 Purchase
The Brazilians #2
Entangled Ignite
May 2017
On Sale: May 22, 2017
166 pages
ISBN: 1545445540
EAN: 9781545445549
Kindle: B071HD97VD
e-Book
Add to Wish List

Financier turned activist Emanuel Duarte has promised he would find the one witness who can testify against real estate developer Silas Lancaster. Sick of having every attempt at exposing Silas shut down, Emanuel wants to honor a promise he made, and takes from his opponent what matters most--his beautiful daughter Erika. Only he gets more than he bargained for with the tempting--and frustrating--woman.
Fundraiser and socialite Erika Lancaster can't believe she's been kidnapped. Her sexy captor is feeding her lies about her father that she refuses to swallow. Emanuel's plans will hurt her and ruin her mother's legacy--and that she can't allow. Desperate to find a way out of the lush Brazilian jungle, she decides there's only way to disarm the enemy--seduce him.
But her plan backfires and soon she realizes that seducing the enemy comes with a hefty price...loving the enemy simply isn't an option.
The Brazilians
Comments
24 comments posted.
My fav Almodovar film is Flower of My Secret. I liked the
adaptation from a billion years ago of the Anne of Green
Gables series. I loved the book version of The Shining
more than the film. I love just about any of the Jane
Eyre adaptations but the Fassbender version with it's
switched around format gets the mood exactly right.
(Miranda Owen 2:12pm May 22, 2017)
I liked the adaptation of The All Time classic Gone With the Wind
(Ilene Mcvea 2:29pm May 22, 2017)
The Twilight Saga was pretty spot on.
(Colleen Conklin 8:00pm May 22, 2017)
This is so sad. I rarely watch movies. Especially movies that began as a book. The closest I can think of would be Frankenstein, simply because I had to read that one in high school. I will confess though, I never finished the book; I skimmed throughout and still managed an 83% on my essay about it. And the movie? I've never watched the whole thing through, no matter what adaptation. Me bad.
(Elaine Seymour 8:12pm May 22, 2017)
To Kill a Mockingbird is the only movie I consider as good as the book.
(Pam Howell 5:51am May 23, 2017)
Some of my favorites are Gone With the Wind, Outlander, Dracula, The Hunger Games, The Count of Monte Cristo, and The Three Musketeers.
(Bonnie H 11:20am May 23, 2017)
Little Women,Jane Eyre, Wuthering Heights,The Secret garden,
The Grapes of Wrath.
(Sharon Berger 12:44pm May 23, 2017)
How fun!! I used to enjoy the Pedro Almodovar movies a
lot. Many times if I've read the book, the adaptation
just doesn't live up to it. BUT, most of the Harry
Potters did a decent job, Pride and Prejudice with Colin
Firth, Outlander has been superb, American Gods...still
forming an opinion. I guess in the long run, you just
can't cram an great book into a two hour movie. A mini
series gives you the option of building detail.
(Marcia Berbeza 1:01pm May 23, 2017)
Lord of the Rings, Pride and Prejudice, Jane Eyre
(Cheryl Castings 2:29pm May 23, 2017)
My favorite is "Captain Newman M.D." , older movie w Gregory
Peck and Bobby Darin.
(Kathleen Bylsma 7:00pm May 23, 2017)
Gone With The Wind, Call Of The Wild and Rebecca are some of my
favorites.
(Jackie Wisherd 11:48pm May 23, 2017)
Outlander and Gone With The Wind are two of my favorites.
(Alma Beraza 10:31am May 24, 2017)
Gone Girl by Gillian Flynn
(Tanja Dancy 1:25pm May 24, 2017)
Rebecca
(Linda Knowles 2:35pm May 24, 2017)
I thought that "To Kill a Mockingbird" was done well.Gone
with the wind was good too but was just too long for one
siting.
(Nancy Luebke 8:20pm May 24, 2017)
The whole series of Harry Potter movies, Lord of the Rings and The Hobbit
trilogies are my favorite movie adaptations. I guess when it came for motion
pictures I prefer actions, fantasy and visual effects.
(D. Puspitorini 9:51pm May 24, 2017)
My favorite is The African Queen.
(Deb Philippon 12:43pm May 25, 2017)
Gone With The Wind, The Wizard of Oz, The African Queen.
Can't think of any more. Hmm. Interesting that they're more
than 75 years old. Wonder what that says about recent books
and movies. Are there any good ones?
(Irene Menge 7:35pm May 25, 2017)
Gone with the Wind, To Kill a Mockingbird and Gone Girl
(Kathleen Bianchi 10:07am May 26, 2017)
To Kill A Mockingbird was very close to the book.
(Robbie Bauldree 11:33am May 26, 2017)
Gone with the Wind
(Jean Benedict 2:58pm May 26, 2017)
Usually the movie is a disappointment if I read the book first, but Gone With The Wind is an all time favorite.
(Anna Speed 6:58am May 27, 2017)
Any of John Grisham books...especially A TIME TO KILL!!
Thanks for this contest!
(Tracy Simms 12:42pm May 27, 2017)
One of my favorite movies influenced by a book is O Brother, Where Art Thou? influenced by the Odyssey.
(Mary Songer 5:37pm May 27, 2017)
Registered users may leave comments.
Log in or register now!