Spotlight on Cindi Madsen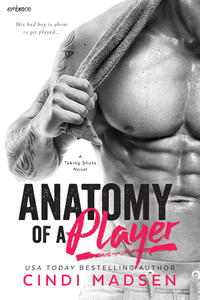 Purchase
This bad boy is about to get played…
Taking Shots #2
Entangled Embrace
February 2016
On Sale: January 25, 2016
Featuring: Hudson Decker; Whitney Porter
270 pages
ISBN: 1633755436
EAN: 9781633755437
Kindle: B0191K3G1O
e-Book
Add to Wish List

Don't miss the much-anticipated follow up to USA Today bestselling novel, GETTING LUCKY NUMBER SEVEN.
This bad boy is about to get played…
After getting her heart broken by a player again, Whitney Porter is done with men. She's focusing on her future career and her first assignment at the college newspaper: Posing as a sports writer for an exposé on the extra perks jocks receive. But Hudson Decker, the bad boy of the hockey team, is about to test her resolve. To keep herself from breaking her no-sex rule with the temptingly tattooed athlete, she decides to use him for a side project: Anatomy of a Player, to help Whitney—and women everywhere—spot a player, learn what makes him tick, and how to avoid falling for one.
With his life spiraling out of control, Hudson Decker's looking for a distraction. When his teammates bet him that he can't land the gorgeous but prickly new reporter, he accepts the challenge, boasting he'll have her in bed by the end of the semester. But Whitney is so much more than Hudson expected, and soon enough, he's in too deep. The last thing he needs is another complication, but staying away isn't an option. One thing's for certain: this girl totally throws him off his game.
Meet Whitney
You know those girls with no gaydar who fall in love with every gay guy within a thirty-mile radius? I lacked whatever version of radar was for players. Playdar—yeah, I was definitely missing playdar.
I trudged up the concrete stairs of my apartment complex, my heart heavy after yet another breakup—if it could even be called a breakup, considering Trevor and I had never been an official couple. Something he'd so nicely pointed out earlier tonight when I saw him on campus with another girl.
The stabbing pain in my chest returned as I recalled the way Trevor had asked Perky McBoobs to give him a second before pulling me aside. Denial and I were old friends, and she whispered that maybe he'd have some great explanation, like the girl was just a close friend—his hand in her back pocket ruled out relative. Okay, so it ruled out friend, too. I didn't go around cupping my friends' asses, no matter how close we were.
As I slid my key into my apartment door, I replayed that awful moment when the guy who'd once told me I was so sexy that he thought about me all day long claimed I was "too needy" and he was afraid I wanted more than he could give.
Did I want him to refrain from having sex with other girls while he and I were together? Of course I did. Apparently asking for the most basic relationship requirement—after three months, no less—made me needy.
And there was nothing quite like getting played by the third freaking guy in a row, only to come home to one of the cuddliest, most in-love couples ever. ....
Meet Hudson
"I know all of the positions." She leaned in, resting her breasts against my arm as she curled her hand around my elbow. "Hockey positions, I mean. I went to every game last year and watched you play. I can't believe I'm getting a chance to actually talk to Hudson Decker."
I grunted, the most minimal required response, and refilled my cup. As I suspected, she was the chatty type, so she continued to talk, mostly about how much she loved hockey.
"You know…" She walked her fingers up to my shoulder. "While I know all of your hockey stats, there are a lot of other things I'd like to learn about you. My place isn't far from here."
Too easy. Usually I wasn't opposed to that kind of thing, but I didn't have the patience to nod and mumble at the right places. I certainly didn't want to suffer through her trying to pry out details about the supposed other side of me. Girls always thought they could discover my sweet, thoughtful side, but I didn't have one. If I slept with a girl, the only thing she'd ever get was superficial information. Despite what girls might think, I was actually doing them a favor by holding back. No one wanted the ugly truth about me, and I'd rather take a skate across the face than spill it. But the biggest mark against this particular girl was that she didn't intrigue me enough to keep my mind off other things.
We were supposed to be celebrating the start of the season, but with the past rising up to haunt me I felt like I was fifteen again, helpless in a shitty situation and wondering if it was worth the fight, or if I should let go for good.
Taking Shots series
Cindi Madsen sits at her computer every chance she gets, plotting revising, and falling in love with her characters. Sometimes it makes her a crazy person. Without it, she'd be even crazier. She has way too many shoes, but can always find a reason to buy a new pretty pair, especially if they're sparkly, colorful, or super tall. She loves music, dancing, and wishes summer lasted all year long. She lives in Colorado (where summer is most definitely NOT all year long) with her husband and three children.