Spotlight on Annie Seaton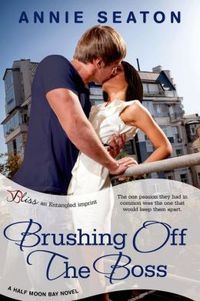 The one passion they had in common was the one that would keep them apart.
Half Moon #2
Entangled Bliss
September 2014
On Sale: September 15, 2014
Featuring: Jack Montgomery; Sienna Sacchi
200 pages
ISBN: 163375071X
EAN: 9781633750715
Kindle: B00N0408UU
e-Book
Add to Wish List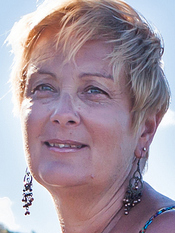 Books:
Brushing Off The Boss
, September 2014
Half Moon #2
e-Book
Hot Rock
, March 2014
e-Book
Romance Abroad bundle
, December 2013
e-Book
Tangling with the CEO
, December 2013
Half Moon Bay #1
e-Book
Summer of the Moon Flower
, November 2013
e-Book
Outback Affair
, October 2013
Affairs #3
e-Book
Dangerous Desire
, September 2013
e-Book
Italian Affair
, June 2013
Affairs #2
e-Book
Promotional Tips and Tricks for Aspiring Authors in the Digital Landscape
, March 2013
e-Book
Blind Lust
, June 2012
e-Book
Holiday Affair
, March 2012
Affairs #1
e-Book
Winter of the Passion Flower
, March 2012
e-Book
"Once again, Ms Seaton draws us into the wonderful community of Half Moon Bay with beautifully drawn characters who tug at your heart strings."
~Susanne Bellamy, author of Engaging the Enemy - Good Reads
BRUSHING OFF THE BOSS
Artist Sienna Sacchi is about to have everything she's ever dreamed of, when sexy playboy Jack Montgomery comes strolling back into her life as the owner of her gallery. Her plan to buy it herself ruined, she refuses to let him interfere with the most important thing—her debut exhibition. But Jack's not just taking over her workplace, he's also intruding on her art studio, her home, and maybe even her heart.
Jack Montgomery has few rules for his carefree life, but never mixing business with pleasure is one he is determined to keep. He'd planned on finally satisfying the tension between him and Sienna, but discovering he's her boss puts an immediate end to that. Unfortunately, being forced to share a tiny apartment with the gorgeous, tempting sculptor is pushing Jack to his limits. One brush with desire could ruin everything they've worked for.
---
Annie Seaton sits in her writing chair, looks out over the western Pacific Ocean and dreams up her romances. A couple of years ago, she crossed that wide ocean, visited northern California and fell in love with the bays on the eastern side of the Pacific.
The Half Moon Bay series was born. Filled with quirky characters, the occasional movie star, love and romance, Annie has created happily ever afters for best friends: Ana, Sienna and Georgie.
TANGLING WITH THE CEO—Book 1 and BRUSHING OFF THE BOSS—Book 2 have had wonderful reviews and readers want more! Book 3 is coming soon!
Annie travelled to Tuscany this summer, and her next book features a sexy Italian artist.
---
"A love story filled with hope, promise, with captivating characters and an interesting plot made Brushing Off the Boss an excellent addition to this series."
~Guilty Pleasures Book Reviews-Amazon
Annie Seaton has written a well plotted story filled with appealing characters and great dialogue. Carmel-by-the-sea with its artist colony provides the perfect location.
- Rosemary-Goodreads
Annie Seaton delivers once again a love story to amuse, stir your emotions, and question the priorities we set in life. Is success and money worth killing yourself over? What about slowing down and enjoying life along the way? As always with all of Annie Seaton's books, you finish reading her stories with a smile on your face, knowing that you have just experienced a wonderful book.
_Gloria -GoodReads
---