Spotlight on HelenKay Dimon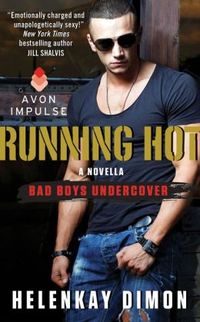 Bad Boys Undercover
Avon Impulse
December 2014
On Sale: December 16, 2014
Featuring: Ward Bennett; Tasha Gregory
200 pages
ISBN: 0062357824
EAN: 9780062357823
Kindle: B00J7Q620K
e-Book
Add to Wish List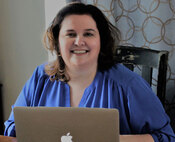 Award-winning author of romance and romantic suspense
Books:
Falling Hard
, May 2015
Bad Boys Undercover #2
Paperback
Playing Dirty
, February 2015
Bad Boys Undercover #1
Paperback
Running Hot
, December 2014
Bad Boys Undercover
e-Book
Too Far Gone
, December 2014
Hanover Brothers #4
e-Book
Only
, October 2014
Paperback
Long Way Home
, August 2014
Hanover Borthers #3
e-Book
Mercy
, May 2014
Paperback
Baby, It's Cold Outside
, February 2014
Men at Work #1
e-Book
Cosmo Red-Hot Reads Box Set: CAKE; Fearless; Naked Sushi; Everything You Need to Know
, December 2013
COSMO Red-Hot Reads
e-Book (reprint)
Everything You Need To Know
, October 2013
e-Book
A Simple Twist of Fate
, July 2013
Hanover Borthers #2
e-Book
Ruthless
, July 2013
Paperback
No Turning Back
, March 2013
Hanover Borthers #1
e-Book
When She Wasn't Looking
, May 2012
Paperback
Holiday Kisses
, December 2011
e-Book
Gunning for Trouble
, February 2011
Mystery Men
Paperback
Guns and the Girl Next Door
, January 2011
Mystery Men
Paperback
Impulsive
, November 2010
Men Of Hawaii #5
Trade Size
Night Moves
, June 2010
Mass Market Paperback
A Proper Seduction
, May 2010
Don't get even. Get everything...
e-Book
Under The Gun
, March 2010
Mystery Men #1
Mass Market Paperback
Leave Me Breathless
, March 2010
Paperback
Kissing Santa Claus
, October 2009
Trade Size
Holding Out For A Hero
, October 2009
Men of Hawaii #3
Trade Size
It's Hotter In Hawaii
, April 2009
Paperback
Hot As Hell
, November 2008
Paperback
To All A Good Night
, October 2008
Paperback
Hard As Nails
, July 2008
Paperback
Right Here, Right Now
, March 2008
Trade Size
Your Mouth Drives Me Crazy
, July 2007
Trade Size
Viva Las Bad Boys
, August 2006
Trade Size
When Good Things Happen to Bad Boys
, April 2006
Bad Boys
Trade Size
"Holy hotness! What a way to start off a new series!" -She Hearts Books
RUNNING HOT only $1.99!
Award-winning author HelenKay Dimon heats up the world of undercover operatives with her new romantic suspense series featuring the fierce men of Alliance—and the only women capable of taming their hearts!
HelenKay's novella, RUNNING HOT, kicks off the action-packed Bad Boys Undercover series with CIA operative Ward Bennett. It may look like Ward is camped out at a Fiji resort on vacation, especially when you take into account that he's been flirting with the sexy bartender for days now! But, Ward's undercover hunting down a dangerous dictator on the run. He just can't help himself around the ridiculously beautiful bartender Tasha. There's nothing wrong with a little bit of fun—that is until she drugs and zip-ties him to a chair. How'd that happen?!
When Tasha Gregory discovers the hottie on the barstool isn't who he pretends to be, her MI6 training kicks into gear. She has no choice but to take him out. She soon learns that Ward's not an easy man to put down for long. Who is this guy? More than once, his interference almost blows her surveillance operation. Trying to find out who he's working for isn't the only problem. He's damn hot and does something that makes it hard to keep her heart to herself.
As the situation heats up and their undercover identities are compromised, these two must decide whether they can trust one another and take out a deadly dictator. Working together might just make everyone safer, but getting too close for comfort, might just get them killed.
HelenKay has crafted the perfect beginning for the nail biting series that features the men of the Alliance (a joint undercover operation between the CIA and M16, the British Secret Intelligence Service). Filled with non-stop action, fierce men, a commanding woman, and a passionate romance, RUNNING HOT will give lovers of romantic suspense the thrill-ride they've been waiting for.
---
Thinking she might have a partner, Ward glanced to the side. The kick of pain had him blinking and swearing. "My head is killing me. What the hell kind of sex did we have?"

"None."

Well, that was a damn shame. "Is that why you tied me up? Because I'm totally capable. I assure you. We can go right now."

"You talk too much."

He'd been accused of a lot of shit on this job. Being chatty was not one. "You're not exactly coughing up information here."

"Nor will I."

"You were more fun as a bartender."

Her arm shot out so fast he almost didn't twist away in time. Not that he could get too far while stuck in the chair anyway.

At the last minute he threw his head to the side and took the brunt of the smack from the heel of her hand on his collarbone instead of his chin. "Damn woman that hurt."

"It was supposed to."

Felt like she held a weight in her hand or something. "Then congratulations."

"This isn't funny and you're no tourist."

That made them even because there was no way that hit came from a novice
---
Stay tuned for more from HelenKay, the first full-length novel PLAYING DIRTY goes on sale January 27th, 2015!
HelenKay Dimon spent the years before becoming a romance author as a...divorce attorney. Not the usual transition, she knows. Good news is she now writes full time and is much happier. She has sold over thirty novels, novellas and shorts to numerous publishers. Her nationally bestselling and award-winning books have been showcased in numerous venues and her books have twice been named "Red-Hot Reads" and excerpted in Cosmopolitan magazine. But if you ask her, she'll tell you the best part of the job is never having to wear pantyhose again. You can learn more at her website.