Spotlight on Tracy Wolff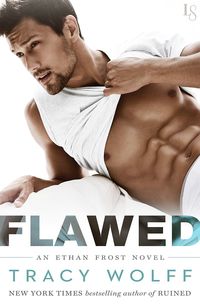 Purchase
Ethan Frost #4
Loveswept
January 2017
On Sale: January 17, 2017
Featuring: Tori Reed; Miles Girard; Ethan Frost
ISBN: 1101884886
EAN: 9781101884881
Kindle: B00VOYNKM6
e-Book
Add to Wish List

Hi Everyone!

I hope you all had a wonderful holiday season and happy new year! I know I was thrilled to see the clock change to 2017 as my 2016 was a rough one! Which is why I'm so excited to finally introduce you to Miles and Tori, the couple in my brand new Ethan Frost book. I know Flawed has been a long time coming and I really appreciate your patience with me :-) In fact, to celebrate (and say thanks) I'm giving away ten copies of Ruined, the Ethan Frost book that started it all. To be entered to win, all you have to do is like my FB page here and drop me a message on FB letting me know you're interested in a free copy. Winners will be announced Monday, February 20th :-)

I've been wanting to write Tori's story ever since I first created her to be Chloe's roommate. With her ever-changing hair color and bad girl attitude, I knew she had a story to tell. And does she ever! Flawed comes out January 17th, but you can pre-order it here

Here's the blurb:

The bestselling Ethan Frost series introduces a tantalizing new hero—and the broken woman only he can save. Discover why Beth Kery once declared that readers of Tracy Wolff will "fall in love under the spell of a master."

When Tori Reed loses everything, he sets her free.

I told myself I'd never trust Miles Girard, no matter how brilliant or sexy he may be. His sister, Chloe—Ethan Frost's wife—is my best friend, but I know just how low Miles will stoop to get what he wants. Now he's the last thing I want: my boss.

Growing up, I had it all—except for the sense that I belonged. And when a mistake from my past surfaces in the press, my parents don't hesitate to cut me off.

But surprisingly, Miles offers me a helping hand.

Before I know it, our relationship turns unprofessional in the hottest ways. Of course, he still drives me crazy. But when I'm dealt the ultimate blow, Miles is there for me. And maybe he's the one I've been looking for all along.

And here's a fun excerpt:


"So, how rough do you like your sex?"

Not sure that the guy across from me actually said what I thought I heard, I lower my menu a little and peer over the top into the faded blue eyes of Stephen Blake, mild-mannered accountant by day and—it appears—closet BDSM enthusiast by night.

"Excuse me?" I ask, keeping my voice deliberately vague just in case I did hear him wrong. We are only twenty minutes into our first date, after all. And it's a blind date at that.

"I'm a fair to middling guy, myself. Some spanking, a cat o'nine tails here and there, maybe a St. Andrews cross—with shackles, not handcuffs, because they don't provide much room for my woman to squirm around when it hurts. Oh, and I do have a new bullwhip I'd like to try. Along with the standard nipple clamps and ball gags, of course."

"Of course," I answer because who doesn't like a good nipple clamp and ball gag?

Oh yeah. Me. I don't like nipple clamps or ball gags. And while I don't mind handcuffs when the mood is right, I sure as hell am not letting anyone near me with a bullwhip.

"And needles," he continues, completely oblivious to the sarcasm in my answer.

"Needles." I can't believe this is happening.

"I'm into blood play," he explains, mistaking my repetition of the word as a call for further clarification. "Nothing too severe, obviously, but needles through the nipples are definitely a favorite. No water sports, obviously—"

"Obviously." Jesus Christ.

I reach for my glass of cranberry juice and down it in a couple of quick swallows, wishing even as I do, that it was something stronger. This is what I get for trying to clean up my act. Stuck at a table with the nerd version of the Marquis de Sade in a navy blue suit with a pinstripe tie and not even a drop of vodka to cushion the blow.

"And breath play. Have you ever tried it?" His own breath hitches a little as the subject visibly arouses him. "There's nothing quite like wrapping your hands around your partner's throat while they come. Watching as their eyes go frantic at the lack of air, then a little glazed as they start to float away—"

"I have to go to the bathroom." I stand up so fast my chair makes a screeching noise across the designer concrete floor of this very up-scale restaurant that the "very serious, very nice" Stephen has taken me to.

"I bet." He eyes me knowingly. "Do you want me to follow? I'm happy to take care of—"

"I'm good, thanks. I've been potty-trained since I was two." I grab my clutch off the table then start to walk past him, but he grabs my wrist before I can take more than a couple steps.

"Take a picture while you're in there." His voice has gone all dark and authoritarian—and definitely not in a sexy way. "And send it to me."

Eeew. "Of me going to the bathroom?"

"Of you getting yourself off. That is what you're going to do, right?" Before I know what he's going to do, he's pulled my hand into his lap and rested it on what turns out to be his not-very-impressive erection. Not that that is exactly a surprise. Then again, at this point in the dat, I'm not sure anything could surprise me. "While you're gone, I can get myself off to it right here."

I squeeze hard enough to make him gasp—again, not in a good way—before twisting out of his grip and trying to pretend the thought of him jacking off to anything about me hasn't scarred me for life. Then I reach for his untouched jack and coke and down it in one long gulp.

Tomorrow is soon enough to start cleaning up—if I'm over the trauma of this dinner by then, that is.

"Exciting, isn't it?" he says when he can talk without squeaking. "When you're done, take your panties off and bring them to me. I want to know what you smell like when you come."

I nod jerkily as I walk toward the restroom—and then right past it and into the kitchen.

"Hey!" someone in a little white coat says, looking up. "You can't be in here."

Unfortunately, it's not the right kind of little white coat—and there's no straitjacket in sight. More's the pity. Nice guy Stephen could definitely use one.

Then again, he might take it for some wild, new BDSM fetish and ask me to photograph him as they strap him in… at this point, who the fuck knows? Either way, I'm not sticking around to find out.

"Don't worry, boys. I'm just passing through." I snatch a couple slices of apple off the closest work station as I breeze toward the back door and then out into the mild San Diego night.

I pop an apple slice into my mouth as I pull out my phone and order an Uber. Before I'm done chewing, a black Mercedes slides to the curb in front of me and I climb in. Excellent. At this rate, I'll be home before that wanna-be-Christian-Gray figures out the picture he's so looking forward to isn't coming.

Then I pull up messages and scroll until I hit my best friend's name. I type in seven words.

Me: Chloe Frost, you are a DEAD woman

Thanks for reading! You can check out more about
Flawed
here
Have a wonderful rest of the week!
Xoxo,
Tracy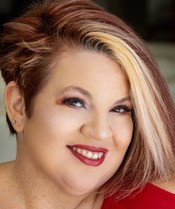 Sexy Men. Bold Women. Wicked Romance.
Tracy Wolff collects books, English degrees and lipsticks and has been known to forget where-and sometimes who-she is when immersed in a great novel. At six she wrote her first short story-something with a rainbow and a prince- and at seven she forayed into the wonderful world of girls lit with her first Judy Blume novel. By ten she'd read everything in the young adult and classics sections of her local bookstore, so in desperation her mom started her on romance novels. And from the first page of the first book, Tracy knew she'd found her life-long love. Now an English professor at her local community college, she writes romances that run the gamut from contemporary to paranormal to erotic suspense.
And for all of those who want the unedited version: Tracy Wolff lives in Austin, teaches writing to local college students and spends as much time as she can manage immersed in worlds of her own creation. She is the mother of three young sons who spend most of their time trying to make her as crazy as possible.