"Hell hath no fury like a woman scorned..."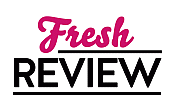 Reviewed by Magdalena Johansson
Posted October 10, 2018

1842. Karina is stranded on Deception Island in the South Atlantic after her husband, who is a whaling captain, is lost at sea. Her hope is that her sister in Amsterdam will respond to her letter and send money for her to travel to Amsterdam. But, as the days go by and no letter arrives, Karina gets more and more desperate. So, she stows away on a British ship...
THE ICE MAIDEN is a book about love and wrath. It's a book that managed to have one of the most surprising twists I've read in a long time. The twist makes it hard to write about the book because I don't want to give anything away! Karina is a woman that steps on the wrong ship that takes her the opposite way that she wants. However, it also a trip that shows her the beauty of Antarctica and she ends up falling in love with Joseph Hooker, the ship's surgeon. This makes it sound like a typical love story, but that's where it all ends. Very abruptly the story takes a drastic turn, and Karina will soon find herself raging against all those that have done her wrong. Also, since there is a paranormal angle is the story definitely a bit unusual.
It's hard to write about THE ICE MAIDEN because the story twists in such a way that I can't discuss it without giving away most of the story in the second half of the book. However, it's a very, very unusual story. I definitely recommend this book if you like reading about explorations, or like unusual love stories with some slight paranormal activities...
SUMMARY
As she stows away on a ship bound for Antarctica, a young woman uncovers a shocking betrayal.
1842. Stranded on Deception Island in the South Atlantic, her whaling captain husband lost at sea, Karina is destitute and desperate. Disguised as a cabin boy, she stows away on a British ship. But Karina is about to get a nasty surprise.
As she grows closer to ship's surgeon Joseph Hooker, Karina and the rest of the crew find themselves pushed to the limits both physically and emotionally as conditions worsen onboard. Engulfed in the chillingly hostile Antarctic landscape, something extraordinary happens – and Karina's story becomes intertwined with some of the 20th century's bravest Polar explorers …
---
What do you think about this review?
Comments
No comments posted.

Registered users may leave comments.
Log in or register now!