"A farm blogger finds life can also be dangerous..."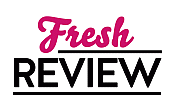 Reviewed by Clare O'Beara
Posted September 13, 2018

Shelby McDonald is hosting a wedding at Love Blossom Farm with local foods, salads, and a decorated barn. Unfortunately, some of the guests don't like the picturesque setting; it smells like the countryside, and there aren't any French waiters. By the next day, however, this is the least of her worries, as one of the entertainers has BOUGHT THE FARM. In the sense of dying rather than purchasing land.
Third in the Farmer's Daughter Mystery series starts out charmingly but weddings are emotional, and some old disagreements are reawakened. For instance, the bride Kelly Thacker remembers that singer Travis Cooper played an ill-timed practical joke at college, which meant she missed her med school final exam. Travis since went on to win talent contest America Can Sing and this is his first time back in his hometown. Kelly is now the local veterinarian, marrying the local doctor Seth Gregson. We would think everyone is mature enough to forget past differences.
This is an up to the moment story, as Shelby is a farm life blogger with two kids. I feel that her constant interjections of Dear Reader thoughts are more annoying than useful, but I like how a brief excerpt from her blog begins each chapter. Shelby gives recipe suggestions to her readers. The local busybody ladies ask her to research a newcomer to town on the internet. Shelby also has a casual boyfriend in town, but her neighbour and her late husband's brother Frank both want to date her...
I was astounded by a scene in which Shelby rings a company in Canada and speaks to their HR representative about the newcomer to town. Without even verifying who Shelby is, the HR person launches into personal gossip about the former employee and her ex-husband. Don't firms have a duty of care about employees' personal information, and why would a staff member's marriage be useful to a new employer checking a reference? Shelby also snoops on her young daughter's Facebook account, which is a dilemma most parents are going to have to face. But when the police tell Shelby that with more than one murder on her farm, she should take the kids away for their safety, she says no, it's a busy time of year on a farm. This is a highly unusual mother.
Peg Cochran populates a busy town with interesting and kind people, adds personal tensions and old wounds. BOUGHT THE FARM will be a lively addition to the cozy crime bookshelf, with tasty summer recipes.
SUMMARY
Wedding preparations are in full swing at Love Blossom Farm as food-and-lifestyle blogger Shelby McDonald transforms the property for her friend Kelly's down-home country-style reception. But when the lead singer of the wedding band turns up dead—drowned in a trough full of rainwater and strung up like a scarecrow—the police round themselves up a barnful of suspects.
It seems that Travis sowed the seeds of discord wherever he went, and when it becomes clear that everyone from the groom to Shelby's own staff has motive, tracking down Travis' killer is going to be more difficult than finding a needle in a haystack. As Shelby finds herself drawn deeper into the investigation, she'll have to move quickly before the killer decides to put her out to pasture…
---
What do you think about this review?
Comments
No comments posted.

Registered users may leave comments.
Log in or register now!