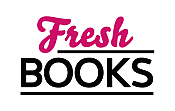 No fooling, it's April books!
"Even retired authors can change lives, when inspired..."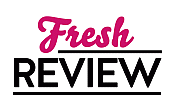 Reviewed by Danielle Dresser
Posted August 8, 2018

Beleaguered orderly at a retirement home for elderly authors and publishing professionals, Cecibel Bringer is beside herself when her favorite author, and formerly notorious lothario, Alphonse Carducci moves into the home to spend his final days among his peers. While he's not as strong as he was in his younger days, his witty mind is voraciously inspired for the first time in years... Seeing Cecibel, a private woman whose face shows the terrible accident she was in years before, Alphonse is determined to learn more about his new muse and what she's hiding.
What no one expects is for a ragtag group of elderly authors and editors to come together and work on what will become the last new project to keep them motivated through the winters of their lives. Alphonse creates Aldo and Cecelia, two star-crossed lovers who carry secrets that the other may never fully understand. Cecibel finds her own inspiration from the story she herself has inspired, and it will change her, and what is left of Alphonse's, life.
THE BAR HARBOR RETIREMENT HOME FOR FAMOUS WRITERS (AND THEIR MUSES) by Terri-Lynne DeFino is a fascinating tale of authors, their muses, and their fans. Cecibel, something of an unreliable narrator (or at least one keeping secrets from readers), is an engaging and empathetic main character. Her face, marred by an accident that she may or may not have caused years before, serves as a wall that keeps a thick barrier between her and the residents at the Bar Harbor retirement home. It's not until her favorite author comes to live at the home that those walls come crashing down, and Cecibel begins to learn what she is capable of, and the life she has purposely kept away from. The story that Alphonse and his cohorts are writing, set in the 1950s, is a heartbreaking but sincere story of love and what lengths people will go to do what they believe is the right thing, and is an interesting juxtaposition to the 1999-set reality. At times both stories are a little too long, but they wrap up in a satisfying ending that brings everything to a justified and capable conclusion. The rest of the ensemble cast of authors, editors, and agents are a joy to read about.
SUMMARY
A whimsical, moving novel about a retirement home for literary legends who spar, conjure up new stories, and almost magically change the lives of the people around them.
Alfonse Carducci was a literary giant who lived his life to excess—lovers, alcohol, parties, and literary rivalries. But now he's come to the Bar Harbor Home for the Elderly to spend the remainder of his days among kindred spirits: the publishing industry's nearly gone but never forgotten greats. Only now, at the end of his life, does he comprehend the price of appeasing every desire, and the consequences of forsaking love to pursue greatness. For Alfonse has an unshakeable case of writer's block that distresses him much more than his precarious health.
Set on the water in one of New England's most beautiful locales, the Bar Harbor Home was established specifically for elderly writers needing a place to live out their golden years—or final days—in understated luxury and surrounded by congenial literary company. A faithful staff of nurses and orderlies surround the writers, and are drawn into their orbit, as they are forced to reckon with their own life stories. Among them are Cecibel Bringer, a young woman who knows first-hand the cost of chasing excess. A terrible accident destroyed her face and her sister in a split-second decision that Cecibel can never forgive, though she has tried to forget. Living quietly as an orderly, refusing to risk again the cost of love, Cecibel never anticipated the impact of meeting her favorite writer, Alfonse Carducci—or the effect he would have on her existence. In Cecibel, Alfonse finds a muse who returns him to the passion he thought he lost. As the words flow from him, weaving a tale taken up by the other residents of the Pen, Cecibel is reawakened to the idea of love and forgiveness.
As the edges between story and reality blur, a world within a world is created. It's a place where the old are made young, the damaged are made whole, and anything is possible….
---
What do you think about this review?
Comments
1 comment posted.
Re: Even retired authors can change lives, when inspired...

This sounds absolutely fabulous! Right up my alley! Thanks
for the review!
(Kathleen Bylsma 4:23pm August 17)
Registered users may leave comments.
Log in or register now!