"She thought she knew her mother, but one incident changes everything..."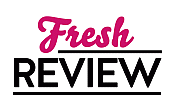 Reviewed by Magdalena Johansson
Posted August 2, 2018

Andrea Cooper lives a normal life. She has a job, a place to live, although above her mother's garage, but still, it's a place to sleep. Her parents are divorced and she has a good relationship with both of them and she thinks she knows her parents very well. That is until her 31st birthday and her mother, Laura, shows a side of her that Andrea has never seen before. Suddenly her whole world is turned upside down and she doesn't know if it will ever be right again. Who is this woman she thought she knew so well, and why does it seem that someone is after her?
PIECES OF HER is a massive book at almost 500 pages, and once you start to read the book you will not be able to put it down. The book has two storylines, the present story with Andrea and a 1986 storyline where we get to know the young Laura. I loved following Andrea in present time as she tries to figure out who her mother really is. What she has been hiding all these years. This is a book where both storylines are equally good, and both Andrea and Laura are just as interesting to read about. I was curious to know what Laura was hiding and why she still seems to be in danger. Likewise, I was eager to follow Andrea as she uses the little she knows to try to find out the truth.
I loved this mother-daughter story. It's a top-notch story that will keep the reader engrossed from start to finish. Karin Slaughter is a fabulous writer and one thing I love with her books is she has a way of creating characters that you care about. I felt it with this book and I was a bit sad when I turned the last page and had to say goodbye to them.
SUMMARY
The #1 internationally bestselling author returns with a new novel in the vein of the New York Times bestsellers Pretty Girls and The Good Daughter—a story even more electrifying, provocative, and suspenseful than anything she's written before.
What if the person you thought you knew best turns out to be someone you never knew at all . . . ?
Andrea Cooper knows everything about her mother Laura. She's knows she's spent her whole life in the small beachside town of Gullaway Island; she knows she's never wanted anything more than to live a quiet life as a pillar of the community; she knows she's never kept a secret in her life. Because we all know our mothers, don't we?
But all that changes when a Saturday afternoon trip to the mall explodes into violence and Andrea suddenly sees a completely different side to Laura. Because it turns out that before Laura was Laura, she was someone completely different. For nearly thirty years she's been hiding from her previous identity, lying low in the hope that no one will ever find her. But now she's been exposed, and nothing will ever be the same again.
Twenty-four hours later Laura is in the hospital, shot by an intruder who's spent thirty years trying to track her down and discover what she knows. Andrea is on a desperate journey following the breadcrumbs of her mother's past. And if she can't uncover the secrets hidden there, there may be no future for either one of them. . . .
---
What do you think about this review?
Comments
No comments posted.

Registered users may leave comments.
Log in or register now!