"Adorable middle grade about finding your own path"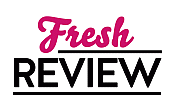 Reviewed by Samantha Randolph
Posted January 11, 2017

Abbie Wu hates being in the middle. She's the middle child in her family, and now she's headed to middle school. The worst part is that Abbie doesn't even know what her "thing," her talent or passion is, when everyone around her already seems to know theirs. With illustrations and hilarious antics throughout, FRAZZLED follows one girl's journey to find herself.
Booki Vivat crafts an exceptional middle grade novel in FRAZZLED. Abbie Wu is as relatable as it gets, always worrying, wanting to find her own path, and anxious over her future. She sees herself compared to her brother, sister, and her classmates, and feels she falls short of an invisible mark. She struggles to navigate new change, like starting middle school, and she still remains one of the most endearing characters I've ever read. She doesn't close herself off to new opportunities, though her worry is always evident. This is the perfect story for young readers who think everyone else has life figured out by the age of twelve: when in actuality, most are just as nervous and uncertain as Abbie.
Alongside the fantastic characters are the hilarious illustrations. They illustrations do more than supplement the text, they are often a direct part of it with the use of dialogue bubbles and other creative methods. The facial expressions are some of my favorite parts of the illustrations, guaranteed to make readers laugh out loud.
FRAZZLED by Booki Vivat is a must-have for every middle grade shelf. The humor, heart, and sincerity make this quick read a joy to return to again and again.
Learn more about Frazzled
SUMMARY
Meet Abbie Wu. Abbie is in crisis—and not just because she's starting middle school or because she's stuck in a family that doesn't quite get her or because everyone seems to have a Thing except her. Abbie Wu is always in crisis.
From debut author and professional doodler Booki Vivat, Frazzled dives right into the mind of this hilariously neurotic middle school girl as she tries to figure out who she is and where she belongs. Akin to Smile by Raina Telgemeier, Frazzled is heavily illustrated, embarrassingly honest, and sure to appeal to anyone in the middle of figuring out how to survive the everyday disasters of growing up.
---
What do you think about this review?
Comments
No comments posted.

Registered users may leave comments.
Log in or register now!