"A time travel romance brings us back to Sherwood Forest"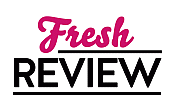 Reviewed by Clare O'Beara
Posted January 4, 2017

Romance Time Travel | Romance Contemporary
I love the fun title and cover! Chrissie Hayward is a photographer wandering around a Renaissance Faire looking for her co-worker from New York's La Style magazine. That annoying fashionista Kat hasn't stopped complaining and now she's vanished. It's enough to drive anyone to MOJITOS WITH MERRY MEN.
This is just the kind of place where a gypsy lady can read palms without being thought unusual, and a strange message sends Chrissie to one such; she's told by the old lady that she's in pain, having been betrayed by a man. That happens to be true, but Chrissie hadn't told anyone. Not entirely buying the idea that something mystical is occurring, Chrissie nevertheless somehow goes back in time and across the ocean to medieval Britain.
Discarding her dress, Chrissie is now in leggings and long shirt. She naturally gets mistaken for a lad, long red hair and all. Sherwood Forest is large and not hospitable, and the natives don't seem friendly. But is the guy with the staff and bad attitude really Robin of Locksley? And just how is Chrissie supposed to follow the gypsy's instructions by getting a drop of sanctified blood from Richard the Lionheart to bring Kat back from time travelling? Well, she'll give it her best shot.
The extremely frequent pop culture references seem fine at first but quickly came to annoy me. Some readers won't mind having every new character described in terms of Game of Thrones or America's Most Wanted. It kept throwing me out of synch especially as I don't watch most of the shows. I've now read a few timeslip stories sparking off at Renaissance Faires, by various authors, and for me the best one was when a female swordfight re-enactor went back in time. By comparison, Chrissie is a tourist, marvelling and not blending. Folks keep grumbling about Prince John's tax men, though they would have been well aware that the taxes went to pay for Richard's Crusades. Claiming to have been raised in a monastery, Chrissie talks the outlaws into helping others. When she has cell phone conversations with the missing Kat, we just have to take the tale as comedy. There really is no other way to describe it. Except romance. Definitely.
MOJITOS WITH MERRY MEN is one of a time slip and culture clash series called Timeless Love by Marianne Mancusi, who has been a television producer. If this tickles your fancy, you will find the books addictive.
SUMMARY
Chrissie Hayward, NYC fashion photographer and thoroughly modern gal, has never been one to swoon over fairytales. So when a mysterious gypsy tells Chrissie that she is a "gentle soul who would tame an outlaw's thirst for revenge," she's not totally convinced the woman isn't a couple of beans short of a frapuccino. But when Chrissie finds herself suddenly transported back in time to rescue her crazy coworker Kat, she's ready to believe anything is possible! If only she'd known she was going to meet her "true love," a hottie in Sherwood Forest, Chrissie would have worn better shoes!
But it turns out Robin of Locksley, aka the real Robin Hood, isn't exactly a Prince Charming. That bit about robbing the rich to feed the poor? He evidently hasn't gotten the memo yet. In fact, he's less a folk hero and more a brooding bad boy. Not to mention his not-so-merry men who are under the impression that Chrissie is actually a boy. I mean, sure, she's not exactly stacked, but still! Nonetheless, Robin is loyal, brave, and handsome as sin. If Chrissie could just get him with the program, she knows she could right his wagon and get these boyz'n the wood to be heroes of the realm instead of twerps in tights. But if she's not careful, Chrissie may find this prince of thieves stealing her heart...
---
What do you think about this review?
Comments
No comments posted.

Registered users may leave comments.
Log in or register now!